Anguilla
British Overseas Territory in the Caribbean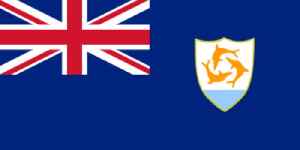 Anguilla is a British overseas territory in the Caribbean. It is one of the most northerly of the Leeward Islands in the Lesser Antilles, lying east of Puerto Rico and the Virgin Islands and directly north of Saint Martin. The territory consists of the main island of Anguilla, approximately 16 miles (26 km) long by 3 miles (4.8 km) wide at its widest point, together with a number of much smaller islands and cays with no permanent population. The territory's capital is The Valley. The total land area of the territory is 35 square miles (91 km2), with a population of approximately 17,400.


Witness provides new details in Anguilla manslaughter case
A resort worker is providing new details in the case of a Connecticut man accused of manslaughter in the Caribbean. Errol Barnett reports.
CBS News - Published
Witness challenges American man's account of killing Anguilla resort worker
For the first time, we're hearing from someone who says he witnessed part of the deadly confrontation between a Connecticut man and a worker at a Caribbean resort. Scott Hapgood faces manslaughter..
CBS News - Published
U.S. banker says Anguilla manslaughter case 'living nightmare'
Gavin 'Scott' Hapgood, a USB financial advisor, says he's been living a "nightmare" since he was accused of killing a hotel worker in Anguilla while on vacation. His attorney, Juliya Arbisman, says a..
Credit: Reuters Studio Duration: 01:51Published
Man charged in death of resort worker returns to Anguilla
A Connecticut man accused of killing a hotel worker in Anguilla was back on the island for a court appearance. Scott Hapgood was on vacation with his family in April when Kenny Mitchel came to their..
CBS News - Published
American man appears in court on manslaughter charges in Anguilla
Scott Hapgood, an American man charged with manslaughter for the death of a hotel worker on the Caribbean island of Anguilla in April, appeared in court Thursday. CBS News' Errol Barnett is outside the..
CBS News - Published
American man charged with killing resort worker facing threats
A lawyer for a Connectucit man charged with killing a Caribbean resort worker says her client is receiving threats of violence. CBS News has obtained voicemails with some of the threats against Scott..
CBS News - Published
Man charged in death of Anguilla hotel worker facing death threats
A Connecticut man is facing manslaughter charges on Anguilla after killing a resort worker. At a press conference, Scott Hapgood and his lawyer said the man was "armed and demanding money." Errol..
CBS News - Published
American man says resort worker he killed was "crazed and desperate"
A Connecticut man accused of killing a hotel worker in the Caribbean four months ago is speaking out about the incident for the first time. Scott Hapgood is charged with manslaughter in the death of..
CBS News - Published
U.S. man claims self-defense in killing of Anguilla resort worker
An autopsy report shows the resort worker died of "blunt force trauma" and suffocation
CBS News - Published
You Might Like