Nestlé
Swiss food and beverage company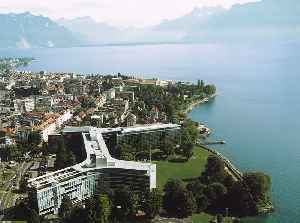 Nestlé S.A. is a Swiss multinational food and drink processing conglomerate corporation headquartered in Vevey, Vaud, Switzerland. It is the largest food company in the world, measured by revenues and other metrics, since 2014. It ranked No. 64 on the Fortune Global 500 in 2017 and No. 33 on the 2016 edition of the Forbes Global 2000 list of largest public companies.


Nestle CEO: pandemic management is more hands on

COVID-19 has forced senior management at food giant Nestle to become more immersed in daily operations, according to its chief executive, Mark Schneider. Francesca Lynagh reports.
Credit: Reuters Studio Duration: 02:56
Published
How low-burping cows could put a dent on emissions

A Swiss-engineered cattle-feed additive being tested out in the United States could be one promising step in reducing greenhouse gas emissions from cattle. Gavino Garay reports.
Credit: Reuters - Politics Duration: 03:00
Published
You Might Like
Britain hires ex-Nestle executive to run food security 'war room': Sky
The British government is hiring former Nestle executive Chris Tyas to oversee a "war room" set up to ensure the country's food security as the coronavirus crisis deepens, Sky News reported on..
Reuters - Published
Where Mermaids Play, a Nasty Water Fight
Nestlé wants to draw more spring water from a northern Florida site owned by a local family — but environmentalists are pushing back.
NYTimes.com - Published
Nestle Toll House introduces new flavors of edible cookie dough: Funfetti and Fudge Brownie Batter
Edible cookie dough fans, rejoice. Nestle Toll House unveiled its two newest edible cookie dough flavors, Funfetti and Fudge Brownie Batter.
USATODAY.com - Published
Pass the ketchup, hold the beef: Americans crave Impossible Burger, Beyond Meat in 2020
Plant based meats like the Impossible Burger and Beyond Meat are growing in popularity, and companies like Nestle are launching similar brands
USATODAY.com - Published
Nestlé sells its US ice cream business for $4 billion to create world's largest ice cream market
Nestlé is selling its U.S. ice cream business for $4 billion, which includes Dreyer's, Häagen-Daaz, Outshine, Skinny Cow, Edy's and Drumstick.
USATODAY.com - Published
Nestlé Toll House cookie dough recalled for possible rubber pieces
Food company says it initiated recall after receiving reports of "food-grade pieces of rubber in some products"
CBS News - Published
Also reported by •USATODAY.com
Nestlé launches $17 "luxury" KitKat bar
Chocolate lovers can make their own version of the bar with ingredients like shortbread, honeycomb and rose petals
CBS News - Published
Nestle launches plant-based burger in the United States
Food giant Nestle launched its "Awesome" vegan burgers in the United States on Thursday, seeking to tap into the country's growing craze for plant-based meat.
Reuters - Published
Nestle is selling espresso chocolate chips
If you are caffeine addict with a soft spot for sweets then you're day is just about to get better. Buzz60's Maria Mercedes Galuppo has more.
USATODAY.com - Published
Nestlé launching new chocolate that ditches refined sugar
Swiss food maker says it's developed a way to make chocolate that relies on its natural sweetness
CBS News - Published
Nestle Toll House is selling edible cookie dough. Wait, we weren't supposed to eat it before?
Now you can eat cookie dough with a spoon without worry. Nestle Toll House revealed Edible Cookie Dough, available in stores such as Walmart in July.
USATODAY.com - Published
Nestle Toll House develops cookie dough it says is safe to eat
Nestle's latest product is aimed at consumers who like to eat dough but worry about salmonella infections
CBS News - Published