Steve King
American politician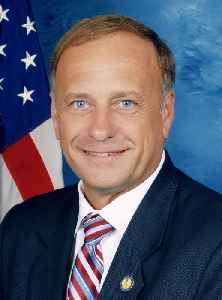 Steven Arnold King is an American politician and former businessman serving as a U.S. Representative from Iowa since 2003. A member of the Republican Party, he represented Iowa's 5th congressional district until 2013, when redistricting renumbered it the 4th. This district is in northwestern Iowa and includes Sioux City. He is the only Republican in Iowa's House delegation.


Man arrested for allegedly throwing water on Rep. Steve King
Police said King was having a group lunch when Blake Gibbins, 26, approached the congressman's table and allegedly threw a glass of water on King
CBS News - Published
Iowa Rep. Steve King belittles Katrina flood victims
King said in a town hall that Katrina victims only asked "who's gonna help me," while Iowa flood victims "take care of each other"
CBS News - Published
Rep. Steve King's Government Website Links To White Nationalist Blog
Weeks ago Iowa Representative Steve King denounced racism and bigotry, but he's still using his official government website to direct his constituents to a white nationalist blog called VDare...
Credit: Wochit News Duration: 00:38Published
Steve King Compares Himself To Brett Kavanaugh
Republican Rep. Steve King recently was punished ina vote by the House of Representatives. This came after King questioned how "white nationalism, white supremacist and western civilization" are..
Credit: Wochit News Duration: 00:32Published
Chris Cuomo: Trump 'Plays Favorites When It Comes To Bigotry'
Chris Cuomo claims that President Donald Trump 'plays favorites' when it comes to 'bigotry', highlighting that he ignored Steve King, but defended the Convington kids.
Credit: Newsweek Duration: 00:35Published
Asked Whether White Societies Are Superior, Steve King Demurs
Representative Steve King of Iowa, already under fire for racism, fumbles his answer when asked at a town-hall-style meeting whether a white society is superior to a nonwhite society.
NYTimes.com - Published
Steve King shares meme suggesting "civil war" between Dems, GOP
King added his own caption to the post, writing: "Wonder who would win" with a winking emoji
CBS News - Published
Search this site and the web:
You Might Like