Steve King
American politician from Iowa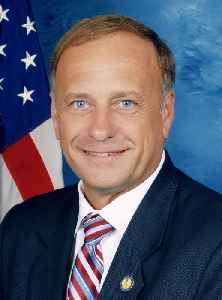 Steven Arnold King is an American politician and former businessman serving as a U.S. Representative from Iowa since 2003. A member of the Republican Party, he represented Iowa's 5th congressional district until 2013, when redistricting renumbered it the 4th. This district is in northwestern Iowa and includes Sioux City.


Republicans slam Steve King for comments on rape, incest
House Republican leaders are condemning comments from one of their own this morning: Iowa congressman Steve King. While defending his call for a ban on all abortions, including in cases of rape or..
CBS News - Published
Rep. Steve King questions if there would be "any population" left if not for rape and incest
Both Democrats and Republicans are blasting Iowa Rep. Steve King over new comments he made on abortion. King is opposed to all abortions, with no exceptions for rape or incest. Ed O'Keefe has more on..
CBS News - Published
Also reported by •NYTimes.com
"Would humanity exist without rape, incest?" King
Rep. Steve King is again facing calls to resign after he wondered aloud in Iowa on Wednesday, if humanity would exist without rape or incest. He made the comments in defense of his proposed legislation..
Credit: Reuters Studio Duration: 01:20Published
Steve King: 2020 presidential candidates, GOP challenger, condemn 'rape and incest' remarks
Both Republicans and Democrats publicly condemned U.S. Rep. Steve King's comments on Wednesday regarding abortion exemptions for rape or incest.
USATODAY.com - Published
Republican congressman Steve King: Would humanity exist without rape, incest?
Conservative U.S. Representative Steve King wondered aloud on Wednesday whether the human race would still exist without rape and incest, as he explained his anti-abortion position to an audience in..
Reuters - Published
U.S. Rep. Steve King: If not for rape and incest, 'would there be any population left?'
King said some conservatives told him he would get more support on abortion legislation if he allowed certain exemptions. He did not agree to the caveats.
USATODAY.com - Published
Search this site and the web:
You Might Like