Commission on Presidential Debates
Bi-partisan U.S. presidential debate organizing group formed in 1987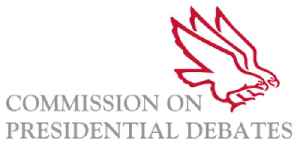 The Commission on Presidential Debates (CPD) is a nonprofit corporation established in 1987 under the joint sponsorship of the Democratic and Republican political parties in the United States. The CPD sponsors and produces debates for U.S. presidential and vice-presidential candidates and undertakes research and educational activities relating to the debates. It has run all of the presidential debates held since 1988. The commission's debates are sponsored by private contributions from foundations and corporations as well as fees from hosting institutions.


October 15 presidential debate canceled

[NFA] The Oct. 15 presidential debate between President Donald Trump and Democratic nominee Joe Biden will not proceed, the Commission on Presidential Debates said in a statement on Friday, adding that..
Credit: Reuters - Politics Duration: 01:27
Published
Donald Trump Won't Participate in Second Debate | THR News

On Thursday, the Commission on Presidential Debates announced that the second presidential debate between President Donald Trump and former Vice President Joe Biden would proceed with a new format and..
Credit: The Hollywood Reporter Duration: 02:36
Published
House Democrats Demand Climate Be 'Centerpiece'

Dozens of House Democrats are calling for the climate crisis to be a central focus of the upcoming presidential and vice presidential debates. In a letter Wednesday to the Commission on Presidential..
Credit: Wochit News Duration: 00:32
Published
You Might Like



President Trump, Joe Biden's Negative Tests Trigger Plexiglass Barriers' Removal

The gloves were already off, but now the sneeze guards are down for the final presidential debate between President Trump and Joe Biden. The Commission on Presidential debates made the decision..




TMZ.com - Published





Mics will be cut for portions of final presidential debate after commission adopts new rules

The Commission on Presidential Debates announced the rule changes Monday, three weeks after a chaotic opening faceoff between the two presidential contenders that featured frequent interruptions.




USATODAY.com - Published





Biden and Trump hold dueling town halls after canceled debate

After the Commission on Presidential Debates canceled what would have been the second debate, President Trump and Joe Biden each made plans to hold competing town halls on different networks. CBSN..




CBS News - Published





RNC Chair Ronna McDaniel says "corrupt" commission canceled debate to shield Biden

RNC Chair Ronna McDaniel accused the Commission on Presidential Debates of canceling the second presidential debate to help Biden.




CBS News - Published





Second Presidential Debate Officially Canceled After Trump Backs Out

President Trump will not square off -- face-to-face, anyway -- as the second debate has been canceled, which could be a win for your eyes and ears ... if it was gonna be anything like the first one...




TMZ.com - Published

Also reported by •USATODAY.com


Commission on Presidential Debates cancels second debate

The debate was scheduled for Thursday, October 15.




CBS News - Published





C-SPAN says Steve Scully's Twitter account hacked as 2nd presidential debate moderator tweet called biased

Frank Fahrenkopf, co-chair of the Commission on Presidential Debates said that the tweet was not sent by Scully himself.




USATODAY.com - Published





2020 Daily Trail Markers: 2nd presidential debate in doubt

The Commission on Presidential Debates said the event would be virtual, and the president dismissed that as "not acceptable."




CBS News - Published





Candidates clash over debates as Trump rejects virtual presidential debate

President Trump says he will not participate in the second presidential debate, after the Debate Commission announced it will be done virtually for health and safety reasons. Ben Tracy reports.




CBS News - Published





Commission on Presidential Debates to make changes after chaotic first debate between Trump and Biden

The Commission on Presidential Debates has announced it will make changes after the first event Tuesday night was marred by constant interruptions. CBS News political correspondent Ed O'Keefe and CBS..




CBS News - Published





Eye Opener: Debate commission plans changes to format

The Commission on Presidential Debates is looking into changing formats following the fiery back-and-forth at the first debate between President Trump and former Vice President Joe Biden. Also,..




CBS News - Published





Debate commission promises changes after chaotic first face-off

After a debate full of insults and interruptions, the Commission on Presidential Debates said changes will be coming to "ensure a more orderly discussion" at the next two matchups between President..




CBS News - Published





Debate commission could cut microphones to limit interruptions

As the Commission on Presidential Debates is promising an updated format, an informed source tells CBS News that could include controlling the candidates' microphones. Major Garrett has more.




CBS News - Published





The Commission on Presidential Debates says it will change the debate format after Trump's frequent interruptions.




NYTimes.com - Published





Debates commission says changes coming to format for next 2 debates

The announcement from the Commission on Presidential Debates comes after the first debate between President Trump and former Vice President Joe Biden spiraled into chaos.




CBS News - Published





Election 2020: Chris Wallace, Susan Page among moderators for presidential and vice presidential debates

The Commission on Presidential Debates announced moderators for the fall debates, including Fox News' Chris Wallace and Susan Page of USA TODAY.




USATODAY.com - Published





Panel rejects Donald Trump's request to add a fourth debate with Joe Biden

The Trump campaign had asked the Commission on Presidential Debates to add a fourth debate or move up the September one due to early voting.




USATODAY.com - Published





Biden Campaign Dismisses Trump Request for 4th Debate as 'Distraction'

In a letter to the nonprofit Commission on Presidential Debates, Joe Biden's campaign manager criticized efforts by the Trump campaign to expand the debate schedule and negotiate other details.




NYTimes.com - Published





Trump May Propose New Firm to Host Presidential Debates

The nonprofit Commission on Presidential Debates has sponsored every general election debate since 1988, but the Trump campaign has raised concerns about whether its 2020 events would be "fair."




NYTimes.com - Published





Donald Trump says he'll debate Democratic nominee - but maybe without debate commission

There is no evidence to back up Trump's complaints about intentional bias by the Commission on Presidential Debates.




USATODAY.com - Published