Henry Paulson
74th United States Secretary of the Treasury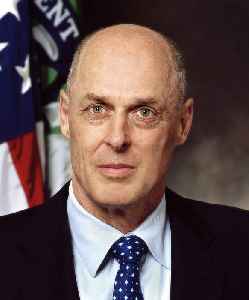 Henry Merritt "Hank" Paulson Jr. is an American banker who served as the 74th Secretary of the Treasury. Prior to his role in the Department of the Treasury, Paulson was the chairman and chief executive officer (CEO) of Goldman Sachs. He is now the chairman of the Paulson Institute, which he founded in 2011 to promote sustainable economic growth and a cleaner environment around the world, with an initial focus on the United States and China.


Full transcript of "Face the Nation" on May 12, 2019
Rep. Kevin McCarthy, Sen. Michael Bennet, Robert Gates, Hank Paulson, Susan Glasser, and David Nakamura appeared on this broadcast of "Face the Nation"
CBS News - Published
Face The Nation: David Nakamura, Susan Glasser, Henry Paulson
Missed the second half of the show? The latest on the rising tensions of the trade war.
CBS News - Published
Transcript: Henry Paulson on "Face the Nation"
The following is a transcript of the interview with former Treasury Secretary Henry Paulson that aired Sunday, May 12, 2019, on "Face the Nation"
CBS News - Published
Ex-Treasury chief: "No one wins a trade war"
Former Treasury Secretary Henry Paulson sits down with Margaret Brennan to discuss the new trade tariffs on China and what's ahead with the economy.
CBS News - Published
Search this site and the web:
You Might Like