Lyon
Prefecture and commune in Auvergne-Rhône-Alpes, France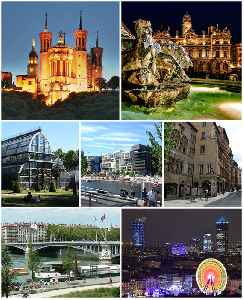 Lyon or Lyons is the third-largest city and second-largest urban area of France. It is located at the confluence of the rivers Rhône and Saône, about 470 km (292 mi) south of Paris, 320 km (199 mi) north of Marseille and 56 km (35 mi) northeast of Saint-Étienne. Inhabitants of the city are called Lyonnais.


You Might Like
France blocks passengers on board bus from Italy after one falls ill
France on Monday blocked the passengers of a coach that had traveled from the Italian city of Milan to Lyon over concerns one Italian on board might be suffering from the coronavirus, local health..
Reuters - Published
Protesting French forensic police recreate giant crime scene in Lyon
French forensic officers set up a giant fake crime scene on Saturday in front of the courthouse in Lyon at a demonstration to draw attention to their working conditions.
Reuters - Published
Jacques Pépin, the chefs' chef
With four decades on television and two dozen cookbooks, chef Jacques Pépin has been influencing American tastes and techniques for generations. Jane Pauley talks with Pépin about his culinary..
CBS News - Published
Recipe: Jacques Pépin's Chicken in Vinegar
The famed chef and TV personality offers a classic dish, a specialty of the bistros of Lyon
CBS News - Published
French authorities arrest Afghan man following deadly knife attack
Police in France arrested an Afghan man after a deadly knife attack near the city of Lyon on Saturday. Authorities say the suspect fatally stabbed one person and injured nine others. At a news..
CBS News - Published
One dead, nine wounded in France after suspected knife attack
One person was killed and at least nine others wounded on Saturday in the city of Villeurbanne near Lyon in central France after a suspected knife attack, a police source told Reuters.
Reuters - Published
Victorious US Women's World Cup team headed home
The US women's soccer team is headed home following their 2-0 World Cup final win over the Netherlands. Tired, but elated, team members left their hotel in Lyon Monday after clinching their fourth..
USATODAY.com - Published
US fans in France shout '(expletive) Trump' during Fox News World Cup report
Fox News' live report from a bar full of U.S. fans in Lyon didn't go as expected.
USATODAY.com - Published
USWNT prepares to face off against the Netherlands in World Cup final
With one day until the Women's World Cup final, anticipation is building. With 24 goals so far, Team USA has already set a record -- and along the way, it's earned admiration and criticism. Roxana..
CBS News - Published
Team USA heads to Women's World Cup final after victory over England
One more win will give the U.S. women's soccer team its second straight World Cup. The U.S. beat England two to one in Tuesday's semi-final. Roxana Saberi reports from Lyon, France.
CBS News - Published
French prosecutor orders Lyon knife man into psychiatric ward
A French prosecutor ordered on Monday a man who had attacked soldiers with a knife in Lyon to be held in a psychiatric hospital.
Reuters - Published
French soldier shoots knife-wielding man in Lyon
A French soldier opened fire on Sunday at a man clad in a North African-style robe who was threatening military personnel with a knife in Lyon, police and the public prosecutor said.
Reuters - Published