San Diego Zoo
Zoo in Balboa Park, San Diego, California, United States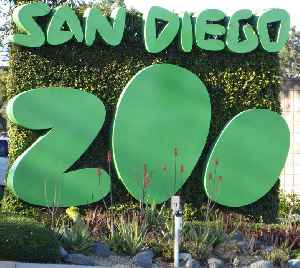 The San Diego Zoo is a zoo in Balboa Park, San Diego, California, housing more than 3,500 animals of more than 650 species and subspecies. Its parent organization, San Diego Zoo Global, is one of the largest zoological membership associations in the world, with more than 250,000 member households and 130,000 child memberships, representing more than a half million people.


San Diego Zoo's new pygmy hippo calf is thriving

Last month, after days of anticipation, Mabel, a 4-year-old pygmy hippopotamus at the San Diego Zoo, gave birth to her first calf. The male pygmy hippo calf was born just before 9 a.m. on April 9, and..
Credit: PA - Press Association STUDIO Duration: 00:31
Published
You Might Like
AP Top Stories May 28 P
Here's the latest for Thursday, May 28th: Violent protests leave destruction in Minneapolis; US jobless claims climb to 41 million; Cemetery in Sao Paulo, Brazil overwhelmed by COVID deaths; Baby..
USATODAY.com - Published
Baby pygmy hippo makes a splash at San Diego Zoo
A baby endangered pygmy hippopotamus is getting used to his surroundings at the San Diego Zoo. (May 15)
USATODAY.com - Published
Baby hippo growing, learning at two months old
A two-month-old hippo is exploring her habitat at the San Diego Zoo alongside her mother. The hippo, named Amahle, is closely monitored by her mom, named Funani, according to zoo wildlife care..
USATODAY.com - Published
Orphaned koala thriving with help from zookeepers
An orphaned koala is being cared for around the clock at the San Diego Zoo, despite the zoo being closed to the public due to the coronavirus outbreak. (March 20)  
USATODAY.com - Published
Zoo's baby hippo gets name, romps with mother
The San Diego Zoo has named a new river hippo calf, Ahmale, which means "beautiful one" in Zulu. The baby was born on February 8 and now weighs an estimated 100 pounds and is active and healthy. (Feb...
USATODAY.com - Published
San Diego Zoo welcomes baby rhino
The San Diego Zoo has a new addition - a baby rhino named Future. She's the second southern white rhino born in North America to be conceived through artificial insemination. Zookeepers say one of her..
USATODAY.com - Published
Saving the species: Artificially conceived rhino born at San Diego Zoo
The success of the artificial insemination will reportedly help recover the near-extinct northern white rhino, of which only two females remain.  
USATODAY.com - Published