Jill Biden
American educator and academic, former Second Lady of the United States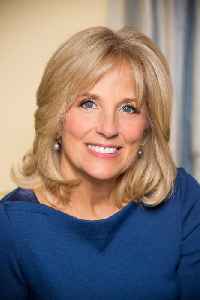 Jill Tracy Jacobs Biden is an American educator who was second lady of the United States from 2009 to 2017. She is married to Joe Biden, the 47th vice president of the United States, and the Democratic Party's nominee for President of the United States in the 2020 election.


Highlights: Night 2 of the Democratic National Convention

Dr. Jill Biden made a personal pitch for her husband, concluding the second night of the Democratic Convention.
Credit: ABC Action News Duration: 01:15
Published
Joe Biden officially nominated for president

Democrats formally nominated Joe Biden for president on Tuesday, vowing his election would repair a pandemic-battered America. Gloria Tso reports.
Credit: Reuters - Politics Duration: 02:08
Published
Jill Biden says Joe 'will make us whole'

Joe Biden's wife, Dr. Jill Biden, spoke at the Democratic National Convention about how and she and Joe rebuilt a family after profound loss - and how he will rebuild the country after the profound..
Credit: Reuters Studio Duration: 02:31
Published
You Might Like



Joe Biden Meets with Jacob Blake's Family in Kenosha, Wisconsin

Joe Biden spent over an hour face-to-face with Jacob Blake's family ... and even spoke with Jacob by phone from his hospital bed. Civil rights attorney Ben Crump said the Democratic Presidential..




TMZ.com - Published





Biden meets privately with family of Jacob Blake in Kenosha

Joe and Jill Biden met with the family of Jacob Blake, who was shot in the back seven times by a police officer.




CBS News - Published





Jill Biden offers a different model for first lady, our fashion critic writes.




NYTimes.com - Published





Why Jill Biden is confident her husband will win the election

Jill Biden delivered her Democratic National Convention​ speech Tuesday night from the Delaware high school where she once taught.




CBS News - Published





Jill Biden says Joe Biden "has the character to lead us forward" after DNC nomination

Jill Biden, the wife of Democratic presidential nominee Joe Biden, talks to "CBS This Morning" about why she thinks her husband has what it takes to lead the U.S. She also reflects on school safety..




CBS News - Published





The Five Biggest Moments from DNC Night 2

Jill Biden's speech, bipartisan nostalgia, a nomination from a security guard and an unusual roll call: Tonight the Democrats finally and officially named Joe Biden as their candidate for president.




NYTimes.com - Published





DNC Highlights: AOC, Jill Biden, Colin Powell, Bill Clinton and More

Jill Biden's speech, bipartisan nostalgia, a nomination from a security guard and an unusual roll call: Tonight the Democrats finally, officially named Joe Biden as their candidate for president.




NYTimes.com - Published





Jill Biden makes presidential case for husband Joe

Jill Biden offered a personal glimpse into her family's struggles and vouched for her husband's ability to lead the nation through adversity during remarks at the Democratic National Convention on..




USATODAY.com - Published





Dr. Jill Biden: U.S. needs "honest leadership to bring us back together"

Former second lady Dr. Jill Biden delivered her DNC speech from the school where she used to teach. Biden spoke of her history with Democratic presidential nominee Joe Biden, and how the two of them..




CBS News - Published





Watch Highlights From Jill Biden's DNC Speech

Dr. Biden, who worked as a full-time professor at a Delaware community college even while she served as second lady, spoke to the challenges educators are facing during the pandemic in her prime-time..




NYTimes.com - Published





Jill Biden talks of Joe Biden's 'unstoppable' will amid grief: Takeaways from night 2 of the DNC

Jill Biden, Bill Clinton and a surprise appearance from a security guard marked some of the highlights from Night 2 of the DNC.




USATODAY.com - Published





'He does it for you': Jill Biden gives personal speech as her husband receives DNC nomination

Jill Biden spoke as a teacher, a mother and a wife when she addressed the Democratic National Convention Tuesday night.




USATODAY.com - Published





Jill Biden: 9 things you might not know about the former second lady after her DNC speech

In Jill Biden's memoir "Where The Light Enters," she writes about being the oldest of five girls, meeting Joe Biden and fighting via text — fexting.




USATODAY.com - Published





What to expect on night 2 of the Democratic National Convention

The Democratic National Convention continues on Tuesday night with speeches from former President Bill Clinton, Jill BIden and several other big names. CBS News political correspondent Ed O'Keefe, CBSN..




CBS News - Published

Also reported by •NYTimes.com


Live coverage: Democratic convention will feature Jill Biden, Bill Clinton and nominating roll call

Former second lady Jill Biden and former President Bill Clinton will be among the headliners Tuesday at the Democratic National Convention.




USATODAY.com - Published





Night 2 of DNC: AOC, Bill Clinton and Jill Biden

Democrats on Tuesday night will focus on the themes of national security, American unity and generational change. Bill Clinton and John Kerry, standard bearers from the party's past, will speak..




NYTimes.com - Published




2020 Democratic National Convention night 2 live updates

Bill Clinton and Jill BIden are both scheduled to speak on Tuesday.




CBS News - Published





DNC Schedule, Speakers, Start Time, Channel and Streaming

Jill Biden and Bill Clinton are headlining the second night of the convention on Tuesday.




NYTimes.com - Published





Democrats roll out prime time convention speakers

Michelle Obama, Jill Biden and former President Obama are set to deliver keynote addresses. Former Governor John Kasich, a Republican, will also address the convention.




CBS News - Published





How the Democrats Are Lining Up Their Convention Speakers

Prime-time keynote speeches will feature Michelle Obama on Monday, Jill Biden on Tuesday and Barack Obama on Wednesday before Joe Biden's acceptance address on Thursday.




NYTimes.com - Published





"Sunday Morning" Full Episode 8/9

Hosted by Jane Pauley. In our cover story, Jill Schlesinger looks at what educators and students may expect when colleges and universities open for the fall semester. Plus: Rita Braver profiles Dr...




CBS News - Published





From 2009: Jill Biden, second lady of the land

When you watch Dr. Jill Biden shaking every hand in sight, stuffing gift bags for soldiers, or inviting veterans and their families to the vice president's house, you may be tempted to say, "Isn't she..




CBS News - Published




Dr. Jill Biden on family, teaching, loss and levity

"Dr. B" says she wants to continue to teach even if her husband wins the presidency




CBS News - Published




Dr. Jill Biden tells "CBS Sunday Morning" she will continue to teach if her husband is elected president

Preview: Vice president Joe Biden also talks with correspondent Rita Braver about his wife, their family, and grieving the loss of their son




CBS News - Published





Dr. Jill Biden: "I want people to value teachers"

In this preview of an interview to be broadcast on "CBS Sunday Morning" August 9, Dr. Jill Biden, wife of the presumptive Democratic nominee for president, talks with correspondent Rita Braver..




CBS News - Published





Biden left New Hampshire earlier than expected to go to South Carolina

Ahead of what could be a lower finish, the Biden campaign announced he and his wife Jill Biden would leave New Hampshire for South Carolina




USATODAY.com - Published





Why Jill Biden Is Taking Time Off to Help Her Husband Get a Job

She is a forceful surrogate for Joe Biden's campaign, in part because voters like that she has retained her own professional identity: "I admire how she's always worked."




NYTimes.com - Published





Preview: Vice President Biden

Vice President Joe Biden and his wife, Dr. Jill Biden, appear on television for the first time since the vice president announced he will not seek the Democratic presidential nomination. Norah..




CBS News - Published





Jill Biden: Joe is the most electable against Trump

Former Vice President Joe Biden's wife Jill has a simple pitch on the campaign trail: her husband has the best shot to beat President Trump. CBS News campaign reporters Bo Erickson, Nicole Sganga and..




CBS News - Published




Jill Biden says she doesn't worry about her husband's campaign gaffes

"I don't worry about the gaffes. And, you know what, the American people know who Joe Biden is," Jill Biden says about her husband's performance in primary debates




CBS News - Published





Impeachment issue spills over into swing district races

The issue of impeachment is now spilling over into smaller state races. Senator Joni Ernst and Representative Elaine Luria of Iowa both faced questions on the matter at town halls. Meanwhile, Jill..




CBS News - Published





Vice President Biden, Inside the Air War, The New Burma

Vice President Joe Biden and his wife, Dr. Jill Biden, speak with Norah O'Donnell; then, 60 Minutes goes inside the U.S. command center for the air war against ISIS; and, as Burma heads to historic..




CBS News - Published




Jill Biden makes her pitch to rural voters in South Carolina

It was the first time a presidential surrogate had ever come to Great Falls, a small town in Chester County




CBS News - Published





Jill Biden, Stressing Trump Matchup, Makes a Blunt Case for Her Husband

"You may like another candidate better, but you have to look at who is going to win," she said, while campaigning for Joe Biden in New Hampshire.




NYTimes.com - Published