Census
Acquiring and recording information about the members of a given population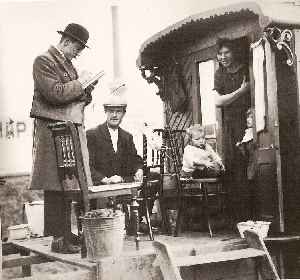 A census is the procedure of systematically acquiring and recording information about the members of a given population. This term is used mostly in connection with national population and housing censuses; other common censuses include agriculture, business, and traffic censuses. The United Nations defines the essential features of population and housing censuses as "individual enumeration, universality within a defined territory, simultaneity and defined periodicity", and recommends that population censuses be taken at least every 10 years. United Nations recommendations also cover census topics to be collected, official definitions, classifications and other useful information to co-ordinate international practice.


Trump Asserts Executive Privilege on 2020 Census Documents
After the assertion, the House Oversight Committee postponed a vote to recommend that the House hold two cabinet secretaries in contempt over the matter.
NYTimes.com - Published
2020 Census citizenship question would hurt business decisions on jobs, stores and even TV
Census data helps all kinds of companies decide where to build and what to sell. Imagine the impact if that information were incomplete or distorted.
USATODAY.com - Published
Search this site and the web:
You Might Like