R. Kelly
American singer, songwriter, record producer and actor from Illinois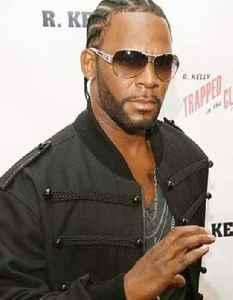 Robert Sylvester Kelly is an American singer, songwriter, musician, record producer, actor and former semi-professional basketball player from Illinois. He has been credited with helping to redefine R&B and hip hop, earning nicknames such as "the King of R&B", "the King of Pop-Soul", and the "Pied Piper of R&B".


Will R. Kelly have to face anonymous jurors?

A request has reportedly been submitted for the jurors in R. Kelly's trial to be anonymous and protected by armed guards because prosecutors are concerned the disgraced singer's team could pose a..
Credit: Bang Media World Duration: 01:38
Published
You Might Like



R. Kelly's request to be released from jail over coronavirus fears has been denied again

R. Kelly's second bid to be released from jail over COVID-19 fears has been denied despite several cases at Chicago's Metropolitan Correctional Center




USATODAY.com - Published





ShowBiz Minute: Prine, R Kelly, Fitness

Celebrated singer-songwriter John Prine has died at 73; Judge: R Kelly must remain locked up amid coronavirus crisis; Celebrities are still keeping up with their fitness goals behind closed doors...




USATODAY.com - Published




'No compelling reasons': Judge denies temporary release for R. Kelly despite coronavirus fears

R. Kelly lost another effort to get out of jail while awaiting his trials, after he failed to persuade a judge he risks getting coronavirus.




USATODAY.com - Published





ShowBiz Minute: Kelly, Swift, Royals

R. Kelly seeks release from jail, cites coronavirus risk; Taylor Swift surprises some of her fans with money donations; Duke and Duchess of Cambridge post video of their children applauding NHS workers..




USATODAY.com - Published




ShowBiz Minute: R Kelly, Kardashian West, Iglesias/Martin

R Kelly to enter plea to reworked federal charges in Chicago; Kim Kardashian West, former prisoners visit White House; Ricky Martin and Enrique Iglesias announce co-headlining tour. (March 5)  




USATODAY.com - Published





R. Kelly faces updated indictment on charges of sexual abuse of a minor

R. Kelly is facing a new indictment in Chicago federal court on charges of sexual abuse of a minor starting in 1997.




USATODAY.com - Published





R. Kelly's sexual abuse trial in New York delayed to July

A federal judge on Thursday delayed R. Kelly's racketeering, sexual abuse and bribery trial in Brooklyn, New York to July 7, so it would not conflict with the singer's upcoming trial in a separate..




Reuters - Published





R. Kelly's girlfriends get into heated exchange at Trump Tower residence; police respond

R. Kelly's girlfriends Azriel Clary and Joycelyn Savage got into a fight Wednesday afternoon at the alleged sex offender's Trump Tower condo.




USATODAY.com - Published





R. Kelly pleads not guilty on bribery charges related to marriage to 15-year-old Aaliyah

Already facing multiple sex-crime charges in four cases, R. Kelly was to be arraigned on bribery charges connected to 1994 marriage to teen Aaliyah. He pleaded not guilty.




USATODAY.com - Published





The biggest celebrity scandals of 2019, from R. Kelly to Lori Loughlin, Matt Lauer and more

As the year winds down, we're looking back on 2019 highlights in the world of entertainment. These are the 19 biggest celebrity scandals of 2019.




USATODAY.com - Published





R. Kelly charged with using bribes, apparently to marry 15-year-old Aaliyah in 1994

Already facing multiple sex-crime charges in four cases in three states, R. Kelly was hit with a new bribery charge over his 1994 marriage to Aaliyah.




USATODAY.com - Published





R. Kelly faces new bribery charge in Brooklyn criminal case

Federal prosecutors in Brooklyn on Thursday unveiled a new criminal charge against singer R. Kelly, accusing him of arranging to bribe an official as part of a scheme to recruit underage girls for sex.




Reuters - Published





R. Kelly's girlfriend Joycelyn Savage denies she spoke out against him: 'We have a bond'

One of R. Kelly's live-in girlfriends, Joycelyn Savage, asked people not to believe what they see on social media.




USATODAY.com - Published





Patreon removes alleged Joycelyn Savage account

In a series of posts, the user of the account alleged R. Kelly had abused her and that she was a "victim."




CBS News - Published





R. Kelly's live-in girlfriend now apparently calling him a "monster"

R. Kelly's live-in girlfriend, who defended him amid sexual misconduct allegations, is now apparently calling him a "monster" and saying she is also a victim-turned-survivor. On the crowd funding..




CBS News - Published





Woman who lived with R. Kelly says he was abusive

Savage pleaded for people not to judge her, saying "imagine you being in my position"




CBS News - Published




One of R. Kelly's Few Defenders Says She Was His Victim, Too

Joycelyn Savage, a girlfriend who had supported the singer in court and on television, said in online posts that R. Kelly emotionally and physically abused her.




NYTimes.com - Published





One of the women who lived with R. Kelly details abuse for the first time

Joycelyn Savage, one of the women who was living with R. Kelly at the time of his arrest, is detailing the "abusive" relationship she had with Kelly. In an interview with CBS News' Gayle King earlier..




CBS News - Published





Parents plead for daughter's return from R. Kelly

Joycelyn Savage's parents held a press conference to respond to R. Kelly's comments about their daughter




CBS News - Published





R. Kelly's lawyer responds to girlfriend Joycelyn Savage's posts distancing herself from singer

In a new online account claiming to be Joycelyn Savage, one of R. Kelly's girlfriends distanced herself from her past relationship with the singer.




USATODAY.com - Published





R. Kelly's mounting legal troubles

Tonight R. Kelly is behind bars. The issue: failure to pay child support. He owes his ex-wife Andrea more than $161,000 for their three children. It's the latest in his mounting legal troubles. When..




CBS News - Published





The rise and fall of R. Kelly

A look at how R. Kelly was able to thrive in his professional life despite years of questions about his personal life. "48 Hours" correspondent Erin Moriarty reports.




CBS News - Published





R. Kelly denies that he preyed on underage girls

In 2002, R. Kelly was indicted on 21 counts of child pornography, seven of which were subsequently dropped. He went on trial six years later. After five weeks in court, he was acquitted, and walked out..




CBS News - Published





Gayle King questions R. Kelly on abuse allegations

"CBS This Morning" co-host Gayle King grills R&B superstar R. Kelly on allegations he had sex with underage girls and asks him about a so-called "black room" at the singer's former home where it's..




CBS News - Published





"I'm not a controlling person": R. Kelly responds to allegations in Lifetime docuseries

The way R. Kelly tells it, he treats women like royalty. But as Gayle King reports, his recent legal troubles began when a very different story was told in January on the six-part Lifetime series..




CBS News - Published





R. Kelly on whether people should still buy his music

How are we supposed to respond when "the art" and "the artist" take separate paths? When the pop fantasy crashes hard into ugly allegations. R. Kelly's case may be the most egregious, but there is a..




CBS News - Published





R. Kelly: "Have you ever been in jail, Gayle?"

In his interview with "CBS This Morning" co-host Gayle King, the embattled R&B singer explains why McDonald's was the first stop he had to make after a recent weekend in jail. For more of King's..




CBS News - Published





Lady Gaga removes R. Kelly song from 'Artpop', will reportedly release new vinyl copies

Lady Gaga will reportedly release vinyl copies of her 2013 album "Artpop" but without "Do What U Want," a song made with accused sex abuser R. Kelly.




USATODAY.com - Published





R. Kelly denied bail in New York

R. Kelly has been denied bail in a New York criminal case that charges the R&B star with a racketeering scheme to sexually abuse girls. (Oct. 2)




USATODAY.com - Published




AP Top Stories 5P

Here are the top stories for Tuesday, September 17th: Cokie Roberts dies; Purdue Pharma in bankruptcy court; R Kelly in court; New York skyscraper hits 1550 feet.  




USATODAY.com - Published





R. Kelly's 'friend' who posted his $100K bond wants her money back; judge says no: reports

R. Kelly's "friend" who posted $100K to bail him on sex-crime charges in February demanded her money back but judge said no at hearing.




USATODAY.com - Published





R. Kelly a no-show in Minnesota court on solicitation charge

The 52-year-old was a no-show for a case in which he's accused of offering a teen girl money to strip and dance for him in 2001




CBS News - Published





April trial date set in R. Kelly Chicago federal case

A judge has set an April 27 trial date in R. Kelly's federal case in Chicago that accuses the R&B star of child pornography and obstruction of justice. But the judge says that date could be moved...




USATODAY.com - Published





R. Kelly asks judge to be released from solitary confinement

The disgraced R&B singer is accused in several state and federal indictments of sex crimes that span decades




CBS News - Published





The Gayle King Interview with R. Kelly

See "CBS This Morning" co-host Gayle King's explosive interview with embattled R&B singer R. Kelly and the two women who live with him about their relationship, allegations of abuse against Kelly and..




CBS News - Published





R. Kelly a no-show at latest court hearing; judge wants his first trial to be state case in Chicago

Which of the four R. Kelly sex-crimes cases go to trial first? A state judge in Chicago says he wants to proceed to trial there first.




USATODAY.com - Published





Mass Shooting, Trade War, R. Kelly: Your Tuesday Briefing

Here's what you need to know.




NYTimes.com - Published





In less than a minute, he shot 36 people

The aftermath in El Paso and Dayton, new R. Kelly changes and more of Monday's news.




USATODAY.com - Published





R. Kelly charged in Minnesota with soliciting girl in 2001

The R&B singer faces numerous other federal and state charges accusing him of sexually abusing minors




CBS News - Published





R. Kelly lawyer calls alleged victims 'disgruntled groupies': court filing

A lawyer for singer R. Kelly, who is accused of running a years-long scheme sexually preying on women and girls, said on Wednesday that the charges against the R&B artist stemmed from disgruntled..




Reuters - Published





Jeffrey Epstein, R. Kelly and a Change in How Prosecutors Look at Sexual Assault

The #MeToo Movement is starting to shift attitudes within courts, prosecutors' offices and, crucially, among victims.




NYTimes.com - Published





R. Kelly's crisis manager resigns after "CBS This Morning" interview

Just hours after appearing only on CBS This Morning, singer R. Kelly's crisis manager resigned. In a statement to CBS News, Darrell Johnson said he is stepping down for "personal reasons." He did..




CBS News - Published





R. Kelly's crisis manager announces he's stepping down

"I step down as crisis manager for personal reasons," Darrell Johnson told CBS News hours after his appearance Monday on "CBS This Morning"




CBS News - Published





Can someone read this for R. Kelly?

The singer's trapped in jail and, apparently, a closet of illiteracy. It's Monday's news.




USATODAY.com - Published





R. Kelly crisis manager: I wouldn't leave my daughter with accused pedophile

Darrell Johnson says the R&B singer facing new sex crime charges is "a mess right now. He's scared, he's isolated"




CBS News - Published




R. Kelly representative: I would 'absolutely not' trust the singer with my daughter

Darrell Johnson, a spokesperson for Kelly, granted an illuminating interview to Gayle King on Monday's CBS This Morning.




USATODAY.com - Published