West Virginia
State of the United States of America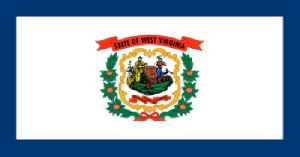 West Virginia is a state located in the Appalachian region in the Southern United States and is also considered to be a part of the Middle Atlantic States. It is bordered by Pennsylvania to the north, Maryland to the east and northeast, Virginia to the southeast, Kentucky to the southwest, and Ohio to the northwest. West Virginia is the 41st largest state by area, and is ranked 38th in population. The capital and largest city is Charleston.


West Virginia lawmaker called to resign after comparing LGBTQ people to the Ku Klux Klan
A West Virginia Republican lawmaker is facing bipartisan backlash after comparing LGBTQ people to the Ku Klux Klan.
USATODAY.com - Published
West Virginia legislator under fire for comparing gay activists to KKK
"The LGBTQ is a modern day version of the Ku Klux Klan, without wearing hoods with their antics of hate"
CBS News - Published
West Virginia Lawmaker Faces Calls To Resign After Likening LGBTQ People To KKK
wvlegislature.gov West Virginia lawmaker Eric Porterfield is facing calls to resign after a string of homophobic remarks, such as likening the LGBTQ community to the Ku Klux Klan and saying he would..
Credit: Wochit News Duration: 01:02Published
DMX Is Now Free
CNN reports that DMX was released from a federal prison on Friday, a spokesperson for the Federal Bureau of Prisons confirmed. The rapper was released from Gilmer Federal Correctional Institution in..
Credit: Wochit News Duration: 00:32Published
Striking Los Angeles teachers rally for better pay
Tens of thousands of striking Los Angeles teachers rallied near City Hall on Friday, joined by parents and students as contract talks the mayor called "productive" resumed behind closed doors after a..
Credit: Reuters Studio Duration: 01:48Published
Los Angeles to Go On Strike
According to the Huffington Post, Los Angeles teachers are going on strike on Monday, a plan that will impact about a half million students in the nation's second-largest school district. The..
Credit: Wochit News Duration: 00:41Published
People Rescued From Abandoned West Virginia Mine Face Arrest Warrants
According to a report by Newser, an arrest warrant has been issued for the people who snuck into an abandoned West Virginia mine earlier this month. NBC News reports that Erica Treadway, Cody Beverly,..
Credit: Wochit News Duration: 00:37Published
West Virginia Police Issue Arrest Warrant For Man In Abandoned Mine Incident
According to a report by Reuters, on Friday, police in West Virginia issues an arrest warrant for a man whose three friends were rescued earlier this week after he told authorities they had gotten lost..
Credit: Wochit News Duration: 00:36Published
West Virginia dismisses Ahmad, Harris for rule violations
West Virginia starters Esa Ahmad and Wes Harris have been dismissed from the team for undisclosed violations of athletic department policies
USATODAY.com - Published
Ramey scores 19, leads Texas in 75-53 win over West Virginia
Courtney Ramey tied a career-high with 19 points as Texas made light work of West Virginia for a 75-53 win
USATODAY.com - Published
Scott gets hot, No. 22 Iowa St. women beat W. Virginia 77-61
Kristin Scott scored 15 points in the third quarter, another 10 in the fourth and finished with 29 and No. 22 Iowa State pulled away from West Virginia for its fourth-straight win, 77-61
USATODAY.com - Published
Search this site and the web:
You Might Like