John J. Sullivan (diplomat)
American lawyer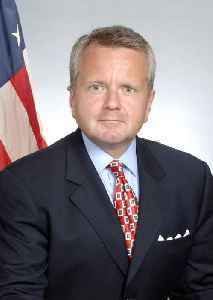 John Joseph Sullivan is an American lawyer and government official serving as the United States Ambassador to Russia, and who previously served as the 19th United States Deputy Secretary of State from 2017 to 2019. A member of the Republican Party, Sullivan served as Acting United States Secretary of State from April 1, 2018, to April 26, 2018, following President Donald Trump's dismissal of Secretary of State Rex Tillerson on March 13, 2018, until Tillerson's official successor, Mike Pompeo, was sworn in. Tillerson did not officially leave office until March 31, 2018. Sullivan, however, was delegated all responsibilities of the Secretary of State beginning March 13.


U.S. ambassador slams Russia Whelan verdict

U.S. ambassador to Russia John Sullivan criticized Russia for sentencing former U.S. marine Paul Whelan to 16 years in jail for espionage.
Credit: Reuters Studio Duration: 00:50
Published
You Might Like
Search this site and the web: