Ronald Reagan
40th President of the United States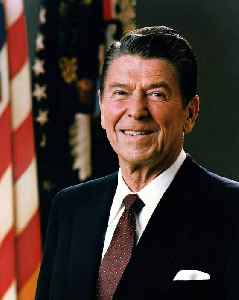 Ronald Wilson Reagan was an American politician who served as the 40th president of the United States from 1981 to 1989 and became a highly influential voice of modern conservatism. Prior to his presidency, he was a Hollywood actor and union leader before serving as the 33rd governor of California from 1967 to 1975.


Trump Announces National Garden

President Donald Trump announced the construction of a "National Garden of American Heroes." The garden is meant to honor iconic figures through history. The executive order on the development listed..
Credit: Wochit News Duration: 00:43
Published
You Might Like



Trump Says He Will Create a Statuary Park Honoring 'American Heroes'

The executive order includes John Adams, Harriet Tubman and Martin Luther King Jr. among those who would be honored. So would Billy Graham, Antonin Scalia and Ronald Reagan.




NYTimes.com - Published





President Trump has transformed the federal courts, but John Roberts still leads them

The president's judicial appointments over 3½ years have moved the federal courts further to the right than any president since Ronald Reagan.




USATODAY.com - Published





Today in History for June 21st

Highlights of this day in history: Three civil rights workers disappear in Mississippi; John Hinckley, Jr. found not guilty by reason of insanity for shooting President Ronald Reagan and three others;..




USATODAY.com - Published




Fact check: Do Republican presidents oversee recessions and Dems oversee recoveries?

Have only GOP leaders since Reagan had recessions? Not quite. Democratic presidents oversee recoveries, but Obama still had to tackle recession.




USATODAY.com - Published





John Sears, Strategist for Nixon and Reagan, Dies at 79

Some thought he was "Deep Throat," the secret source who helped The Washington Post unravel Watergate. He was not.




NYTimes.com - Published





Appeals Court Rejects Trump Medicaid Work Requirements in Arkansas

The ruling, written by a Reagan appointee, said the administration failed to show how such rules would help Medicaid to meet its mission of covering the poor.




NYTimes.com - Published





Lawrence Pierce, Federal Judge in New York, Dies at 95

Appointed by Nixon in 1971 and promoted by Reagan, he was one of a few black jurists on the federal bench. He considered himself a Republican civil libertarian.




NYTimes.com - Published





On This Day: 6 February 1911

Future U.S. President Ronald Reagan was born in Tampico, Illinois. (Feb. 6)  




USATODAY.com - Published





Jane Raskin, Who Helped Trump in Mueller Inquiry, Joins President's Defense Team

Ms. Raskin, who worked in the Justice Department in the Reagan administration, has been a constant but little-known presence in Mr. Trump's orbit since the Mueller inquiry.




NYTimes.com - Published





William Greider, Journalist Who Focused on Economy, Dies at 83

In interviews with Reagan's budget director, David Stockman, he exposed doubts about the supply-side economics that the administration had embraced.




NYTimes.com - Published





Republicans have gone soft on Russia to protect Donald Trump. So much for Reagan's legacy.

Republicans once were committed to the liberation of Russia's 'Captive Nations.' Ukraine, now free, should have more credibility than former captors.




USATODAY.com - Published





Japan's Nakasone hobnobbed with Reagan, pursued reforms, aimed to alter constitution

TOKYO Reuters - Yasuhiro Nakasone, one of Japan's longest reigning premiers and known for his friendship with Ronald Reagan, has died at the age of 101, a top ruling party official said on Friday.




Reuters - Published





Former Japanese Prime Minister Yasuhiro Nakasone dies at 101 - NHK

Former Japanese Prime Minister Yasuhiro Nakasone has died at the age of 101, NHK television said on Friday, after a career during which he hobnobbed on the world stage with Ronald Reagan, and battled..




Reuters - Published





Former Secretary of State George Shultz on Russia

During an interview for "Face the Nation" George Shultz, Secretary of State during the Reagan administration, calls Russia a "bad actor"




CBS News - Published





The Reagans

"Why hasn't this job weighed as heavily on you as it has on some other occupants of this Oval Office?" That's what Mike Wallace asks outgoing President Ronald Reagan in this farewell interview with the..




CBS News - Published





Mike Wallace grills Jimmy Carter in 1985

60 Minutes visits the home of former President Jimmy Carter to ask blunt questions about his image, his failures, and his opinion of President Reagan




CBS News - Published





Trump awards Medal of Freedom to Ed Meese — live updates

Meese left the Reagan administration under an ethics cloud




CBS News - Published





Coral threat, woman bites camel, Reagan home in peril: News from around our 50 states

Arrest of 6-year-old prompts outrage in Florida, monkey injured while trying to protect his son in Kansas, and more




USATODAY.com - Published





Cindy McCain says there is no 'voice of reason' in GOP, nearly a year after John McCain's death

Cindy McCain says the current Republican Party is "not the party of Abraham Lincoln ... nor the party of Ronald Reagan," and is issuing a call for more civility in Washington and across the country.




USATODAY.com - Published





The end of the Reagan-era INF treaty could start a US-Russia arms race, critics say

Supporters of the Reagan-era INF nuclear treaty say its demise will trigger a new arms race between the United States and Russia.




USATODAY.com - Published





US formally withdraws from Reagan-era nuclear pact with Russia

Washington and Moscow walked out of the Intermediate-range Nuclear Forces treaty that Ronald Reagan and Mikhail Gorbachev signed in 1987.




USATODAY.com - Published

Also reported by •CBS News


Audio reveals Ronald Reagan calling African delegates 'monkeys'

In a recently emerged audio recording from 1971, then-California Governor Ronald Reagan can he heard disparaging African delegates to the United Nations as "monkeys" during a phone call with U.S...




Reuters - Published





Reagan called African delegates "monkeys" in recording

Surprising audio recordings have surfaced of a phone conversation between Richard Nixon and Ronald Reagan. It captures the men using racist language. Paula Reid reports.




CBS News - Published




Recording reveals Ronald Reagan making racist remarks to President Richard Nixon

The National Archives first released the recording in 2000 but the conversation was cut out to protect Reagan's privacy.




USATODAY.com - Published





Missing girl highlighted by President Reagan found 34 years later

Jonelle Matthews' case attracted the attention of the White House, and came at a time when the faces of missing children across the nation were being placed on milk cartons




CBS News - Published





Trump tweets fake Reagan quote

"Cute!" President Trump tweeted about a photo with a quote claiming that President Reagan had called him presidential




CBS News - Published





Iran tanker attack: Donald Trump, Mike Pompeo should follow Ronald Reagan's lead

During the Iran-Iraq war in the 1980s, the Reagan administration faced off a spate of tanker attacks with targeted military force and smart diplomacy.




USATODAY.com - Published





Martin Feldstein, a Chief Economist Under Reagan, Dies at 79

He took a leave from Harvard to be chairman of the Council of Economic Advisers and, as a deficit hawk, never shied from challenging his White House colleagues.




NYTimes.com - Published





America - Redefining Hope

In 2016, this manufacturing town voted Republican for the first time since the Reagan administration. CBSN Originals returns to Erie, PA, to see whether the change in Washington is the change locals..




CBS News - Published