The Beatles
English rock band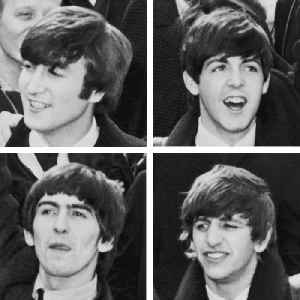 The Beatles were an English rock band formed in Liverpool in 1960. The group, whose best-known line-up comprised John Lennon, Paul McCartney, George Harrison and Ringo Starr, are regarded as the most influential band of all time. They were integral to the development of 1960s counterculture and popular music's recognition as an art form. Rooted in skiffle, beat and 1950s rock and roll, their sound incorporated elements of classical music and traditional pop in innovative ways; the band later explored music styles ranging from ballads and Indian music to psychedelia and hard rock. As pioneers in recording, songwriting and artistic presentation, the Beatles revolutionised many aspects of the music industry and were often publicised as leaders of the era's youth and sociocultural movements.


K-pop legends BTS talk 2020 success

Following a record-breaking 2019, boyband BTS reached new heights with hit "Dynamite" getting U.S. Billboard success. But they wish they could celebrate with their fans. Caroline Malone reports.
Credit: Reuters - Politics Duration: 01:59
Published
Mark David Chapman Denied Parole For 11th Time

Mark David Chapman has been denied parole for the 11th time. Chapman murdered John Lennon outside his Manhattan apartment in 1980. Officials said Chapman was denied after being interviewed by a parole..
Credit: Wochit News Duration: 00:32
Published
Ryan Reynolds and Paul McCartney nominated for Native American Chief role

The Deadpool actor and Beatles legend have been nominated to be Chief for Walpole Island First Nation, a reservation with a community of 5000 located on an island bordering Michigan and Canada.
Credit: Cover Video STUDIO Duration: 00:49
Published
Juice WRLD makes history with 5 songs in top 10 on 'Billboard' chart

The rapper joins Drake and The Beatles as the only acts to occupy half of the top 10 slots simultaneously.
Credit: Cover Video STUDIO Duration: 00:54
Published
You Might Like



Today in History for August 27th

Highlights of this day in history: Krakatoa erupts in South Pacific; President Lyndon Johnson and Mother Teresa born; America's first successful oil well; Britain's Lord Louis Mountbatten killed;..




USATODAY.com - Published




US won't pursue death penalty against ISIS 'Beatles' in exchange for British cooperation

The Trump administration will not pursue the death penalty against two ISIS suspects in exchange for Britain's cooperation in the prosecution of the terrorists known as the "Beatles," allegedly linked..




USATODAY.com - Published





How The Beatles revolutionized the music business

Acclaimed musicians Nile Rodgers, John Oates, Tad Kubler, and Felix Cavaliere discuss how The Beatles revolutionized popular music and the way the band's success changed the business. Anthony Mason..




CBS News - Published





For The Beatles, coming to America meant success

Three people who knew The Beatles well -- Peter Asher, Pattie Boyd, and Mick Jones -- talk about the band's early years and what it meant to make their U.S. debut. Anthony Mason hosted the panel as..




CBS News - Published





The Beatles influence spread across the entertainment industry

Theater and film director Julie Taymor and writer/musician/comedian Neil Innes talk about the wide ranging impact The Beatles had on the arts and the world of music beyond their own genre. Anthony..




CBS News - Published





Beatles' manager reflects on the group's meteoric rise

Longtime radio and TV reporter Larry Kane interviewed the Beatles' manager Brian Epstein in 1964 in the midst of the band's North American tour. Epstein discusses how he originally discovered the band,..




CBS News - Published





The Beatles: From Ed Sullivan to Beatlemania

CBS gives a snapshot of the excitement surrounding the Fab Four in 1964 as part of the CBS News live event, "50 Years: The Beatles," at the Ed Sullivan Theater.




CBS News - Published





Julian Lennon remembers his father, the Beatles

As we celebrate the 50th anniversary or the Beatles' arrival in America, Julian Lennon tells CBS News what it was like growing up as the son of a Beatle.




CBS News - Published





Ringo: "We loved the idea of being in America"

Only a few months before the Beatles appeared on "The Ed Sullivan Show," the band had been unknown in the U.S., and they were unsure about how they'd be received. Ringo Starr speaks with Anthony Mason..




CBS News - Published





Ringo: Beatles "felt very insecure" ahead of U.S. trip

Ringo Starr tells Anthony Mason the Beatles did not know how they would be received when they traveled to the U.S. 50 years ago this week. For more of the interview, watch the "CBS Evening News"..




CBS News - Published





The Grammys to host a rare Beatles reunion

The Recording Academy will celebrate the Beatles, plus Ciara shows off her baby bump. Bigad Shiban has those stories and more in today's Eye on Entertainment.




CBS News - Published





10/24: Obamacare website contractors point fingers at White House; Ringo Starr puts out new album -- of photographs

The two main contractors who built the inner workings of the Obamacare website told Congress the government never tested the parts together until days before the deadline; and, When the Beatles arrived..




CBS News - Published





Julian Lennon's return to the spotlight

Born into the spotlight, Julian Lennon's career began on a high note in 1984 with his platinum selling debut "Valotte." Now, Julian, the son of Beatles legend John Lennon, is back with "Everything..




CBS News - Published





What was Jackie Kennedy's favorite picture of JFK?

You may not know Henry Grossman, but you know his pictures. Iconic shots of President John F. Kennedy, the Beatles and other famous faces that dot the American historical landscape. Watch Morley..




CBS News - Published





On This Day: 29 July 1965

The Beatles enjoyed a royal premiere of their movie "Help!" in London. (July 29)  




USATODAY.com - Published




Happy birthday, Sir Paul McCartney: The iconic singer's life and career in pictures

Paul McCartney, the former Beatle and iconic singer, celebrates his birthday on June 18.




USATODAY.com - Published





'Quaranchella' concerts let locked down neighbors let loose

With a bit of Beatles and a lot of Elton John, Adam Chester is bringing good vibes to his locked-down Los Angeles neighborhood with weekly concerts. (May 13)  




USATODAY.com - Published





'Let It Be' album turns 50

Friday 8 May marks the 50th anniversary of the Beatles' final album release, 'Let It Be'. (May 7)  




USATODAY.com - Published





100 songs to help lift your spirits during a pandemic

From Taylor Swift to the Beatles and everything in between, we've got some tunes to make you smile in these tough times.




USATODAY.com - Published





UK's Prince Harry and Jon Bon Jovi recreate Abbey Road Beatles cover

Britain's Prince Harry and singer Jon Bon Jovi recreated one of the Beatles' best-known album covers on Friday, walking across the zebra crossing outside Abbey Road recording studios in north London.




Reuters - Published





Passage: In memoriam

"Sunday Morning" remembers Beatles photographer Robert Freeman, Maria Perego, creator of the puppet character Topo Gigio, and Robert Norris, who became famous in advertising as "The Marlboro Man," even..




CBS News - Published





Calendar: Week of May 29

From Memorial Day to the 50th anniversary of the Beatles' classic "Sgt. Pepper's Lonely Hearts Club Band," "Sunday Morning" takes a look at some notable events of the week ahead. Jane Pauley reports.




CBS News - Published





Sunday Profile: Entertainer Mitzi Gaynor

Mitzi Gaynor has been playing with audiences for more than 70 years now, in movies, then on TV and in Vegas. The singer, dancer and actress talks with Mo Rocca about being wooed by Howard Hughes,..




CBS News - Published




Rodriguez: The rock icon who didn't know it

A Detroit musician living in poverty didn't know that in South Africa, he was more popular than the Beatles. Bob Simon reports.




CBS News - Published





The makeup artist who has seen it all

Riccie Johnson, CBS makeup artist for 62 years, has powdered all the greats -- The Beatles, Sinatra, and U.S. presidents




CBS News - Published





Paul McCartney speaks to 60 Minutes

Just a few weeks shy of the 50th anniversary of the Beatles' "White Album," McCartney speaks candidly with Sharyn Alfonsi while preparing to tour for his new album, "Egypt Station." Sunday at 7:30 p.m...




CBS News - Published




Who is Paul McCartney trying to impress?

The former Beatle admits it's "an impossible order" to impress everyone with his music, but that "doesn't stop me trying"




CBS News - Published





Paul McCartney: human, humble and still having fun

In an interview with 60 Minutes, the Beatle talks about worrying, songwriting, and how even John Lennon was insecure




CBS News - Published




How a big crowd makes Paul McCartney feel

What song made the former Beatle unexpectedly emotional?




CBS News - Published





Paul McCartney still listens to the radio

In an interview with 60 Minutes, the former Beatle tells Sharyn Alfonsi how he finds new music




CBS News - Published





Paul McCartney opens up about Abbey Road, the Beatles' breakup in wide-ranging interview

McCartney walks down memory lane while looking through old pictures and videos and talks about how he still feels the need to prove himself with his music. Sharyn Alfonsi reports.




CBS News - Published





New "Abbey Road" remix reveals insight into the Beatles' swan song

50 years after the original release of "Abbey Road," the new remix includes never-before-heard studio sessions from the Fab Four's final album together




CBS News - Published





New remix marks 50 years since "Abbey Road" release

A remix of the legendary Beatles album "Abbey Road" is out Friday, marking 50 years since its original release. It includes studio sessions the public has never before heard. Charlie D'Agata..




CBS News - Published





As 'Abbey Road' turns 50, creative director reflects on making the iconic cover

John Kosh was 23 when he submitted the cover he'd designed for "Abbey Road" to Apple Records. Kosh reflects on the Beatles' last recording.




USATODAY.com - Published





'Abbey Road' turns 50: All the album's songs, ranked

"Abbey Road" endures as a pure artistic achievement that closed the Beatles' songbook on a high note.




USATODAY.com - Published





10 essential country music covers from legendary rock, soul and reggae acts

From The Beatles to Megadeth, take a trip through the best country covers.




USATODAY.com - Published





Beatles' iconic "Abbey Road" album cover turns 50

Beatles fans​ from across the globe have made the pilgrimage to stride across the most famous crosswalk in rock and roll




CBS News - Published




Paul McCartney is adapting 'It's a Wonderful Life' as a stage musical

The former Beatle will adapt the 1946 film about a small-town banker wracked with regret who is shown the value of his life by a guardian angel.




USATODAY.com - Published





'I love you, man': Paul McCartney brings out Ringo Starr for a tour-closing Beatles reunion

Reunion alert! Paul McCartney and Ringo Starr shared the stage at Dodger Stadium, where the former Beatles played "Sgt. Pepper" and "Helter Skelter."




USATODAY.com - Published





Almanac: Ringo Starr's birthday

79 years ago today, Richard Starkey was born in a tough neighborhood of Liverpool, England. He grew up to become known as Ringo Starr, the drummer who in 1962 joined John Lennon, Paul McCartney, and..




CBS News - Published




'Toy Story 4' still rules the playpen: No. 1 again, beating out 'Annabelle,' 'Yesterday'

Woody and gang remain box-office faves: Pixar's 'Toy Story 4' beat out 'Annabelle Comes Home' and Beatles fantasy 'Yesterday' in its second weekend.




USATODAY.com - Published





Spoilers! All about that divisive, emotional Beatles surprise in 'Yesterday'

If you saw "Yesterday," there was one scene that likely took your breath away. Director Danny Boyle talks to USA TODAY about how he approached it.




USATODAY.com - Published





Danny Boyle imagines a world without The Beatles

A new film directed by Danny Boyle portrays a world where The Beatles never existed. CBSN's Vladimir Duthiers spoke to the Academy Award-winning director and the star of the movie, Himesh Patel.




CBS News - Published





How director Danny Boyle knew "straight away" that Himesh Patel should be the star of "Yesterday"

The Beatles had 20 number one singles on the Billboard Hot 100 Pop Chart, and they remain one of the most influential bands of all time -- but a new movie, "Yesterday," is set in a world where an..




CBS News - Published