Jenny Durkan
American politician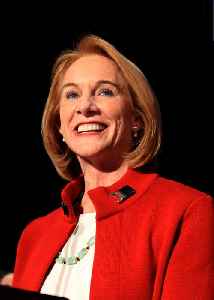 Jenny Anne Durkan is an American Democratic attorney and politician serving as mayor of Seattle. She is the daughter of Martin Durkan, who was once considered one of the most powerful politicians in the state. After earning her J.D. degree from University of Washington School of Law in 1985, Durkan began practicing law as a prosecutor; she had many prominent cases both on behalf of the government and for private parties. During this time she also worked for many nonprofits and advocacy groups, and was briefly Governor Mike Lowry's chief lawyer. In October 2009, President Barack Obama appointed her United States Attorney for the Western District of Washington. She held that position until September 2014.


Police Clear 'Lawless' Seattle Zone

Capitol Hill Organized Protest (CHOP) area was taken over by protesters after the death of George Floyd in Minneapolis. Cops were kept out of the area. The mayor of Seattle, Jenny Durkan, said the area..
Credit: Wochit News Duration: 00:57
Published
Seattle to Reclaim Police-Free Autonomous Zone

Mayor Jenny Durkan told protestors at the Capitol Hill Organized Protest (CHOP) that "it's time for people to go home".
Credit: Cover Video STUDIO Duration: 01:10
Published
Seattle to dismantle protest zone after shootings

Demonstrators took over a six-block swath of the city, dubbed the Capitol Hill Organized Protest zone, in early June after cops withdrew from a precinct amid demonstrations against police brutality...
Credit: Reuters Studio Duration: 01:35
Published
Seattle Mayor Will Shut Down Cop Free Zone

On Monday, Seattle mayor Jenny Durkan said the police were to reestablish a presence in the area known as the Capitol Hill Autonomous Zone. The CHAZ was set up in the wake of protests surrounding the..
Credit: Wochit News Duration: 00:25
Published
You Might Like