Clarence Thomas
Associate Justice of the Supreme Court of the United States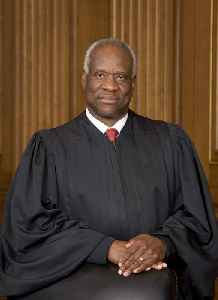 Clarence Thomas is an American judge, lawyer, and government official who currently serves as an Associate Justice of the Supreme Court of the United States. He is currently the most senior associate justice on the Court following the retirement of Anthony Kennedy. Thomas succeeded Thurgood Marshall and is the second African American to serve on the Court. Among the current members of the Court he is the longest-serving justice, with a tenure of 28 years, 8 days as of October 31, 2019.


Behind the headlines: Battle over the Supreme Court
Battle over the Supreme Court Correspondent Martha Teichner looks back at Anita Hill's testimony during the confirmation hearing of Clarence Thomas, and talks with NPR's Nina Totenberg and historian..
CBS News - Published
Anita Hill
"I did what my conscience told me I had to do, and you cannot fail when you do that." That's what Anita Hill tells Ed Bradley regarding her testimony before a Senate committee, in which she accused..
CBS News - Published
Clarence Thomas: The justice nobody knows
In his first TV interview, Justice Thomas talked about his childhood, his career, and his controversial confirmation
CBS News - Published
Rewind: Clarence Thomas talks about Anita Hill
When the Supreme Court Justice spoke to 60 Minutes in 2007, he addressed Anita Hill's high-profile testimony: "That's not the person I knew"
CBS News - Published
Today in History for October 11th
Highlights of this day in history: Congress OK's U.S. military force against Iraq; Former President Jimmy Carter wins Nobel Peace Prize; Anita Hill accuses Supreme Court pick Clarence Thomas; Second..
USATODAY.com - Published
U.S. Supreme Court opens new term, with an ill Justice Thomas absent
The U.S. Supreme Court on Monday debated the insanity defense in criminal prosecutions and delivered a potential setback to gun control advocates as it opened its new term on Monday with a flurry of..
Reuters - Published
Janet Napolitano on "The Takeout" - 5/31/19
Former Homeland Security Secretary Janet Napolitano joins Major Garrett to talk about Joe Biden's handling of Clarence Thomas's confirmation hearings, immigration and more on this week's edition of..
CBS News - Published
Justice Thomas urges U.S. Supreme Court to feel free to reverse precedents
Justice Clarence Thomas on Monday urged the U.S. Supreme Court to feel less bound to upholding precedent, advancing a view that if adopted by enough of his fellow justices could result in more past..
Reuters - Published
Justices Dismiss Appeal in Virginia Racial Gerrymandering Case
The decision featured unusual alliances, with Justices Clarence Thomas and Neil M. Gorsuch joining three of the court's more liberal members.
NYTimes.com - Published
How History Changed Anita Hill
Nearly 30 years after the Clarence Thomas hearings, she talks about the progress that's been made and the issues that remain.
NYTimes.com - Published
Anita Hill on whether she could vote for Biden: "Of course I could"
Hill has criticized Biden's performance during the confirmation hearing of Supreme Court Justice Clarence Thomas
CBS News - Published
At the Supreme Court, Justice Thomas Scoffs at Retirement Rumors
In a relaxed public interview, Justice Clarence Thomas reflected on his career and work at the Supreme Court.
NYTimes.com - Published
You Might Like