San Diego County, California
County in California, United States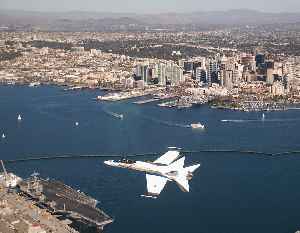 San Diego County, officially the County of San Diego, is a county in the southwestern corner of the state of California, in the United States. As of the 2010 census, the population was 3,095,313. making it California's second-most populous county and the fifth-most populous in the United States. Its county seat is San Diego, the eighth-most populous city in the United States. It is the southwesternmost county in the 48 contiguous United States.


At least three dead after Southern California cliff collapses
Tons of debris fell on beachgoers Friday in Encinitas, north of San Diego. A 30-foot long slab of dense sandstone broke away and plunged downward. Witnesses say first responders had to dig people out..
CBS News - Published
16 Marines arrested on base for alleged involvement in human smuggling, drug offenses
The U.S. Marine Corps said the 16 Marines were arrested during morning battalion formation at Camp Pendleton in San Diego County.
USATODAY.com - Published
Two horses dead after freak accident while training at Del Mar track in California
Two days into the annual summer meet at Del Mar Thoroughbred Club just north of San Diego, two horses are dead after colliding during training.
USATODAY.com - Published
2-year-old boy dies after contracting E. coli at San Diego fair
The exact source of the bacteria is still under investigation, but all four cases reported having contact with animals at the fair
CBS News - Published
SoCal city's beaches closed due to sewage-laden runoff from Mexico
San Diego county officials widen closure area to entire length Imperial Breach's coast
CBS News - Published
Wounded rabbi inspires after attack: "We need to battle darkness with light"
Rabbi Yisroel Goldstein of Chabad of Poway held an emotional press conference Sunday recalling the harrowing shooting at his synagogue near San Diego
CBS News - Published
Shooting at California Synagogue
Authorities in Southern California say a shooting at a synagogue has left people injured. San Diego County sheriff's office also said Saturday on Twitter that a man has been detained in connection with..
CBS News - Published
San Diego County sues Trump administration over immigration policy
San Diego County has filed a federal lawsuit against the administration of U.S. President Donald Trump, accusing it of leaving thousands of asylum seekers stranded without help and straining county..
Reuters - Published
These environmentalists and outdoors lovers support a border wall
Migration and crime are down since a barrier was built along eastern San Diego County towns. Wildlife has found a way, for now.
USATODAY.com - Published
You Might Like