Walt Disney World
Entertainment complex in Florida, United States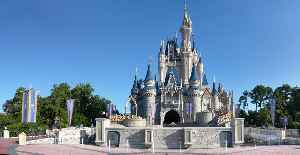 The Walt Disney World Resort, also called Walt Disney World and Disney World, is an entertainment complex in Bay Lake and Lake Buena Vista, Florida, in the United States, near the cities of Orlando and Kissimmee. Opened on October 1, 1971, the resort is owned and operated by Disney Parks, Experiences and Products, a division of The Walt Disney Company. It was first operated by Walt Disney World Company. The property covers nearly 25,000 acres, of which only half has been used. The resort comprises four theme parks, two water parks, 27 themed resort hotels, nine non-Disney hotels, several golf courses, a camping resort, and other entertainment venues, including the outdoor shopping center Disney Springs.


MLS will make its return to play July 8

MLS season will kick off with tournament which sends winner to CONCACAF Champions Cup
Credit: Reuters - Sports Duration: 01:23
Published
NBA Approves Plan To Resume Season In July

The NBA's Board of Governors have approved a plan to restart the suspended season. The tentative date is July 31st with a start at Disney World, Florida amid the COVID-19 pandemic. The plan would see..
Credit: Wochit News Duration: 00:36
Published
NBA hoping to restart season July 31, according to report

NBA Commissioner Adam Silver has informed the league's Board of Governors that he hopes to restart the season on July 31, the Athletic reports
Credit: Reuters - Sports Duration: 01:04
Published
Florida Officials Approve Walt Disney World Reopening Plans

Florida officials have approved plans for a phased reopening of Walt Disney World. The plan is to begin the reopening in Orlando starting on July 11, reports Reuters. The successful reopening of its..
Credit: Wochit News Duration: 00:42
Published
Stocks soar on growing economic optimism

Wall Street rose sharply on Wednesday, powered by bank and retail shares, as the further easing of lockdowns boosted hopes for an economic recovery. Conway G. Gittens has the market action.
Credit: Reuters Studio Duration: 02:00
Published
Disney World Set to Open in July, Jimmy Fallon Apologizes for Blackface & More | THR News

Disney World sets a July reopening, Jimmy Fallon apologizes after a 'SNL' clip of him in blackface resurfaces and the magic of Harry Potter is on HBO Max.
Credit: The Hollywood Reporter Duration: 02:12
Published
Disney sets to reopen Walt Disney World in July

Entertainment conglomerate Walt Disney has cleared one hurdle in its plan to start reopening Walt Disney World in Orlando, Florida on July 11. Conway G. Gittens has the details.
Credit: Reuters Studio Duration: 01:30
Published
NBA in talks with Disney to restart season at sports complex in Florida

NBA in talks with Disney about restarting its suspended season at Disney World in Florida in late July
Credit: Reuters - Sports Duration: 01:05
Published
Shanghai Disneyland reopens after three months closure due to conoravirus

While Mickey Mouse joined familiar Disney characters welcoming the crowds, the Shanghai experience will not be as it was: Instead of parades and fireworks, there are mandatory masks, temperature..
Credit: Reuters Studio Duration: 01:21
Published
You Might Like



Multiple FC Dallas players test positive for coronavirus after arriving in Orlando

FC Dallas delegation under quarantine at Disney World resort after positive tests by unidentified players ahead of MLS tournament, set to begin July 8.




USATODAY.com - Published





Coronavirus updates: Texas reports record-high new cases, pauses reopening; calls grow for Disney World to stay closed

Coronavirus cases are trending upward in about half of U.S. states, and several have reported record-breaking daily new case counts this week.




USATODAY.com - Published





Apple's WWDC, NASCAR, Disney World's resort hotels return: 5 things to know Tuesday

Apple kicks off its developer conference, controversy at a postponed NASCAR race and more you need to know Monday.




USATODAY.com - Published





Disney announces dates its Orlando resorts will reopen after coronavirus forced closure

With Walt Disney World ready to welcome back guests July 11, the company has announced when it will reopen its Orlando resorts.




USATODAY.com - Published





Disneyland plans to reopen its parks July 17, but with no parades or character meet and greets

Disneyland is reopening its parks July 17, a week after Walt Disney World in Florida.




USATODAY.com - Published





Disney World's resort hotels return June 22 from COVID-19 shutdown: Here's what to expect

Disney Resort hotels are reopening on June 22, a few weeks ahead of the return of Walt Disney World on July 11. Here's what to expect if you visit.




USATODAY.com - Published





NBA approves plan to resume season in July at Disney World

The NBA's Board of Governors have approved a plan to restart the suspended season with a tentative July 31 start at Disney World, Florida amid the COVID-19 pandemic, the league said on Thursday.




Reuters - Published




Florida officials approve Walt Disney World reopening plans

Florida officials have approved plans for a phased reopening of Walt Disney World in Orlando starting on July 11, according to a memo from a state agency released on Friday.




Reuters - Published




How NBA can play out season at Disney sports complex in Florida

The ESPN Wide World of Sports Complex and Disney World Resort is uniquely setup to allow the NBA to resume play and keep teams in a relative bubble.




USATODAY.com - Published





Disney World, SeaWorld, petrified forest, Wisconsin state fair: News from around our 50 states

Tyson Foods temporarily closes Iowa pork processing plant after COVID-19 outbreak, Joe Biden to close out 'virtual' Texas Democrat convention, and more




USATODAY.com - Published





Disney theme park, Las Vegas casinos plan reopening; U.S. mourns 100,000 dead

Walt Disney World in Florida on Wednesday announced plans to reopen and MGM Resorts said guests could soon return to Las Vegas casino hotels, as more Americans emerging from the coronavirus lockdown..




Reuters - Published





Disney plans to reopen Walt Disney World starting on July 11

Walt Disney Co plans to reopen the world's largest theme park, Walt Disney World, in phases beginning on July 11, if the governor of Florida approves.




Reuters - Published




Task force approves plan to reopen virus-shuttered Disney World parks starting July 11

Walt Disney Co on Wednesday moved a step closer to reopening its Walt Disney World theme parks in Orlando, Florida, on July 11, when the Orange County Economic Recovery Task Force approved its plan.




Reuters - Published





Walt Disney World sets July 11 reopening date for Magic Kingdom, Animal Kingdom

Walt Disney World plans to reopen July 11, according to a presentation the company made to an economic recovery task force Wednesday




USATODAY.com - Published





Disney says it will reopen shopping area at Florida resort on Wednesday

Walt Disney Co will partially reopen its Disney Springs entertainment and shopping complex at Walt Disney World Resort in Florida on May 20, it said late on Saturday.




Reuters - Published





Why Walt Disney World, Disneyland will remain shut despite Florida, California reopening

Disney's theme parks have been shut since March and the company stood by its indefinite closures in its latest quarterly report, out Tuesday.




USATODAY.com - Published





What is Discovery Island, the abandoned Disney World attraction where a man was caught camping?

A man was arrested using a closed Disney island as his personal campsite. Here's what you need to know about Disney World's old Discovery Island.




USATODAY.com - Published





Man arrested after camping on Disney World's Discovery Island during coronavirus pandemic

Richard McGuire, 42, from Mobile, Alabama was arrested after camping on Walt Disney World's Discovery Island.




USATODAY.com - Published





Disney World and Disneyland reopenings are still uncertain. Here's what the parks could look like when they do

Disney World and Disneyland have been closed since mid-March because of the coronavirus. When they do reopen, they could look and feel very different.




USATODAY.com - Published





Nickelodeon's Kids' Choice Awards goes remote; Disney World presents virtual fireworks

The Kids' Choice Awards will now a "virtually produced," star-studded show on May 2. Need kid-friendly programming while you wait: Disney's fireworks.




USATODAY.com - Published





When will Disney World and Disneyland reopen? One analyst predicts it may not be until 2021

A financial analyst predicted Disney parks won't reopen in 2020 given new health precautions, the lack of travel and crowd aversion.




USATODAY.com - Published





Disney World Furloughing 43,000 Workers

The action comes after the Florida attraction closed last month because of the coronavirus pandemic. About 200 employees who are considered essential will remain on the job.




NYTimes.com - Published





Bob Iger: Disney parks are considering 'more scrutiny,' temperature checks after coronavirus

With Walt Disney World and Disneyland shut down due to coronavirus, Bob Iger is discussing ways that Disney may return to normal after the pandemic.




USATODAY.com - Published





Disney World, Disneyland halt annual passholder payments during coronavirus closures

Disney World and Disneyland annual passholders will not be charged while the parks are closed due to COVID-19. Payments made from March 14-April 4 will be refunded.




USATODAY.com - Published





Disney furloughs to start April 19 amid coronavirus pandemic; droves of workers affected

With Disneyland and Disney World closed "until further notice" amid the coronavirus, the Walt Disney Co. is furloughing workers starting April 19.




USATODAY.com - Published





Disney World, Disneyland to stay closed indefinitely amid coronavirus pandemic

DIsney is closing its Florida and California parks will remain closed "until further notice" and will pay employees through April 18.




USATODAY.com - Published





Disney fan creates Magic Kingdom parade at home after trip gets canceled

A canceled trip to Disney World didn't stop this fan from keeping the magic alive.




USATODAY.com - Published





'See you real soon': Disney World officially closes its doors amid coronavirus; more Disney closures announced

As Disney fans waved goodbye to Disney World on Sunday, the company announced several hotels, dining and shopping experiences would also shut down.




USATODAY.com - Published





Coronavirus closes Walt Disney World, Disneyland Paris, Disney Cruise Line

The Magic Kingdom in Orlando is the latest major landmark to close in the face of the coronavirus.




USATODAY.com - Published





Disneyland and coronavirus: Can you cancel a hotel reservation? What about park tickets?

Disneyland and Walt Disney World Resort remain open amid concerns about coronavirus. Here's what the California and Florida parks are doing.




USATODAY.com - Published





Disney World Jungle Cruise boat full of passengers sinks, hilarious reactions ensue

Disney World's Jungle Cruise ride didn't go as planned on Thursday, when a boat full of passengers sank into the murky water.




USATODAY.com - Published





'Just crashed a wedding at Disney World': How Lil Nas X celebrated winning an NAACP Image Award

Lil Nas X, the 20-year-old "Old Town Road" artist, surprised fans at a Disney World wedding over the weekend after winning an NAACP Image Award.




USATODAY.com - Published





Disney World details major changes coming to Epcot

Epcot's transformation of the front of the Florida theme park will be the biggest overhaul Disney has undertaken at any of its parks




USATODAY.com - Published





Disney World character delights boy with sign language

A five-year-old and his family were shocked when Joy from "Inside Out" signed for him at Walt Disney World.




USATODAY.com - Published





Cinderella Castle at Disney World will get a makeover in honor of 'Cinderella' movie

Cinderella Castle, a 189-foot structure with a fiberglass shell, acts as the hub for the rest of the Disney World theme park in Orlando




USATODAY.com - Published





Disneyland, Walt Disney World raise some ticket prices. What you need to know

Disneyland raised some ticket prices and updated its ticket system from three tiers to five. Disney World annual passes also went up.




USATODAY.com - Published





New at Disney World and Disneyland in 2020: Avengers Campus, Epcot updates

Star Wars: Rise of the Resistance debuts at Disneyland in California on Jan. 17 but there's much more coming to Disney parks on both coasts.




USATODAY.com - Published





Disney World's Magic Kingdom turns away guests on New Year's Eve

Walt Disney World's Magic Kingdom Park began turning away guests on New Year's Eve, the park tweeted Tuesday afternoon. Who's affected and who's not?




USATODAY.com - Published





The VIP's guide to exclusive Disneyland and Disney World experiences, from Club 33 to weddings

If you have enough disposable income, here's how to make the Happiest Place on Earth even happier and more exclusive.




USATODAY.com - Published





Star-struck toddler gives hero, Minnie Mouse, an epic hug at Disney World

Two-year-old Mara Kate couldn't help but run into Minnie Mouse's arms when she met her at Disney World.




USATODAY.com - Published





Florida man 'forgot' gun in bag when entering Animal Kingdom at Disney World, police say

Police discovered that a man had a gun in his backpack during bag inspection at Disney's Animal Kingdom in Walt Disney World on Sunday.




USATODAY.com - Published





Visiting Disneyland or Disney World for the holidays? Don't make these common mistakes

The holidays are a very special time at Disneyland and Disney World. And it's even better when you avoid common mistakes.




USATODAY.com - Published





Holidays at Disney World's Animal Kingdom

Guests will find new festive holiday entertainment and decor throughout Disney's Animal Kingdom.




USATODAY.com - Published





Firefighter killed saving 2 others

A Worcester, Massachusetts, firefighter was killed in the line of duty while helping to save others. Lieutenant Jason Menard was killed just hours before he was supposed to go on a trip to Disney World..




CBS News - Published





Florida's Advice to Trump and Other New York Transplants: 'It's Not Disney World'

The president is among thousands of New Yorkers who move to Florida every year. Native Floridians weigh in with their best advice, like 'the sun is not your friend.'




NYTimes.com - Published





Disney World moves on from Skyliner mishap, touts 1 million riders

Disney announced in a new blog post that 1 million guests have been on its new Skyliner attraction — though neglected to mention a key incident.




USATODAY.com - Published





Disney World resort food and wine event: Try a Funfetti fried Oreo cookie or party at the beach

Disney World's Swan and Dolphin resort in Orlando is celebrating the 10th anniversary of its annual food and wine extravaganza.




USATODAY.com - Published





This sick 5-year-old boy got a wish trip to Disney World — and another wish on the flight there

Allegiant, working with the Make-A-Wish Foundation, made a five-year-old boy's dream vacation to Walt Disney World that much more special.




USATODAY.com - Published





5-year-old's wishes come true with help from Allegiant Air, Make-A-Wish Foundation

5-year-old S.J. Awwad lived out a dream on his flight to Disney World.




USATODAY.com - Published





Disney World retesting Skyliner after malfunction grounds cable cars, reports say

Disney World's Skyliner system is back up and running, but without passengers, as the park begins testing the system before reopening to guests.




USATODAY.com - Published