Abbey Road
1969 studio album by the Beatles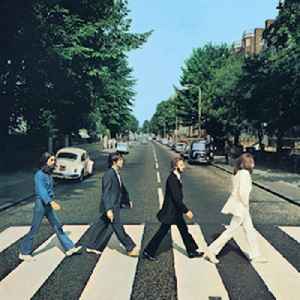 Abbey Road is the eleventh studio album by the English rock band the Beatles, released on 26 September 1969 by Apple Records. Named after the location of EMI Studios in London, the cover features the group walking across the street's zebra crossing, an image that became one of the most famous and imitated in popular music. The album's initially mixed reviews were contrasted by its immediate commercial success, topping record charts in the UK and US. Lead single "Something" / "Come Together" was released in October and topped US charts.


You Might Like
Harry & Meghan back in U.K.; he visits Abbey Road with Jon Bon Jovi for charity song recording
Prince Harry and Duchess Meghan are back in the U.K. for a last series of royal engagements before their step-back as working royals begins April 1.
USATODAY.com - Published
Calendar: Week of August 5
From an "Abbey Road" anniversary to the World YoYo Contest, "Sunday Morning" takes a look at some notable events of the week ahead. Jane Pauley reports.
CBS News - Published
Paul McCartney opens up about Abbey Road, the Beatles' breakup in wide-ranging interview
McCartney walks down memory lane while looking through old pictures and videos and talks about how he still feels the need to prove himself with his music. Sharyn Alfonsi reports.
CBS News - Published
New "Abbey Road" remix reveals insight into the Beatles' swan song
50 years after the original release of "Abbey Road," the new remix includes never-before-heard studio sessions from the Fab Four's final album together
CBS News - Published
New remix marks 50 years since "Abbey Road" release
A remix of the legendary Beatles album "Abbey Road" is out Friday, marking 50 years since its original release. It includes studio sessions the public has never before heard. Charlie D'Agata..
CBS News - Published
As 'Abbey Road' turns 50, creative director reflects on making the iconic cover
John Kosh was 23 when he submitted the cover he'd designed for "Abbey Road" to Apple Records. Kosh reflects on the Beatles' last recording.
USATODAY.com - Published
'Abbey Road' turns 50: All the album's songs, ranked
"Abbey Road" endures as a pure artistic achievement that closed the Beatles' songbook on a high note.
USATODAY.com - Published
Beatles' iconic "Abbey Road" album cover shot turns 50
Fans gathered at the most famous crosswalk in the world Thursday to celebrate 50 years since the Beatles shot the cover photo for their iconic album, "Abbey Road." Charlie D'Agata reports.
CBS News - Published
High Velocity, "This is no ordinary lawsuit", Paul McCartney
What makes the AR-15 style rifle the weapon of choice for mass shooters?; Then, the climate change lawsuit that could stop the U.S. government from supporting fossil fuels; And, Paul McCartney opens up..
CBS News - Published