Chewbacca
Fictional character in the Star Wars franchise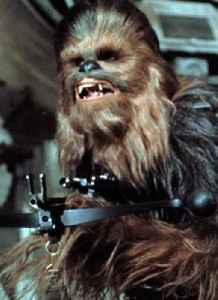 Chewbacca, nicknamed "Chewie", is a fictional character in the Star Wars franchise. He is a Wookiee, a tall, hirsute biped and intelligent species from the planet Kashyyyk. Chewbacca is the loyal friend and first mate of Han Solo, and serves as co-pilot on Solo's spaceship, the Millennium Falcon. Within the films of the main saga, Chewbacca is portrayed by Peter Mayhew from episodes III to VII. Suotamo took over the role alone in Star Wars: The Last Jedi and reprised the role in Solo: A Star Wars Story and Star Wars: The Rise of Skywalker. The character has also appeared on television, books, comics, and video games.


This husky puppy sounds like Chewbacca
A husky puppy trying to howl sounds like a certain beloved "Star Wars" character.
USATODAY.com - Published
Peter Mayhew, best known for role as Chewbacca, dies at 74
Peter Mayhew, best known for his role as Chewbacca in the "Star Wars" films, has died at age 74.
USATODAY.com - Published
Chewbacca actor Peter Mayhew dies at 74
The actor behind the iconic Chewbacca in the original "Star Wars" trilogy has died
CBS News - Published
Search this site and the web:
You Might Like