Anne Frank
German-born diarist and Holocaust victim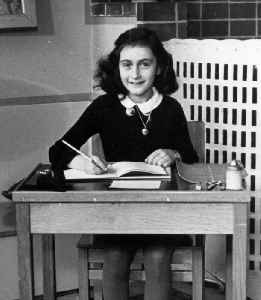 Annelies Marie Frank ; 12 June 1929 – February or March 1945), commonly known as Anne Frank, was a German-born Jewish diarist. One of the most discussed Jewish victims of the Holocaust, she gained fame posthumously with the publication of The Diary of a Young Girl, in which she documents her life in hiding from 1942 to 1944, during the German occupation of the Netherlands in World War II. It is one of the world's best known books and has been the basis for several plays and films.


Harvard Lampoon Apologizes for Sexualized Image of Anne Frank
The student-run satirical magazine set off an uproar at Harvard by publishing an image showing the Holocaust victim's face on the body of a bikini-clad woman.
NYTimes.com - Published
Harvard students apologize for publishing image of Anne Frank's face on bikini-clad woman
The Harvard Lampoon apologized after their latest issue included an image of Anne Frank's face photoshopped onto a bikini-clad woman's body.
USATODAY.com - Published
"I am ashamed", says Ceferin over extremism in soccer
UEFA president Aleksander Ceferin says that he is "ashamed" to see extremist views being expressed at soccer stadiums and that "certain leaders" play down these incidents
Credit: Reuters - Sports Duration: 01:10Published
Search this site and the web:
You Might Like