Parkinson's disease
Long-term degenerative neurological disorder that mainly causes problems with movement and balance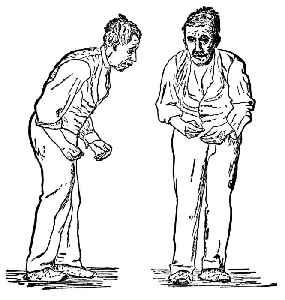 Parkinson's disease (PD) is a long-term degenerative disorder of the central nervous system that mainly affects the motor system. As the disease worsens, non-motor symptoms become more common. The symptoms usually emerge slowly. Early in the disease, the most obvious symptoms are shaking, rigidity, slowness of movement, and difficulty with walking. Thinking and behavioral problems may also occur. Dementia becomes common in the advanced stages of the disease. Depression and anxiety are also common, occurring in more than a third of people with PD. Other symptoms include sensory, sleep, and emotional problems. The main motor symptoms are collectively called "parkinsonism", or a "parkinsonian syndrome".


ESPN founder Bill Rasmussen announces he has Parkinson's disease
Bill Rasmussen, 86, co-founded ESPN in 1979 alongside his son, Scott. He said he was diagnosed with the disease in 2014
USATODAY.com - Published
Michael J. Fox opens up about battle with Parkinson's disease, recent spinal surgery
Michael J. Fox is opening up about new challenges he's been facing in his more than 20-year battle with Parkinson's disease, including spinal surgery.
USATODAY.com - Published
Linda Ronstadt: A voice from the past
The retired singer who struggles with Parkinson's has released her first-ever live album, from newly-uncovered tapes of a 1980 concert, recorded at the height of her vocal powers
CBS News - Published
Search this site and the web:
You Might Like