Saint Lucia
Country in the Caribbean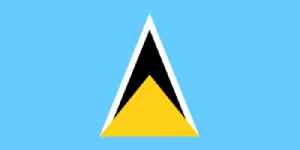 Saint Lucia is a sovereign island country in the West Indies in the eastern Caribbean Sea on the boundary with the Atlantic Ocean. The island was previously called Iyonola, the name given to the island by the native Amerindians and later, Hewanorra, the name given by the native Caribs. Part of the Lesser Antilles, it is located north/northeast of the island of Saint Vincent, northwest of Barbados and south of Martinique. It covers a land area of 617 km2 and reported a population of 165,595 in the 2010 census. Its capital is Castries.


10 Cheap Labor Day weekend getaways: Chicago, Denver, Vancouver, St. Lucia and more
We have one more summer holiday weekend ahead of us. Do know where you're going to spend Labor Day? SmarterTravel.com has ideas, from islands to urban.
USATODAY.com - Published
Cruise ship quarantined for measles case heading to Curacao
The ship left St. Lucia late Thursday after spending two days under quarantine
CBS News - Published
Scientology cruise ship leaves St. Lucia after measles quarantine
A cruise ship quarantined for a reported case of measles left the Caribbean island of St. Lucia late on Thursday after health officials provided 100 doses of vaccine to the ship, media reports said.
Reuters - Published
Doctor says passengers quarantined on cruise ship are "stable"
A cruise ship is quarantined in St. Lucia after measles was confirmed on board. The ship's doctor said the quarantined passengers are "stable." David Begnaud reports.
CBS News - Published
Caribbean nation of St. Lucia quarantines cruise ship over measles case
The Caribbean nation of St. Lucia has imposed a quarantine on a visiting cruise ship, barring any passengers or crew from leaving the boat while in port, after a case of measles was diagnosed on board,..
Reuters - Published
Church of Scientology cruise ship quarantined in St. Lucia because of confirmed case of measles
A cruise ship has been quarantined at the Caribbean port of St. Lucia because of a confirmed measles case, health officials said Wednesday.
USATODAY.com - Published
You Might Like