Goya Foods
American producer of foods sold in the US and many Hispanic countries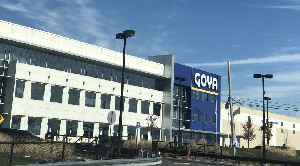 Goya Foods, Inc. is an American producer of a brand of foods sold in the United States and many Hispanic countries. It has facilities in different parts of the United States, Puerto Rico, the Dominican Republic and Spain. It is under third-generation ownership of the Unanue family, and is headquartered in Jersey City, New Jersey, US.


Trump Campaign Pivots To Attack 'Zombie' Biden

President Donald Trump did little to lead America's response to the novel coronavirus COVID-19 pandemic this week. Instead, CNN reports he posed with cans of Goya beans and talked about dishwashers...
Credit: Wochit News Duration: 00:50
Published
Trumps tweet support for Goya amid boycott calls

U.S. President Donald Trump and his daughter and adviser Ivanka are rallying support for Goya Foods on Twitter, amid continued calls on social media to boycott the food company over its CEO's effusive..
Credit: Reuters Studio Duration: 01:46
Published
#BoycottGoya takes off after CEO's Trump praise

[NFA] Robert Unanue, the CEO of the Hispanic staple food maker Goya Foods, praised President Donald Trump on Thursday at the White House which swiftly led to backlash on Twitter. Colette Luke has more.
Credit: Reuters - Politics Duration: 02:16
Published
Goya CEO's Praise Of Trump Sparks Boycott

Goya Foods CEO Robert Unanue recently praised President Donald Trump in a visit to the White House. The move angered shoppers. Prominent Hispanic American leaders called for a boycott of Goya products...
Credit: Wochit News Duration: 00:31
Published
Latino Leaders Encourage Goya Boycott After CEO Praises Trump

According to CNN Business the hashtag #Goyaway was trending on social media on Friday. This comes after the CEO of Goya Foods, Robert Unanue, appeared in the White House Rose Garden on Thursday, and..
Credit: Wochit News Duration: 00:46
Published
You Might Like
Search this site and the web: