Ozzy Osbourne
English heavy metal vocalist and songwriter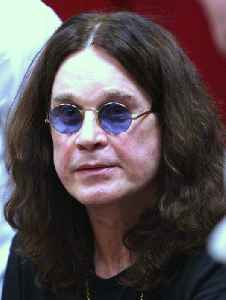 John Michael "Ozzy" Osbourne is an English singer, songwriter, actor, and television personality. He rose to prominence during the 1970s as the lead vocalist of the heavy metal band Black Sabbath, during which he adopted the nickname "The Prince of Darkness". Osbourne was fired from the band in 1979 due to alcohol and drug problems, but he went on to have a successful solo career, releasing eleven studio albums, the first seven of which were all awarded multi-platinum certifications in the United States. Osbourne has since reunited with Black Sabbath on several occasions. He rejoined the band in 1997 and helped record the group's final studio album 13 (2013), before they embarked on a farewell tour which culminated in a final performance in their home city, Birmingham, England, in February 2017. His longevity and success have earned him the informal title of "Godfather of Heavy Metal".


Ozzy Osbourne cancels North American tour a month after revealing Parkinson's diagnosis
Ozzy Osbourne has canceled his North American tour for health reasons. The news comes roughly a month after he revealed his Parkinson's diagnosis.
USATODAY.com - Published
Ozzy Osbourne opens up about Parkinson's diagnosis, 'numbness' after surgery from fall
Ozzy Osbourne revealed he has been diagnosed with a form of Parkinson's disease, during a Good Morning America interview with wife Sharon Osbourne.
USATODAY.com - Published
Kelly Osbourne sets record straight about father Ozzy Osbourne's health
Kelly Osbourne is shutting down rumors about her father, Ozzy Osbourne, and his health, confirming he is not on his "death bed."
USATODAY.com - Published
Today in History for December 3rd
First human heart transplant performed; Industrial accident kills thousands in Bhopal, India; Hundreds of students arrested at the University of California at Berkeley; "A Streetcar Named Desire" opens..
USATODAY.com - Published
ShowBiz Minute: Gooding Jr, Osbourne, Cobain
Cuba Gooding Jr.'s groping trial set to begin on Thursday; Ozzy Osbourne says he's "not dying," postpones his 2020 European shows; Kurt Cobain's "Unplugged" sweater, guitar, head to auction. (Oct...
USATODAY.com - Published
Search this site and the web:
You Might Like