Adidas
German multinational corporation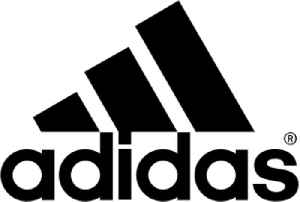 Adidas AG is a multinational corporation, founded and headquartered in Herzogenaurach, Germany, that designs and manufactures shoes, clothing and accessories. It is the largest sportswear manufacturer in Europe, and the second largest in the world, after Nike. It is the holding company for the Adidas Group, which consists of the Reebok sportswear company, TaylorMade golf company, 8.33% of the German football club Bayern Munich, and Runtastic, an Austrian fitness technology company. Adidas' revenue for 2018 was listed at €21.915 billion.


Adidas 3-stripes logo deemed not worth trademarking
EU court ruling deals blow to sports powerhouse known for going after other companies for potential logo infringement
CBS News - Published
Spanish soccer federation ending its contract with Adidas
Spain says it will end its contract with Adidas and has opened negotiations with other apparel companies
USATODAY.com - Published
China surprise lifts European shares, Adidas disappoints
Stock markets enjoyed a tentative recovery on Thursday after better-than-expected Chinese export data. But, as David Pollard reports, shares in Germany's Adidas suffered after its second-quarter..
Credit: Reuters Studio Duration: 01:40Published
Kansas announces extension of deal with Adidas through 2031
The University of Kansas and Adidas announced Wednesday an extension of their contract through 2031, despite an FBI investigation centered on the footwear and apparel company that cast a negative light..
USATODAY.com - Published
Beyonce and Ivy Park teaming up with Adidas
"This is the partnership of a lifetime for me," Beyonce said in a statement
CBS News - Published
Beyonce, Adidas team up on sneakers, clothes and Ivy Park
Beyonce will relaunch her athleisure line, Ivy Park, and collaborate on new shoes and clothing with sneaker giant Adidas.
USATODAY.com - Published
Ad in Milwaukee paper pushes James Harden for MVP, same day Rockets face Bucks, Giannis
Rockets' James Harden and Bucks' Giannis Antetokounmpo are MVP favorites, so Adidas took out full-page ad on Harden's behalf in Milwaukee newspaper.
USATODAY.com - Published
Instagram shopping: You can officially buy clothes, shoes, makeup without leaving the app
The new in-app checkout feature will include participating brands like Adidas, Nike, Zara, Kylie Cosmetics, Uniqlo, Burberry and H&M.
USATODAY.com - Published
Adidas pulls all white sneaker created for Black History Month in wake of Twitter backlash
Adidas pulls sneaker it was selling in honor of Black History Month, after the all white running shoe was slammed on Twitter for being tone deaf.
USATODAY.com - Published
Kansas' Silvio De Sousa declared ineligible by NCAA for rest of this season, all of next
Kansas basketball player Silvio De Sousa, who had been connected to a corruption case involving Adidas, was penalized because of payments to guardian.
USATODAY.com - Published
You Might Like