Roger Goodell
8th Commissioner of the National Football League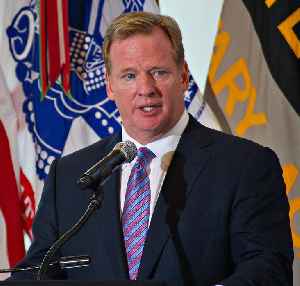 Roger Stokoe Goodell is an American businessman who is currently the Commissioner of the National Football League (NFL). On August 8, 2006, Goodell was chosen to succeed retiring commissioner Paul Tagliabue. He was chosen for the position over four finalists; he won a close vote on the fifth ballot before being unanimously approved by acclamation of the owners. He officially began his tenure on September 1, 2006, just prior to the beginning of the 2006 NFL season. On December 6, 2017, the NFL announced that Goodell signed a new contract that would start in 2019. Commentators have described him as "the most powerful man in sports."


Roger Goodell Outlines Plans for 2020 NFL Season

NFL Commissioner Roger Goodell has sent out a letter to fans addressing the league's plans for the 2020 season.
Credit: Cover Video STUDIO Duration: 01:21
Published
NFL Cancels Preseason Games Due To COVID-19

NFL commissioner Roger Goodell announced on Monday that there will be no preseason NFL games. The new mandate comes as every aspect of the sporting world has been affected by the coronavirus. Goodell..
Credit: Wochit News Duration: 00:32
Published
Trump on NFL protests: 'We will never kneel'

During his campaign rally in Tulsa, Oklahoma Saturday night, U.S. President Donald Trump said "we will never kneel" during the National Anthem or the flag.
Credit: Reuters Studio Duration: 00:37
Published
You Might Like



CA Prosecutors Ask NFL to Pull PSA About Stephon Clark Shooting

Roger Goodell's latest effort to fight for social justice is being challenged by California prosecutors ... who are demanding the NFL stop running a video about the police shooting of Stephon Clark...




TMZ.com - Published





Spike Lee talks 'Da 5 Bloods,' Drew Brees, defunding police and Roger Goodell's 'punk move'

Spike Lee's Netflix Vietnam War drama "Da 5 Bloods" parachutes into the national conversation Friday, and the timing couldn't be more appropriate.




USATODAY.com - Published





Michael Bennett on Roger Goodell's 'Black Lives Matter' message: 'Almost like a slap in the face'

NFL Commissioner Roger Goodell's response to players upset defensive end Michael Bennett, who said the message was hypocritical.




USATODAY.com - Published





NFL commits $250 million over next 10 years to combat racial injustice and systemic racism, per reports

After commissioner Roger Goodell said the league was wrong for not listening to its players, the NFL is donating more money to combat systemic racism.




USATODAY.com - Published





President Donald Trump questions Roger Goodell's statement to NFL players

President Donald Trump questioned whether NFL Commissioner Roger Goodell was giving his blessing to players to protest during the national anthem.




USATODAY.com - Published





'We were wrong': NFL commissioner regrets stance on player protests, condemns racism

National Football League (NFL) Commissioner Roger Goodell said the league made mistakes in not listening to players, in a video on Friday denouncing racism in the United States amid widespread protests..




Reuters - Published





'We were wrong': NFL commissioner says league failed to listen to players on protests

National Football League (NFL) Commissioner Roger Goodell said the league made mistakes in not listening to players, in a video on Friday denouncing racism in the United States amid widespread protests..




Reuters - Published




NFL Commissioner Roger Goodell responds to players' request for league support in fight against racism

A day after players challenged the NFL to join their fight against racism and systematic oppression, Roger Goodell said he wants to do his part.




USATODAY.com - Published





NFL gives coaching staffs permission to return to team headquarters, beginning Friday

Commissioner Roger Goodell instructed that as long as the return to work coincides with local governments' measures, teams can get back to work.




USATODAY.com - Published





Kenny Stills, Eric Reid criticize NFL Commissioner Roger Goodell's statement on George Floyd's death

NFL Commissioner Roger Goodell's statement on George Floyd's death rang hollow for NFL players Eric Reid and Kenny Stills. Both spoke out on Twitter.




USATODAY.com - Published





NFL Commissioner Roger Goodell volunteers to go without salary amid coronavirus pandemic; league enforces pay cuts, furloughs

NFL Commissioner Roger Goodell offered to forfeit his salary amid the novel coronavirus pandemic, and the league will enact pay cuts and furloughs.




USATODAY.com - Published





NFL Commissioner Roger Goodell to announce draft selections from his New York home

NFL commissioner to reveal selections on broadcast that will be simulcast on ESPN and NFL Network while also serving as a fundraiser for coronavirus.




USATODAY.com - Published





NFL to hold 'fully virtual draft' with coaches, GMs forced to work from home

NFL coaches and general managers will have to connect with their teams from their own homes during the 2020 draft, Roger Goodell said Monday.




USATODAY.com - Published





Roger Goodell issues memo telling NFL teams to close facilities effective Wednesday

NFL commissioner Roger Goodell sent a memo to all 32 teams Tuesday night saying all club facilities would be closed by 6 p.m. local time Wednesday.




USATODAY.com - Published





Roger Goodell says NFL wants to help Antonio Brown get 'on the right track'

A judge freed Antonio Brown from house arrest on Tuesday, and Wednesday, NFL commissioner Roger Goodell said the league wants to help him.




USATODAY.com - Published





NFL teams commit to attend workout with Colin Kaepernick

New details are emerging about Colin Kaepernick's possible return to the football field. The quarterback, sidelined since protesting the national anthem, has now been invited to try out for NFL teams...




CBS News - Published





From Jay-Z's involvement to Roger Goodell's actions: How Colin Kaepernick's NFL workout materialized and what's next

Colin Kaepernick's workout for NFL teams seemed to materialize in startling fashion. But there were plenty of talks within the league about the QB.




USATODAY.com - Published





Goodell, 3 NFL officials to face queries under oath on "no-call"

Apparently blown call still controversial months after it helped Los Angeles Rams beat New Orleans Saints in NFL title game to go to Super Bowl




CBS News - Published





Goodell, title game officials to face questions on 'no-call'

A Louisiana judge has ordered that NFL Commissioner Roger Goodell and three officials from January's NFC title game be questioned under oath in September about an infamous "no-call" during January's..




USATODAY.com - Published





Goodell reiterates desire to shorten 4-game preseason

NFL Commissioner Roger Goodell is reiterating his stance in wanting to reduce the four-game preseason schedule at a time the league and players' association have begun preliminary talks on a new..




USATODAY.com - Published