Valentine's Day
Holiday observed on February 14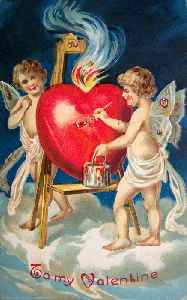 Valentine's Day, also called Saint Valentine's Day or the Feast of Saint Valentine, is celebrated annually on February 14. It originated as a Western Christian feast day honoring one or two early Christian martyrs named Saint Valentine and is recognized as a significant cultural, religious, and commercial celebration of romance and love in many regions of the world.


You Might Like
Couple lost on Valentines Day hike is rescued
A couple who got lost during a Valentine's Day hike in the woods of Northern California was found Saturday by rescuers who spent almost a week looking for them and had given up hopes of finding them..
USATODAY.com - Published
Body of Georgia college student missing since Valentine's Day discovered
The Georgia Bureau of Investigation confirmed the body of 23-year-old Anitra Gunn was found in central Georgia, about 100 miles south of Atlanta.  
USATODAY.com - Published
Rock slides wreak havoc, close encounters with great white shark, gray whale: News from around our 50 states
Indiana boy awaiting heart transplant asking for Valentines, man charged with smuggling parrots across Quebec-Vermont border, , and more
USATODAY.com - Published
AP Top Stories February 12 P
Here are the top stories for Wednesday, Feb. 12th: Democratic candidates look ahead after NH primary; Massachusetts files vaping suit against Juul; 2 officers hurt, suspected gunman dead in Balt...
USATODAY.com - Published
Text messages from around Valentines Day sent almost 9 months later
If you received a mysterious text message this week from someone unexpected, you were not alone. People reported that they received messages that appear to have originally been sent on or around..
CBS News - Published
Billie Eilish recalls how 'super-rich' date (and his butler!) ditched her at movie theater
Billie Eilish, 17, recalled on "The Howard Stern Show" the "super-rich" date who ditched her at the movies right before Valentine's Day. She was 13.
USATODAY.com - Published