South Pole
Southern point where the Earth's axis of rotation intersects its surface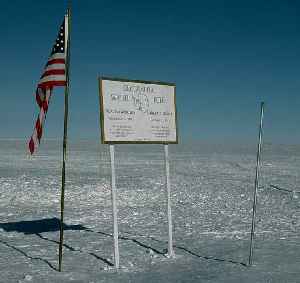 The South Pole, also known as the Geographic South Pole or Terrestrial South Pole, is one of the two points where Earth's axis of rotation intersects its surface. It is the southernmost point on the surface of Earth and lies on the opposite side of Earth from the North Pole.


You Might Like
Today in History for January 18th
Highlights of Today in History: Soviet Union breaks WWII Leningrad siege; Robert F. Scott reaches South Pole; Boston Strangler suspect Albert de Salvo convicted. (Jan. 18)  
USATODAY.com - Published
Expedition Antarctica
More than 30 years ago, Robert Swan became the first man to walk to both the North and South Poles. In 2017, he found himself back on the ice, trekking 600 miles across Antarctica with his son, Barney...
CBS News - Published
Search this site and the web: