Ivy League
Athletic conference of eight American universities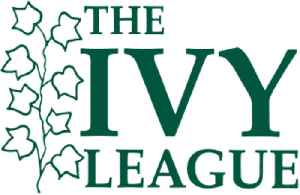 The Ivy League is an American collegiate athletic conference comprising eight private universities in the Northeastern United States. The term Ivy League is typically used beyond the sports context to refer to the eight schools as a group of elite colleges with connotations of academic excellence, selectivity in admissions, and social elitism. Its members are Brown University, Columbia University, Cornell University, Dartmouth College, Harvard University, the University of Pennsylvania, Princeton University, and Yale University.


You Might Like
Donald Trump vs. the Ivy League: An Election-Year Battle
Mr. Trump, himself an Ivy League graduate, has made Princeton, Harvard and other elite colleges targets this year.
NYTimes.com - Published
How One Student Chose a College During a Pandemic
Craig McFarland was accepted by all eight Ivy League schools. At first he committed to Yale, but the ongoing disruptions caused by the coronavirus caused him to change his plans.
NYTimes.com - Published
U.S. Senator calls on college conferences to follow Ivy League in not having football this fall
Sen. Richard Blumenthal, D-Conn.,called the Ivy League's decision to not play football this fall "absolutely right on moral and health grounds."
USATODAY.com - Published
Ivy League cancels sports for this fall in what could be barometer for college football amid COVID-19 pandemic
The league also announced that no winter sports would start before Jan. 1, which would include men's and women's basketball and hockey.
USATODAY.com - Published
USMCA trade pact, Facebook audit, Ivy League sports: 5 things you need to know Wednesday
President Trump and Mexico's president will celebrate the trade deal, Facebook's civil rights audit comes out and more news to start your Wednesday.
USATODAY.com - Published
This Florida Student Was Accepted at All 8 Ivy League Schools
Craig McFarland, the valedictorian of his high school in Jacksonville, Fla., received acceptance letters from 17 colleges and universities in all.
NYTimes.com - Published
Harvard and Yale Ensnared in Education Dept. Crackdown on Foreign Funding
The department told the Ivy League universities to hand over records on millions of dollars in gifts, grants and contracts from foreign countries, including China, Iran and Russia.
NYTimes.com - Published
Fox Host's 'America First' Shift Makes an Exception for Trump's Iran Strike
The transformation of Pete Hegseth — an Ivy League-educated, decorated Army platoon leader — is a symbol of the Republican Party in the Trump era.
NYTimes.com - Published
Sneak peek: In The Name of Hate
A brilliant Ivy League student is murdered after he went to a California park with a former high school classmate. Was he killed because he was gay and Jewish? Correspondent Tracy Smith investigates..
CBS News - Published
Archery teacher aims at increasing diversity in sport
Larry Brown has dedicated his life to archery. He first started shooting as a child at a garbage dump in Queens, with a bow carved from a neighborhood tree. His skill launched him into the Ivy League,..
CBS News - Published
Graduates of these U.S. colleges earn the most
The top five schools linked to high incomes after graduation aren't even in the Ivy Leagues
CBS News - Published
Was an Ivy League student slain in the name of hate?
The stabbing death of a bright college student raises troubling questions concerning anti-Semitism and homophobia -- issues that are at the heart of the nation's current struggle to define itself
CBS News - Published
Harvard has 'no plans' to return Jeffrey Epstein's $6.5M gift
He's neither an alum of Harvard nor a past faculty member. But Jeffrey Epstein donated generously to the Ivy League school.
USATODAY.com - Published