Ivanka Trump
American Advisor to the President, businesswoman, and daughter of Donald Trump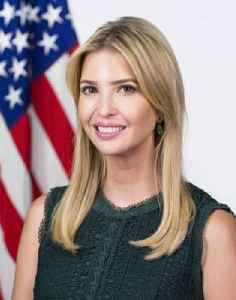 Ivana Marie "Ivanka" Trump is an American businesswoman, serving since 2017 as Advisor to the President, her father Donald Trump. The daughter and second child of President Trump and his first wife, Ivana, she is the first Jewish member of a first family, having converted before marrying her husband, Jared Kushner.


Chelsea Clinton And Ivanka Trump Used To Be BFF's. No More.

Chelsea Clinton has revealed why her once-close friendship with Ivanka Trump came to an end. According to HuffPost, Chelsea spoke to host Andy Cohen on a Thursday appearance on 'Watch What Happens..
Credit: Wochit News Duration: 00:39
Published
Ivanka And Jared Test Negative After Many Trump Insiders Test Positive

President Donald Trump and First Lady Melania Trump have contracted the coronavirus. The first couple are quarantining. His daughter, Ivanka, and son-in-law, Jared Kushner, both of whom are senior..
Credit: Wochit News Duration: 00:39
Published
Melania Trump gives Ivanka the stink eye

U.S. First Lady Melania Trump had a viral moment as she smiled at Ivanka Trump, President Donald Trump's daughter, on stage at the Republican National Convention on Thursday, only to give her the stink..
Credit: Reuters Studio Duration: 00:16
Published
You Might Like



Ivanka Trump, Jared Kushner threaten to sue the Lincoln Project over Times Square billboards

Ivanka Trump and Jared Kushner threatened to sue the Lincoln Project over two billboard ads put up in Times Square.




USATODAY.com - Published

Also reported by •CBS News


New York City billboards featuring Ivanka Trump and Jared Kushner draw a threatening letter.

A lawyer for Ms. Trump and Mr. Kushner, her husband, called the ads defamatory and demanded their removal.




NYTimes.com - Published




Chelsea Clinton doesn't hold back in criticism of former friend Ivanka Trump

Chelsea Clinton didn't hold back when discussing her fallout with Ivanka Trump since the 2016 election, along with her thoughts on Tuesday's debate.




USATODAY.com - Published





Did Trump consider his daughter for vice president?

Before selecting Mike Pence as a running mate, Donald Trump says he was told many times: "Why don't we run Ivanka as your vice president?"




CBS News - Published





Ivanka Trump, AG Barr confront human trafficking

The federal government is awarding more than $100 million in grants to target human trafficking. The money will go to task forces combatting human trafficking, to victim services and victim housing...




USATODAY.com - Published





Ivanka Trump calls out "cancel culture" after her commencement speech is canceled

"Our nation's campuses should be bastions of free speech," she tweeted.




CBS News - Published





Ivanka Trump says at RNC "Donald Trump has changed Washington"

President Trump's daughter, Ivanka, introduced him on Thursday at the Republican National Convention as he prepared to formally accept the party's nomination for reelection. "Washington has not changed..




CBS News - Published





'The results speak for themselves': What Ivanka Trump and her siblings said about their father at the RNC

The RNC has been a family affair for President Donald Trump, featuring speeches from first lady Melania Trump and all four of his adult children.




USATODAY.com - Published





Is Ivanka Trump Going to Change Anyone's Mind?

Four years ago, the would-be first daughter was seen by some to have the power to persuade moderate women voters and to rein in her own father's impulses. A good amount has changed since then.




NYTimes.com - Published





President Trump, Ivanka Trump, Dana White to Speak During R.N.C.'s Final Night

On the final night of the Republican National Convention, President Trump will deliver his acceptance speech from the White House's South Lawn. He's expected to deliver a blistering denunciation of..




NYTimes.com - Published





Jared Kushner says he and Ivanka Trump 'absolutely' sending their kids back to school and have 'no fear in doing so'

When asked if he was sending his kids back to the classroom, Kushner did not hesitate to say yes, adding he had no concerns about it.




USATODAY.com - Published





Trump donated to Kamala Harris years ago. His campaign says it shows he's not racist.

Ivanka Trump and Treasury Secretary Steve Mnuchin also gave money to Harris in the past.




CBS News - Published





Trump's White House Grows Bolder in Flouting Ethical Norms

The outcry over a photograph of Ivanka Trump with a can of Goya beans reveals how the president and his aides continue to disregard traditional boundaries between the official and the political.




NYTimes.com - Published




'She knows better': Ex-ethics chief Walter Shaub says Ivanka Trump broke rule by promoting Goya beans

A White House spokeswoman said Ivanka Trump was "showing her personal support for a company that has been unfairly mocked, boycotted and ridiculed."




USATODAY.com - Published





Ivanka Trump draws derision in India for praising migrant's hard journey home

U.S. presidential adviser Ivanka Trump's praise of an Indian teenager's bicycle ride home hundreds of kilometres away is drawing criticism in India for being insensitive to the plight of impoverished..




Reuters - Published





'Matrix' co-creator Lilly Wachowski responds to Elon Musk, Ivanka Trump invoking 'red pill'

Elon Musk and Ivanka Trump invoked the Matrix "red pill" to advance a political viewpoint, earning the Twitter ire of co-creator Lilly Wachowski.




USATODAY.com - Published





Ivanka Trump touts new $3B federal food program

Ivanka Trump and U.S. Secretary of Agriculture Sonny Perdue toured a food service business in Maryland, where they touted a new $3 billion federal food purchase and distribution program. (May 15)  




USATODAY.com - Published





Ivanka Trump: I wear a mask near Donald Trump; he doesn't have to

The president "is tested on a daily basis," Ivanka Trump told USA TODAY. "No one is in close proximity to him that isn't wearing a mask."




USATODAY.com - Published





White House defends Ivanka Trump's trip to New Jersey despite advice against travel to stop coronavirus' spread

The White House defended Ivanka Trump's trip to Trump National Golf Club Bedminster as "no different than had she been traveling to/from work."




USATODAY.com - Published





Ivanka Trump, Disregarding Federal Guidelines, Travels to N.J. for Passover

Ms. Trump herself has not followed the federal guidelines advising against discretionary travel, leaving Washington for another one of her family's homes.




NYTimes.com - Published





Australian politician who met Ivanka Trump, Attorney General William Barr infected with coronavirus

An Australian cabinet member with coronavirus was pictured last week standing next to Ivanka Trump and Attorney General William Barr.




USATODAY.com - Published





Ivanka Trump visits the UAE for women's conference

Ivanka Trump, an adviser to her father U.S. President Donald Trump, began a trip on Saturday to the United Arab Emirates where she is due to speak at a conference to promote female entrepreneurship..




Reuters - Published




Melania Trump sits next to Rush Limbaugh at SOTU; Ivanka tweets family photo

Melania Trump attended the SOTU speech Tuesday night dressed in a subdued black blazer and matching skirt. She helped honor Rush Limbaugh.




USATODAY.com - Published





Don Lemon clarifies remarks after President Trump called him the 'dumbest man on television'

Don Lemon clarified his position after President Donald Trump and daughter Ivanka slammed jokes about those who support the president.




USATODAY.com - Published





Kushner's Global Role Shrinks as He Tackles Another: The 2020 Election

Ivanka Trump's husband will now supervise her father's re-election campaign, but he continues to weigh in with advice to the president on a range of other matters.




NYTimes.com - Published





Ivanka Trump: US should recruit, retain immigrants

Ivanka Trump said the U.S. should "recruit and retain" immigrants to help American businesses and "invest in American workers." President Trump's daughter and advisor spoke at the CES technology expo..




USATODAY.com - Published





Ivanka Trump speaks on the future of work at CES 2020 in Las Vegas

Ivanka Trump spent an hour on the CES 2020 keynote stage advocating White House plans to shape the workforce of the future.




USATODAY.com - Published





Defying critics, Ivanka Trump draws applause at tech show

U.S. presidential adviser Ivanka Trump on Tuesday touted government-industry collaboration to create jobs, drawing applause at a tech show that contrasted with the criticism she faced beforehand for..




Reuters - Published





Ivanka Trump faces backlash as keynote speaker at tech conference

Ivanka Trump, daughter and adviser to U.S. President Donald Trump, is facing a backlash for her lack of tech qualifications from industry officials ahead of her speech at a big annual technology..




Reuters - Published





Ivanka Trump, Melania Trump stun at President Trump's New Year's Eve party at Mar-a-Lago

Ivanka Trump and Melania Trump are bringing in the new year in style.




USATODAY.com - Published





Ex-British spy Christopher Steele and Ivanka Trump were 'personal friends' for years, reports say

Steele told investigators the idea he was biased against Donald Trump was "ridiculous" because he was friends with a member of the Trump family.




USATODAY.com - Published





Former British spy and FBI source Steele was friends with Ivanka Trump: source

A former British spy who was a source for the FBI in its probe of Donald Trump's presidential campaign had an extended friendship with Ivanka Trump, the president's daughter, a source familiar with the..




Reuters - Published




Ivanka Trump tours Indianapolis Motor Speedway

Indiana Governor Eric Holcomb on Wednesday gave President Trump's daughter Ivanka Trump and Commerce Secretary Wilbur Ross a tour of the Indianapolis Motor Speedway, home of the famed Indianapolis 500...




USATODAY.com - Published





How Ivanka Trump is working on paid family leave, affordable child care -- and why it hasn't passed

Ivanka Trump moved to Washington to pass paid family leave and affordable child care. But progress has been slow. Here's what she's doing next.




USATODAY.com - Published





Rising Broadway star Laurel Griggs, 13, dies after 'massive asthma attack'

Up-and-coming Broadway star Laurel Griggs, best known as Ivanka in the Tony-winning musical "Once," has died at 13. The teen suffered from asthma.




USATODAY.com - Published





Ivanka Trump says the identity of the whistleblower is not "relevant"

President Trump continues to attack the whistleblower who led Democrats to open the impeachment inquiry. But Ivanka Trump took a different view. Paula Reid reports.




CBS News - Published




Ivanka Trump: Whistleblower's identity "not particularly relevant"

President Trump wants the whistleblower to testify in public




CBS News - Published

Also reported by •USATODAY.com


ONLY ON AP Ivanka Trump on the impeachment inquiry

Ivanka Trump told The Associated Press she shares her father's view that the impeachment investigation is about "overturning the results of the 2016 election." She spoke to AP in Rabat, Morocco. (Nov...




USATODAY.com - Published





Ivanka Trump meets female landowners in Morocco

In a visit to Morocco, Ivanka Trump met with female landowners and delivered the message that governments in developing countries should make it easier for women to succeed as entrepreneurs. (Nov...




USATODAY.com - Published





Rep. Gowdy wants James Comey's deposition taped and made public

Rep. Trey Gowdy, R-South Carolina, joins Margaret Brennan to discuss how to make Former FBI Director James Comey's deposition public and Ivanka Trump's emails.




CBS News - Published





James Corden recalls confronting Ivanka Trump at a wedding: 'You can do something'

"I can't 100% remember it, but I remember that we were quite drunk and we started going, 'Ivanka, you can do something,' " James Corden said.




USATODAY.com - Published





Inside the Trump family's succession battle

A new article in The Atlantic details the ongoing battle between Ivanka and Donald Trump, Jr. to be heir to their father's business dynasty. McKay Coppins wrote that piece, and joined "Red & Blue" to..




CBS News - Published




Jared Kushner: Time in White House spent 'cleaning up the messes' Joe Biden left behind

Ivanka Trump and Jared Kushner have worked within the Trump administration since early on.




USATODAY.com - Published





Ivanka Trump says developing countries must do more to empower women to get U.S. aid

Developing countries that want to do business with the United States must do more to empower women and give them better access to the workforce, education and legal protections, White House adviser..




Reuters - Published





As Ivanka Trump visits, U.S. OKs $400 million Argentina highway investment

The United States has approved a $400 million highway investment in Argentina as President Donald Trump's eldest daughter Ivanka Trump visits the South American nation on a wider tour of the region.




Reuters - Published





Women entrepreneurs play 'critical role' in Colombia's economy, peace: Ivanka Trump

Women entrepreneurs are playing a "critical role" in Colombia's economic development and its transition to peace, White House adviser Ivanka Trump said on Tuesday during a visit to Bogota.




Reuters - Published