Estonia
Republic in Baltic Region of Northern Europe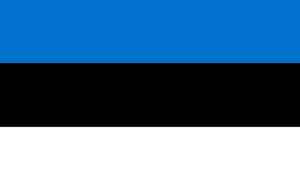 Estonia, officially the Republic of Estonia, is a country on the eastern coast of the Baltic Sea in Northern Europe. It is bordered to the north by the Gulf of Finland with Finland on the other side, to the west by the Baltic Sea with Sweden on the other side, to the south by Latvia (343 km), and to the east by Lake Peipus and Russia (338.6 km). The territory of Estonia consists of a mainland and 2,222 islands in the Baltic Sea, covering a total area of 45,227 km2 (17,462 sq mi), water 2,839 km2 (1,096 sq mi), land area 42,388 km2 (16,366 sq mi), and is influenced by a humid continental climate. The official language of the country, Estonian, is the second-most-spoken Finnic language.


Estonia ousts third far-right minister, coalition stays
Estonian Prime Minister Juri Ratas said on Monday he had sacked Rural Affairs Minister Mart Jarvik, a member of the ruling coalition's far-right EKRE party, saying he could no longer trust him.
Reuters - Published
Estonian president sees life in 'brain-dead' NATO
Estonian President Kersti Kaljulaid defended NATO on Tuesday after French President Emmanuel Macron branded it "brain dead", saying Estonia felt safe in a military alliance that has been fortifying its..
Reuters - Published
U.S. digs deeper into Deutsche - sources
Exclusive: the U.S. Department of Justice has stepped up its investigation into Deutsche Bank's role in the 200 billion euro ($220 billion) Danske Bank money laundering scandal, people familiar with..
Credit: Reuters Studio Duration: 01:06Published
Loeb leads Rally of Spain as Hyundai dominate
Sebastien Loeb, nine-times world champion, took the lead in the Rally of Spain late on Friday (October 25) while championship leader Ott Tanak moved closer to clinching his maiden WRC title.
Credit: Reuters - Sports Duration: 01:30Published
Tanak aims for world title at Rally Spain
Estonia's Ott Tanak aiming to clinch world title at the Rally Spain
Credit: Reuters - Sports Duration: 01:34Published
U.S. troops arrive in Baltics in fresh signal to Russia
Five hundred U.S. soldiers and dozens of military vehicles disembarked from a ship in Latvia's capital Riga on Wednesday (October 16) before travelling on to Lithuania in a move meant to deter..
Credit: Reuters Studio Duration: 01:16Published
Russian security services used Estonia to fund activities abroad: Estonian minister
Russia's security services moved money through Estonia to finance operations overseas, the Baltic country's finance minister, who is leading a clean up after a money laundering scandal, told Reuters.
Reuters - Published
Estonian minister blamed for slow reform after Danske scandal
Estonia's far-right finance minister has been criticized by lawmakers for holding up financial reforms promised after the Baltic state became the focus of Europe's biggest money laundering scandal.
Reuters - Published
Estonian far-right trade minister resigns
Estonia's IT and foreign trade minister Kert Kingo from the far-right party EKRE has resigned, the prime minister's office said on Wednesday.
Reuters - Published
Estonia's EU energy candidate questioned on climate credentials
Estonia's candidate for European energy commissioner, Kadri Simson, insisted on Thursday she is committed to climate goals as she was pressed by EU lawmakers over her country's reluctance to back the..
Reuters - Published
Estonia's interior minister calls for enquiry into banker's death
Estonia's interior minister on Sunday called for an enquiry into the death of the former head of Danske Bank's Estonian branch, which is at the center of investigations into the world's largest money..
Reuters - Published
Estonian PM survives no-confidence vote
Estonian Prime Minister Juri Ratas survived a no-confidence vote in parliament on Friday called by the opposition after a minister from his junior coalition partner, the far-right EKRE party, tried to..
Reuters - Published
Hong Kong protesters form human chains across city
Protest was inspired by The Baltic Way, where 2 million people held hands across Latvia, Lithuania and Estonia in 1989 to push back against the Soviet Union
CBS News - Published
Estonia President says far-right minister unfit for job
Estonia President Kersti Kaljulaid said on Monday that Finance Minister Martin Helme, one of the leaders of the far-right EKRE party, was unfit to serve in the cabinet, citing Helme's attempt to fire..
Reuters - Published
Estonia PM says EU leaders will seek bigger majority to agree on top jobs
Estonian Prime Minister Juri Ratas on Monday said there was enough backing for an agreement on how to allocate the European Union's top jobs, but that it was the right decision to pause talks between..
Reuters - Published
Ambitious 2050 climate goal relegated to footnote at EU summit
A push by most European Union nations for the world's biggest economic bloc to go carbon neutral by 2050 was dropped to a footnote at a summit on Thursday after resistance from Poland, the Czech..
Reuters - Published
You Might Like