Windsor Castle
Official country residence of the British monarch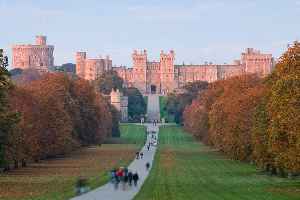 Windsor Castle is a royal residence at Windsor in the English county of Berkshire. It is notable for its long association with the English and later British royal family and for its architecture.


Explainer: The new life of Prince Harry and Meghan after split from royal family
Prince Harry and his wife Meghan will stop using their royal titles, give up state funding and repay taxpayer money used to refurbish their home at Windsor Castle as they seek to pursue new careers..
Reuters - Published
Still in the fold: Prince Andrew goes horseback riding with Queen Elizabeth amid scandal
Two days after Prince Andrew announced he's stepping away from his royal duties, he was spotted riding horses with Queen Elizabeth at Windsor Castle.
USATODAY.com - Published
After Megxit, What Will Harry And Meghan's Life Will Look Like?
In an effort to distance themselves from the throne, Harry and Meghan have agreed to a few caveats. The Prince and his wife will stop using their royal monikers and give up any state funding. The..
Credit: Wochit News Duration: 00:33Published
EXPLAINER: How can Harry and Meghan be half-royals?
They've announced that they're stepping back from senior roles in the royal family, but are Prince Harry and Meghan trying to have their cake and eat it? David Doyle reports.
Credit: Reuters Studio Duration: 02:09Published
Prince Harry and Meghan to 'step back' from senior royal roles
In an Instagram post Wednesday, the Duke and Duchess of Sussex announced that they were stepping back from their roles as senior members of Britain's royal family. Freddie Joyner has more.
Credit: Reuters Studio Duration: 01:18Published
Windsor Castle Is Looking For A New Housekeeper
The British royal family is looking for a new housekeeping assistant. The permanent job with the Master of the Household's office is based in Windsor Castle. According to Geek.com, the position does,..
Credit: Wochit News Duration: 00:33Published
Annus horribilis II? UK's Queen Elizabeth to reflect on another tough year
When Britain's Queen Elizabeth addresses her nation on Christmas Day it will mark the end of one of the most difficult years of her long reign. Francesca Lynagh reports.
Credit: Reuters Studio Duration: 02:03Published
Windsor Castle lights up for Christmas
Windsor Castle is bedecked with Christmas decorations. Among the highlights is a 20ft fir tree and a dining table laid with silver-gilt pieces. The display also pays homage to the 200th anniversary of..
Credit: PA - Press Association STUDIO Duration: 00:57Published
Prince Harry joins Duchess Meghan in support at gender equality roundtable
Duchess Meghan attended a roundtable discussion on gender equality at Windsor Castle on Friday and was joined in support by Prince Harry.
USATODAY.com - Published
Royal family shares photos of baby Archie's christening
Baby Archie was christened in an "intimate ceremony" Saturday at Windsor Castle's private chapel. The official photos have been released, and they are adorable.
CBS News - Published
Duke and Duchess of Sussex's baby christened
The youngest member of Britain's royal family, Archie Mountbatten-Windsor, was christened Saturday in a private family ceremony at Windsor Castle. (July 6)  
USATODAY.com - Published
Prince Will, Kate beam at Order of the Garter
Famous faces arrive at St George's Chapel to attend the Most Noble Order of the Garter Ceremony at Windsor Castle on June 17, 2019.
USATODAY.com - Published
You Might Like