Donald Glover
American actor, rapper, comedian and film, television and record producer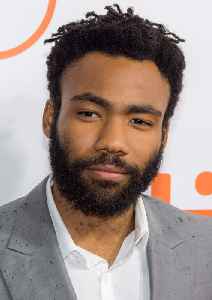 Donald McKinley Glover Jr. is an American actor, comedian, singer, writer, producer, director, rapper, songwriter, and DJ. He performs music under the stage name Childish Gambino and as a DJ under the name mcDJ.


These A-listers are the most stylish stars, according to People
Ahead of the Academy Awards, People has released its list that also includes Emma Stone, Nicole Kidman, Donald Glover
CBS News - Published
ShowBiz Minute: Grammy Awards, BAFTAs
Kacey Musgraves and Childish Gambino big winners at Grammy Awards; Lady Gaga and Cardi B top fashion list at Grammys; "The Favourite" and "Roma" sweep the board at the BAFTAs. (Feb. 11)
USATODAY.com - Published
Rap scores a breakthrough at the Grammy awards
Childish Gambino's "This is America" makes history at the Grammy awards by winning both record and song of the year - a first for hip hop. The night also celebrated girl power with top prize Album of..
Credit: Reuters Studio Duration: 01:38Published
2019 Coachella Lineup Announced
On Jan. 3, 2019, the Coachella Festival lineup was announced. Artists Childish Gambino, Tame Impala and Ariana Grande will headline the festival. Other artists like Janelle Moane, The 1975, Billie..
Credit: Newsweek Duration: 00:45Published
Grammys ratings: Awards show viewership holds steady at nearly 20 million
Nearly 20 million people watched Childish Gambino and Kacey Musgraves earn four trophies each at the Grammy Awards.
USATODAY.com - Published
Women musicians and rap artists make history at Grammy Awards
Music's biggest night was headlined by women and rap artists. In all, 31 women brought home Grammy Awards. Meanwhile, Childish Gambino's hit "This is America" was the first rap-based song to win song..
CBS News - Published
Grammys 2019: Where was Donald Glover?
Donald Glover's musical colleagues answer questions about why the rapper/actor wasn't at the Grammy Awards. (Feb. 11)
USATODAY.com - Published
Where was Donald Glover? Childish Gambino wasn't at the Grammys to accept big wins
Childish Gambino won four out of the five awards he was nominated for, but was not there to accept them.
USATODAY.com - Published
ShowBiz Minute: 'The Favourite', 'Roma' sweep BAFTA
Kacey Musgraves and Childish Gambino big winners at Grammy Awards; Lady Gaga and Cardi B top fashion list at Grammys; "The Favourite" and "Roma" sweep the board at the BAFTAs. (Feb. 11)
USATODAY.com - Published
You Might Like