Staten Island
Borough in New York City and county in New York, United States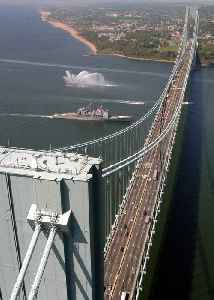 Staten Island is a borough of New York City, coterminous with Richmond County, in the U.S. state of New York. Located in the southwest portion of the city, the borough is separated from New Jersey by the Arthur Kill and the Kill Van Kull and from the rest of New York by New York Bay. With an estimated population of 476,143 in 2019, Staten Island is the least-populated of the boroughs but is the third-largest in land area at 58.5 sq mi (152 km2). The borough also contains the southern-most point in the state, South Point. If each borough were ranked as a city, Staten Island would rank as the 39th most-populous in the U.S.


Staten Island tattoo studio reopens after lockdown

Tattoo aficionados this week rushed to body art parlors across New York, including InkStained Tattoo Studio on Staten Island as the city reopened Monday, entering Phase 3. Freddie Joyner has more.
Credit: Reuters - Politics Duration: 01:28
Published
You Might Like
New York Attorney General Scrutinizes Amazon for Firing Warehouse Worker
The attorney general said in a letter that Amazon may have violated laws in firing a Staten Island worker who led a protest against the company.
NYTimes.com - Published
Leaked memo: Amazon strategy to attack Staten Island strike organizer as 'not smart'
Amazon reportedly planned to smear the fired employee who organized a walkout over coronavirus safety concerns at one of the company's warehouses.
USATODAY.com - Published
Staten Island opens drive-through virus test site
Staten Island opens drive-through virus test site
USATODAY.com - Published
U.S. appeals court voids 'shockingly low' 17-year sentence in NY terrorism case
A U.S. federal appeals court on Friday ordered the resentencing of a Staten Island, New York man for attempting to provide material support to Islamic State and kill an FBI agent, saying his 17-year..
Reuters - Published
NYPD commissioner on his decision to fire Daniel Pantaleo: "I've had 5 years to think about this"
In an exclusive interview with "CBS This Morning," New York City Police Commissioner James O'Neill discusses his "difficult" decision to fire the officer who put Eric Garner in a deadly chokehold..
CBS News - Published
5 years after Garner death, neighborhood 'lawless'
People in the Staten Island neighborhood where Eric Garner died say police have been reluctant to take any action in the area since Garner's death. (Aug. 21)  
USATODAY.com - Published
Fifth N.Y.P.D. Officer Since June Dies by Suicide, Police Say
The officer, whose name was not released, was found at his Staten Island home on Saturday after he fatally shot himself.
NYTimes.com - Published
Eric Garner's mother calls on Mayor Bill de Blasio to "step up" and fire officer involved in son's death
The family of Eric Garner vows to continue their fight for justice after federal prosecutors decided not to charge a New York City police officer involved in his death. Garner died five years ago..
CBS News - Published
Woman and 2 Children Are Found Dead on Staten Island, Police Say
All three victims were found in the same room, officials said. The police said officers had been called to the house for a domestic incident once before.
NYTimes.com - Published
"A mental-health crisis": NYPD officer dies in suspected suicide
The NYPD said the officer, who was not identified, shot himself near a Staten Island precint
CBS News - Published