Syracuse, New York
City in Central New York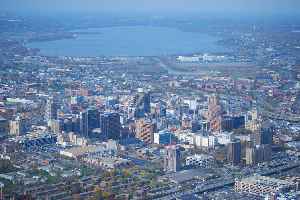 Syracuse is a city in and the county seat of Onondaga County, New York, United States. It is the fifth-most populous city in the state of New York following New York City, Buffalo, Rochester, and Yonkers.


Racial Slurs, and 15 Days That Shook Syracuse
How a protest by students of color at Syracuse University — #NotAgainSU — electrified the campus and gained national attention.
NYTimes.com - Published
Syracuse chancellor bows to student demands as racist hate incidents continue
Syracuse Chancellor Ken Syverud agreed to the demands of students protesting a two-week run of almost daily racist or anti-Semitic incidents.
USATODAY.com - Published
Impeachment hearings; Epstein guards; Syracuse racism
Watch Part 1 of "CBS This Morning": Gordon Sondland, the U.S. ambassador to the European Union, will testify in the impeachment hearings. Also, two guards accused of not checking on Jeffrey Epstein the..
CBS News - Published
Syracuse suspends fraternity activities after student reports racist slur
Syracuse University has suspended all fraternity activities for the rest of the semester after several racist and anti-Semitic incidents were reported at the school, CBS New York reports. In one of the..
CBS News - Published
Also reported by •USATODAY.com
Syracuse suspends frats after racial incidents
This was the sixth racially-charged incident in 10 days, according to CBS New York
CBS News - Published
NCAA Re-Rank 1-130: Clemson solidifies top spot after win at Syracuse
Clemson solidified the No. 1 spot in the latest NCAA Re-Rank after a 41-6 win at Syracuse. LSU keeps hold of second ahead of Alabama.
USATODAY.com - Published
Winners and losers from college football's Week 2 led by Clemson and Syracuse
College football was again dramatic. A look and the winners and losers led by Clemson, Michigan the positive side and Syracuse and UCLA on the other.
USATODAY.com - Published
7-year-old defeats New York cop in basketball challenge
Syracuse Officer Brandon Hanks has been challenging kids to basketball games. After 27 straight wins, he finally met his match. "CBS Evening News" anchor Norah O'Donnell has an update to his story.
CBS News - Published
8/15: CBS Evening News
Dale Earnhardt Jr., family survives Tennessee plane crash; Syracuse officer bonds with kids on the basketball court.
CBS News - Published
Syracuse officer bonds with kids on the basketball court
Officer Brandon Hanks is determined to improve relations between cops and kids. He believes the best way to do that is through a game of one-on-one. Jim Axelrod explains.
CBS News - Published
Former Syracuse and NBA star Billy Gabor dead at 97
Former Syracuse basketball star Billy Gabor, who went on to play for the Syracuse Nationals of the NBA, has died; was believed to be the oldest living NBA player
USATODAY.com - Published
How many more Jeopardy! games will James Holzhauer likely win? Professors crunch numbers
Two Syracuse sports analytics professors have studied Jeopardy! champ James Holzhauer's win streak and project him to win 98 more games.
USATODAY.com - Published