Oahu
The third-largest of the Hawaiian Islands and site of the state capital Honolulu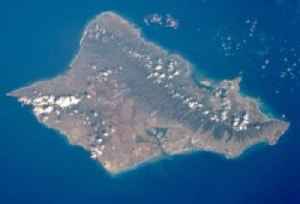 Oʻahu anglicized Oahu, known as "The Gathering Place", is the third-largest of the Hawaiian Islands. It is home to roughly one million people—about two-thirds of the population of the U.S. state of Hawaii. The state capital, Honolulu, is on Oʻahu's southeast coast. Including small associated islands such as Ford Island and the islands in Kāneʻohe Bay and off the eastern (windward) coast, its area is 596.7 square miles (1,545.4 km2), making it the 20th-largest island in the United States.


'Get it together': False emergency sirens spark déjà vu on Hawaiian islands of Oahu and Maui
Emergency sirens accidentally went off on Oahu and Maui Wednesday, rattling nerves as Hawaii residents recalled surviving a false missile alarm.  
USATODAY.com - Published
Man convicted in road rage attack wore blackface, delivered racist defense in court
Mark Char, an Oahu, Hawaii resident, was found guilty of 3 counts of attempted murder after he stabbed three individuals in a March road rage attack.
USATODAY.com - Published
Road rage attacker wears blackface for racist courtroom rant
After bizarre presentation, Mark Char, of Oahu, sentenced to life in prison for triple stabbing
CBS News - Published
Skydiving plane in Hawaii crash that killed 11 was involved in prior incident
Officials in Hawaii are investigating how a skydiving plane crashed, killing all 11 people on board. It happened Friday just after takeoff on the island of Oahu. The same plane was involved in another..
CBS News - Published
Investigators search for answers in deadly Hawaii plane crash
As family and friends mourn the lives lost in one of the state's worst civilian aviation disasters, investigators are searching for clues about why a twin-engine plane crashed on Oahu's North Shore..
CBS News - Published
11 people killed after skydiving plane crashes in Hawaii
11 people are believed dead in Hawaii after the twin-engine plane they were aboard crashed. It is the deadliest civilian plane crash in the last four years. The plane has just taken off near Oahu's..
CBS News - Published
Nine people killed in Hawaii plane crash
"All nine people aboard a twin-engine plane were killed when their aircraft went down near Dillingham Airfield on the north shore of the island of Oahu. The plane burst into flames when it hit the..
CBS News - Published
Hawaii Plane Crash Kills 9, Officials Say
The twin-engine plane crashed on Friday night on Oahu's North Shore, said a spokesman for the state transportation department.
NYTimes.com - Published
At least 9 killed after aircraft crashes in Hawaii, authorities say
The Hawaii Department of Transportation says nine were aboard the aircraft when it went down near Dillingham Airfield in the northwest corner of Oahu.
USATODAY.com - Published
You Might Like