Britt McHenry
American sports reporter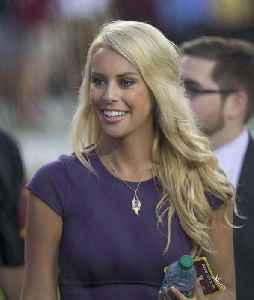 Brittany May "Britt" McHenry is a former ESPN personality. She is currently a commentator on Fox Nation, Fox News' 24/7 streaming service. She is the host of a show on WTTG Fox 5 in Washington, D.C.


You Might Like
Former ESPN reporter Britt McHenry tweets photo before surgery to remove brain tumor
Former ESPN reporter and current Fox News contributor Britt McHenry, 33, was scheduled to have brain surgery Wednesday for a "golf ball-sized tumor."
USATODAY.com - Published
Fox Nation host Britt McHenry reveals brain tumor; Megyn Kelly, more share support
Britt McHenry, a commentator who sued Fox News in 2019 over sexual harassment allegations, has revealed she has a brain tumor.
USATODAY.com - Published
Why is Fox News being sued again over alleged sexual harassment?
Wasn't Fox News supposed to have fixed its sexual harassment problem years ago? Why then is Britt McHenry suing for recent alleged misconduct?
USATODAY.com - Published
Britt McHenry sues Fox News and co-host Tyrus for sexual harassment, retaliation
Britt McHenry has sued Fox News, claiming the network retaliated when she came forward with sexual misconduct allegations against her co-host Tyrus.
USATODAY.com - Published
Britt McHenry, Fox Nation Host, Sues Fox News, Alleging Sexual Harassment
Britt McHenry, who hosts a show on the Fox Nation streaming service, accused her former co-host, Tyrus, of sexually harassing her and said that Fox News failed to respond appropriately to her claims.
NYTimes.com - Published
Search this site and the web: