Anita Hill
Law professor; witness in Clarence Thomas controversy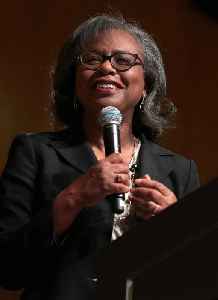 Anita Faye Hill is an American lawyer and academic. She is a university professor of social policy, law, and women's studies at Brandeis University and a faculty member of the university's Heller School for Social Policy and Management. She became a national figure in 1991 when she accused U.S. Supreme Court nominee Clarence Thomas, her supervisor at the United States Department of Education and the Equal Employment Opportunity Commission, of sexual harassment.


Behind the headlines: Battle over the Supreme Court
Battle over the Supreme Court Correspondent Martha Teichner looks back at Anita Hill's testimony during the confirmation hearing of Clarence Thomas, and talks with NPR's Nina Totenberg and historian..
CBS News - Published
Anita Hill
"I did what my conscience told me I had to do, and you cannot fail when you do that." That's what Anita Hill tells Ed Bradley regarding her testimony before a Senate committee, in which she accused..
CBS News - Published
In Kavanaugh hearing, echoes of Anita Hill
Christine Blasey Ford's testimony recalls that of Anita Hill, who spoke to 60 Minutes months after her own very public hearing
CBS News - Published
Rewind: Clarence Thomas talks about Anita Hill
When the Supreme Court Justice spoke to 60 Minutes in 2007, he addressed Anita Hill's high-profile testimony: "That's not the person I knew"
CBS News - Published
Today in History for October 11th
Highlights of this day in history: Congress OK's U.S. military force against Iraq; Former President Jimmy Carter wins Nobel Peace Prize; Anita Hill accuses Supreme Court pick Clarence Thomas; Second..
USATODAY.com - Published
Anita Hill on whether she could vote for Biden: "Of course I could"
Hill has criticized Biden's performance during the confirmation hearing of Supreme Court Justice Clarence Thomas
CBS News - Published
You Might Like