Police officer
Warranted employee of a police force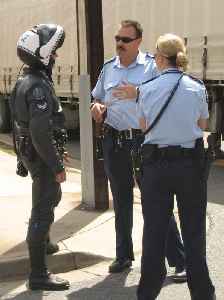 A police officer, also known as an officer, policeman, or a policewoman is a warranted law employee of a police force. In most countries, "police officer" is a generic term not specifying a particular rank. In some, the use of the rank "officer" is legally reserved for military personnel.


Angie Dickinson on the Rat Pack, "Police Woman" and #MeToo
Angie Dickinson's film and TV career has been a half-century-long master class in the art of seduction. Mo Rocca talked with the star of the '70s hit "Police Woman," and such classic films as "Rio..
CBS News - Published
Officer's unexpected stop starts chain of kindness
Police officer, Bree Wilson made an unexpected stop and it started a chain of kindness in West York, Pennsylvania.
USATODAY.com - Published
Policeman seriously injured in machete attack 'will recover'
A police officer who was stabbed a number of times in a "frenzied" machete attack is seriously injured but will recover, police have said. The patrol officer was stabbed at about midnight on..
Credit: PA - Press Association STUDIO Duration: 01:03Published
AP Debrief: Ex-officer sent to prison in Minn.
A former Minneapolis police officer who shot and killed an unarmed woman who had called 911 apologized to her family on Friday. A judge brushed off a request for leniency and sentenced him to 12½..
USATODAY.com - Published
Ex-cop testifies he couldn't see 911 caller's hands when he shot her
The testimony of ex-Minneapolis officer Mohamed Noor was the first time he's spoken out about Justine Damond's death
CBS News - Published
Cop said "I don't know why I shot" teen, witness says
A neighbor who witnessed the killing of Antwon Rose last June testified Wednesday in the trial of ex-officer Michael Rosfeld
CBS News - Published
Ex-cop says she had sex while child was dying in hot car
Cassie Barker pleaded guilty Monday to manslaughter in a plea bargain after being indicted on a second-degree murder charge
CBS News - Published
Frank talk with Angie Dickinson
The actress known for "Police Woman" and for hanging with the Rat Pack speaks up about Sinatra, JFK, and the #MeToo movement
CBS News - Published
You Might Like