Scottsdale, Arizona
City in Arizona, United States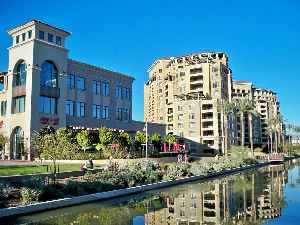 Scottsdale is a city in the eastern part of Maricopa County, Arizona, United States, part of the Greater Phoenix Area. Named Scottsdale in 1894 after its founder Winfield Scott, a retired U.S. Army chaplain, the city was incorporated in 1951 with a population of 2,000. The 2019 population was estimated at 258,069. The New York Times called downtown Scottsdale "a desert version of Miami's South Beach" with "plenty of late night partying and a buzzing hotel scene." Its slogan is "The West's Most Western Town."


YouTube star Jake Paul's LA home raided by FBI

FBI agents in tactical gear on Wednesday raided the Los Angeles-area mansion home of YouTube star and social media influencer Jake Paul in an investigation stemming from a looting spree at an upscale..
Credit: Reuters Studio Duration: 01:17
Published
Arizona city councilman says 'I can't breathe' at anti-mask rally

A Scottsdale, Arizona town councilman has been criticized after he apparently used the words uttered by George Floyd and Eric Garner as they died under police custody.
Credit: Reuters Studio Duration: 00:55
Published
You Might Like
Jake Paul: FBI, SWAT team raid house of YouTuber; Scottsdale drops looting charges – for now
FBI agents, including a SWAT team, served a search warrant at the home of YouTube star Jake Paul on Wednesday. And Scottsdale dropped looting charges.
USATODAY.com - Published
Onlookers scream after woman falls at Grand Canyon trying to take photos
A 59-year-old woman from Scottsdale, Arizona, went off the trail and fell 100 feet to her death at Mather Point in the Grand Canyon.  
USATODAY.com - Published
Store robbery prompts fatal shootout, suspect dead
A man robbing a gas station convenience store fatally shot a bystander before being killed in a wild shootout with another bystander, police in the Phoenix suburb of Scottsdale said Friday morning...
USATODAY.com - Published
Jake Paul Charged With Misdemeanor Trespassing After Mall Looting
Videos posted on social media showed the 23-year-old YouTube star at a Scottsdale, Ariz., mall that was being looted on Saturday night.
NYTimes.com - Published
Dominic Armato: The best things I ate at the 2019 azcentral Wine & Food Experience
The best things Arizona Republic dining critic Dominic Armato ate at the 2019 azcentral Wine & Food Experience at Salt River Fields near Scottsdale.
USATODAY.com - Published
Scottsdale, Arizona, is the place to be, even — no especially — when it's 100+ degrees
The high temperatures in the Phoenix and Scottsdale area drive away tourists, but you'll be treated very well if you visit in the summer.
USATODAY.com - Published
Frank Lloyd Wright buildings added to UNESCO World Heritage list
This week, eight Frank Lloyd Wright buildings were added to the UNESCO World Heritage list -- sites that are singled out for their value to humanity. The buildings include wright's Fallingwater, and..
CBS News - Published
Robert Nkemdiche arrested on suspicion of speeding, driving on a suspended license
Robert Nkemdiche was arrested in Scottsdale, Arizona two weeks ago on suspicion of speeding and driving on a suspended license.
USATODAY.com - Published
Do these Arizona office buildings resemble swastikas or pinwheels?
From the bird's-eye view of Google Maps, a medical complex in Glendale and office complex in Scottsdale resemble swastikas.
USATODAY.com - Published