Rodney King
American survivor of police brutality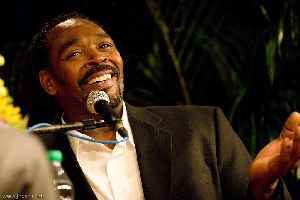 Rodney Glen King was an American construction worker turned writer after surviving an act of police brutality by the Los Angeles Police Department. On March 3, 1991, King was beaten by LAPD officers after a high-speed chase during his arrest for drunk driving on I-210. A civilian, George Holliday, filmed the incident from his nearby balcony and sent the footage to local news station KTLA. The footage clearly showed an unarmed King on the ground being beaten after initially evading arrest. The incident was covered by news media around the world and caused a public furor.


You Might Like
Elizabeth Alexander on the Spectacle of 'Black Bodies in Pain'
The writer reflects on her seminal Rodney King essay, the George Floyd killing and how the videos of police brutality exacerbate black grief.
NYTimes.com - Published
Stacey Abrams: Echoes of 1992 riots felt today
Georgia voting rights activist Stacey Abrams is demanding protesters' voices be heard in the aftermath of George Floyd's death. Abrams draws parallels between current protests and 1992 riots after..
USATODAY.com - Published
In Los Angeles, the Ghosts of Rodney King and Watts Rise Again
Los Angeles has been one of America's reference points for racial unrest. This time protesters are bringing their anger to the people they say need to hear it most: the white and wealthy.
NYTimes.com - Published
What's Different About the Protests in Los Angeles This Time
Wednesday: Although the parallels with the Rodney King riots are clear, a lot has changed.
NYTimes.com - Published
Today in History: April 29th
On this day in history: Rioting hits Los Angeles after four white officers are acquitted of most charges in beating of Rodney King; Dachau concentration camp liberated; Jerry Seinfeld born. (April..
USATODAY.com - Published
John G. Davies, Rodney King Judge and Olympic Medalist, Dies at 90
A record-breaking swimmer, he was credited with helping to prevent further rioting for his handling of the second trial of four police officers.
NYTimes.com - Published
Today in History for March 3rd
Highlights of this day in history: Rodney King beaten in Los Angeles; Inventor Alexander Graham Bell born; 'The Star Spangled Banner' becomes the U.S. national anthem; 'Time' first hits newsstands;..
USATODAY.com - Published
Barry Kowalski, Prosecutor in Rodney King Case, Is Dead at 74
"He's been called the Justice Department's pit bull," a colleague said of Mr. Kowalski, who prosecuted many high-profile civil rights cases.
NYTimes.com - Published