Queen (band)
British rock band formed in 1970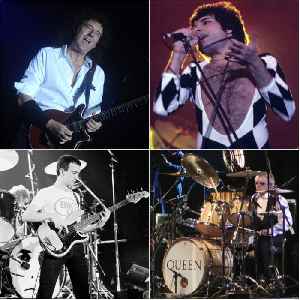 Queen are a British rock band formed in London in 1970. Their classic line-up was Freddie Mercury, Brian May, Roger Taylor and John Deacon (bass). Their earliest works were influenced by progressive rock, hard rock and heavy metal, but the band gradually ventured into more conventional and radio-friendly works by incorporating further styles, such as arena rock and pop rock.


You Might Like
35 years later, Queen's Live Aid show is still one of the greatest concerts ever
For six songs and 22 euphoric minutes, Queen's Freddie Mercury made rock history at Live Aid, a benefit concert held 35 years ago on July 13, 1985.
USATODAY.com - Published
Brian May reveals he was 'very near death' after suffering 'small heart attack' while gardening
Queen's Brian May tells fans that amid what appeared to be a gardening accident that tore his buttocks earlier this month, he suffered a heart attack.
USATODAY.com - Published
'The pain is relentless': Queen guitarist Brian May hospitalized after tearing buttocks while gardening
Queen guitarist Brian May doesn't have coronavirus – but he did need to go to the hospital after he tore his buttocks gardening.
USATODAY.com - Published
13-year-old stuns 'America's Got Talent: The Champions' judges rendition to Queen hit
Angelina Jordan won Season 6 of "Norway's Got Talent" at age 7. Now 13, Jordan shocked the judges with her rendition of Queen's "Bohemian Rhapsody."
USATODAY.com - Published
Freddie Mercury sings version of "Time Waits For No One" in previously unseen recording
A never-before-seen video of Queen's longtime frontman, Freddie Mercury, was released overnight. The stripped-down version of the song "Time Waits For No One" was recorded in 1986.
CBS News - Published
Donald Trump's UK State Visit Confirmed: What to Expect
by Simon Baxendale - After months of speculation, it has been confirmed this week that US President Donald Trump will return to the UK later this year as part of a state visit. This means that Trump..
One News Page Staff - Published
Oscars 2019: Who Won the Big Awards?
by Graham Pierrepoint - We've just seen the biggest event in the Hollywood calendar come to pass, and as always, there were a number of upsets and surprises. The Academy Awards, otherwise known..
One News Page Staff - Published