Prime minister
Most senior minister of cabinet in the executive branch of government in a parliamentary system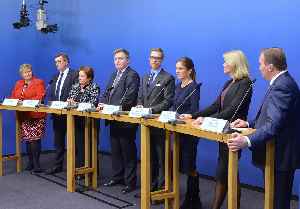 A prime minister is the head of a cabinet and the leader of the ministers in the executive branch of government, often in a parliamentary or semi-presidential system. A prime minister is not a head of state or chief executive officer of their respective nation, rather they are a head of government, serving typically under a monarch in a hybrid of aristocratic and democratic government forms.


'We need to start again,' Spain's PM says on EU job hunt
Spanish Prime Minister Pedro Sanchez said on Friday that none of the three lead candidates for top European Union jobs could command a majority among EU leaders and that new names needed to be put..
Reuters - Published
Malaysian PM says Russia being made a scapegoat for downing of flight MH17
Malaysian Prime Minister Mahathir Mohamad said on Thursday Russia is being made a scapegoat for the downing of Malaysia Airlines flight MH17 and questioned the objectivity of the investigations into..
Reuters - Published
British PM's New Brexit Deal Appears Acceptable to Ireland
According to Reuters, Irish Prime Minister Leo Varadkar on Tuesday said that British Prime Minister Theresa May's "new deal" aimed at delivering Brexit would appear to be acceptable to Ireland, a..
Credit: Wochit News Duration: 00:34Published
New UK PM must change red lines to renegotiate Brexit deal, Dutch PM says
Delaying Brexit beyond October 31 for further negotiation would be pointless unless Prime Minister Theresa May's successor changes Britain's red lines, Dutch PM Mark Rutte said on Thursday.
Reuters - Published
Algeria prosecutor refers ex-PM to supreme court over alleged corruption: statement
An Algerian prosecutor has referred former prime minister Ahmed Ouyahia, a current minister and two ex-ministers to the supreme court over corruption allegations, the Algiers public prosecutor's office..
Reuters - Published
Search this site and the web:
You Might Like