Prime minister
Most senior minister of cabinet in the executive branch of government in a parliamentary system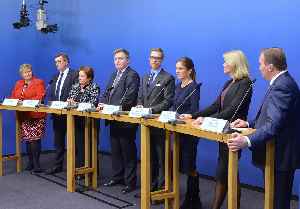 A prime minister is the head of a cabinet and the leader of the ministers in the executive branch of government, often in a parliamentary or semi-presidential system. A prime minister is not a head of state or chief executive officer of their respective nation, rather they are a head of government, serving typically under a monarch in a hybrid of aristocratic and democratic government forms.


Danish PM suggests coalition with main opposition to avoid political chaos
Danish Prime Minister Lars Lokke Rasmussen voiced readiness on Thursday to form a governing coalition with the Social Democrats after the June 5 election to help curb the influence of smaller, more..
Reuters - Published
U.S. and Iran do not want war, Iraqi PM says
Neither the United States nor Iran want war and Iraq is in contact with both, Iraq's state news agency INA quoted Prime Minister Adel Abdul Mahdi as saying on Tuesday.
Reuters - Published
Israeli PM Benjamin Netanyahu Likely to Win Re-election
It's a tight race between the controversial right-wing PM and his closest opponent, centrist former general Benny Gantz.
Credit: Newsy Studio Duration: 00:59Published
Malaysia: Ex-PM Najib Razak to face trial over corruption charges
Najib faces 42 charges linked to theft of $4.5bN from state investment fund after winning election last May.
Credit: Al Jazeera STUDIO Duration: 01:48Published
Jacob Rees-Mogg hopes DUP will come around to May's deal
Jacob Rees-Mogg has said he still backs the PM's deal and is hoping the DUP "come over" to it. He also praised Mrs May's behaviour yesterday and said she "deserves support". Speaking to..
Credit: PA - Press Association STUDIO Duration: 00:59Published
Australia's PM launches official campaign six days out from election
Australia's Prime Minister Scott Morrison officially launched his party's election campaign on Sunday, less than a week before the May 18 vote that opinion polls have consistently indicated he will..
Reuters - Published
Search this site and the web:
You Might Like