San Francisco
Consolidated city-county in California, US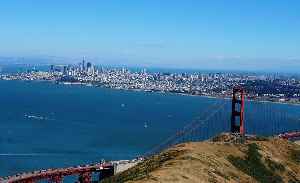 San Francisco, officially the City and County of San Francisco and colloquially known as SF, San Fran, Frisco, or The City, is the cultural, commercial, and financial center of Northern California. San Francisco is the 16th most populous city in the United States, and the fourth most populous in California, with 881,549 residents as of 2019. It covers an area of about 46.89 square miles (121.4 km2), mostly at the north end of the San Francisco Peninsula in the San Francisco Bay Area, making it the second most densely populated large U.S. city, and the fifth most densely populated U.S. county, behind only four of the five New York City boroughs. San Francisco is the 12th-largest metropolitan statistical area in the United States by population, with 4.7 million people, and the fourth-largest by economic output, with GDP of $549 billion in 2018. With San Jose, it forms the fifth most populous combined statistical area in the United States, the San Jose–San Francisco–Oakland, CA Combined Statistical Area.


San Francisco prepares to resume outdoor dining

Some restaurants in San Francisco, California, will take another step forward on Friday (June 12) when the city permits outdoor seating for the first time since ordering a shelter-in-place order back..
Credit: Reuters Studio Duration: 01:54
Published
Actor Jamie Foxx joins demonstrations in San Francisco

Actor and activist Jamie Foxx was in San Francisco Monday to join a kneel-in protest with local community and religious leaders fighting police violence and racism.
Credit: PA - Press Association STUDIO Duration: 00:51
Published
U.S. health experts warn protests may add to virus spread

Public health experts and government officials, including New York's governor, are warning that large street protests over racial inequities and excessive police force could worsen the spread of the..
Credit: Reuters Studio Duration: 01:40
Published
San Francisco Orders Everyone To Wear Mask

JOSH EDELSON/AFP via Getty Images San Francisco will start enforcing everyone to wear masks when they leave their home and come within 30 feet of someone they do not live with. Masks or face coverings..
Credit: Wochit News Duration: 00:32
Published
Sea lions occupy boat docks in California

Social media video shows sea lions taking advantage of the temporarily-closed tourist area, Pier 39, at the San Francisco waterfront
Credit: Reuters - Viral Video Duration: 00:25
Published
Firefighters battle massive fire on San Fran's Pier 45

Fire crews battled a massive blaze at San Francisco's Fisherman's Wharf, saving a historic WWII vessel, but not before losing a quarter of Pier 45, local media reported. This report produced by..
Credit: Reuters - Politics Duration: 01:11
Published
Social distancing circles marked out at San Francisco park

San Francisco's Dolores Park is trying to ensure its visitors stay safe from the coronavirus by painting social distancing circles on the grass throughout the popular park.
Credit: Reuters Studio Duration: 00:50
Published
San Francisco approves homless tent encampment to protect from Covid-19

San Francisco is joining other US cities in authorising homeless tent encampments in response to the coronavirus pandemic, a move officials have long resisted but are now reluctantly embracing to..
Credit: PA - Press Association STUDIO Duration: 01:04
Published
New York Might Have Avoided Becoming US Epicenter Coronavirus Outbreak

Alexi Rosenfeld/Getty Images San Francisco Mayor London Breed reportedly shared a copy of the region's shelter-in-place order with New York City Mayor Bill de Blasio in mid-March, according to a new..
Credit: Wochit News Duration: 00:32
Published
Indian national in US gives big shout out to Indian govt for 'Vande Bharat Mission'

Indian nationals arrived at San Francisco airport to fly back to home. "I would like to give a big shout out to all the officials who have been working tirelessly day and night to bring us back. Thank..
Credit: ANI Duration: 01:10
Published
Heavily-restricted NBA practices expected to resume on Friday

NBA teams expected to get go-ahead to reopen practice facilities for limited use as early as Friday.
Credit: Reuters - Sports Duration: 00:54
Published



Citing bias, SFPD to restrict release of mug shots

San Francisco police will stop releasing the mug shots of people who have been arrested unless they pose a threat to the public. Police Chief Bill Scott says the new policy is aimed at stopping the..




USATODAY.com - Published





Major coronavirus outbreak at San Quentin prison

San Quentin prison officials are trying to stop a spike in coronavirus cases ravaging inside the state prison just north of San Francisco. About 1,100 prisoners have now tested positive for..




USATODAY.com - Published





Fireworks complaints are skyrocketing in New York City, soaring in San Francisco and up 600% in Milwaukee. But, why?

An increase in fireworks complaints across the U.S. has generated a buzz on social media, with many users asking for an explanation. What's going on?




USATODAY.com - Published




Former San Francisco mayor Willie Brown mistakenly included in BET Awards 'In Memoriam' segment

Former San Francisco Mayor Willie Brown is very much alive, but was mistakenly added to the BET Awards "In Memoriam" tribute segment Sunday night.




USATODAY.com - Published





Andy Goldsworthy Sculpture in San Francisco Is Damaged by Fire

The fire department is investigating arson as a possible cause.




NYTimes.com - Published





Statue of Francis Scott Key toppled in San Francisco's Golden Gate Park

Protesters toppled the statue of Francis Scott Key in San Francisco's Golden Gate Park on Friday, June 19. Historical figures tainted by racism continues.  




USATODAY.com - Published





Begun in the South, Juneteenth also on West Coast

Although Juneteenth celebrations began in the South, the West Coast saw several large gatherings Friday. Thousands of demonstrators rallied peacefully to protest racial injustice and police brutality..




USATODAY.com - Published





San Francisco restaurants restart outdoor dining

San Francisco's renowned culinary scene emerged from coronavirus-forced hibernation Friday as restaurants in the city were allowed to reopen, three months after closing due to the pandemic, for outdoor..




USATODAY.com - Published




On This Day :10 June 2003

Future Broadway musical smash "Wicked" premiered in San Francisco. (June 10)




USATODAY.com - Published




San Francisco to aid victims of police violence

San Francisco's progressive new prosecutor will expand victim compensation services to the victims and witnesses of police violence. (June 9)  




USATODAY.com - Published





AP Top Stories June 4 A

Here's the latest for Thursday June 4th: Congressional Democrats prepare police reform measures; New York City enforces curfew; One NYPD officer stabbed, two shot; Wildfire northeast of San..




USATODAY.com - Published




Calif. wildfire: Homes burned, evacuations ordered

A grass fire burning northeast of San Francisco destroyed or damaged about a dozen homes Wednesday and prompted evacuations of several streets, fire officials said. (June 4)  




USATODAY.com - Published





ShowBiz Minute: Foxx, Lee, Blackout

Jamie Foxx joins kneel-in protest in San Francisco; Spike Lee releases short film "3 Brothers" to protest death of George Floyd; Music industry observes day-long "blackout" on Tuesday. (June 2)  




USATODAY.com - Published





Jamie Foxx protests with faith leaders, activists

Actor and activist Jamie Foxx was in San Francisco Monday with community and religious leaders to protest police violence and racism. (June 1)  




USATODAY.com - Published





On This Day: 31 May 1930

Hollywood icon Clint Eastwood was born in San Francisco. (May 31)  




USATODAY.com - Published





Coronavirus live updates: San Francisco mayor extends stay-at-home order indefinitely; Boston Marathon canceled; Nordstrom closes 16 stores

The House passed a bipartisan bill to make changes to the PPP program. The Boston Marathon was canceled. More COVID-19 news Friday.




USATODAY.com - Published





California regulator approves PG&E's Chapter 11 reorganization plan

Power regulator California Public Utilities Commission (CPUC) has approved PG&E Corp's Chapter 11 reorganization plan, the San Francisco-based utility company said on Thursday.




Reuters - Published





Rare World War II D-Day ship saved in San Francisco Pier 45 fire

A fire engulfed a warehouse on San Francisco's Fisherman's Wharf but firefighters managed to keep the blaze from destroying a historic ship.  




USATODAY.com - Published





Fire Destroys Warehouse at Fisherman's Wharf in San Francisco

One firefighter was injured in the four-alarm blaze at Fisherman's Wharf early on Saturday morning, officials said.




NYTimes.com - Published





Fire destroys San Francisco warehouse

Fire destroys San Francisco warehouse  




USATODAY.com - Published





Coyotes serenade San Francisco with their howls

Two coyotes recently decided to serenade the city of San Francisco. A resident caught the pair on video Monday howling from a hilltop overlooking the city. (May 22)  




USATODAY.com - Published




Virus prompts city to okay tent camps for homeless

In response to the coronavirus pandemic, San Francisco is creating "safe sleeping villages" that allow homeless residents to maintain social distance and good hygiene in authorized tent encampments..




USATODAY.com - Published





Sally Rowley, Jewelry Maker and Freedom Rider, Dies at 88

She fought for civil rights, learned to fly and sold her art on the streets of San Francisco. She died of the novel coronavirus.




NYTimes.com - Published





San Francisco area roads busier, still far below normal as stay home orders remain

More people have been venturing out for work and play in recent weeks in the San Francisco Bay Area, according to traffic data, even as some of the strictest stay-at-home orders in the country remain..




Reuters - Published





San Francisco retail reopens for curbside service

San Francisco is slowly starting to reopen after weeks of shelter-in-place rules due to COVID-19. Retail stores in San Francisco, forced to close two months ago, are now allowed to offer curbside..




USATODAY.com - Published





California church files class action lawsuit against Zoom after bible class 'Zoombombing'

Saint Paulus Lutheran Church, one of San Francisco's oldest churches, filed a proposed class action lawsuit against Zoom in a U.S. District Court.




USATODAY.com - Published





Nervous about a packed plane? United to notify passengers facing 'full' flights, offer options

United's move comes after a doctor criticized the airline's "relaxed'' social distancing on a packed Newark-San Francisco flight.




USATODAY.com - Published





Dog stolen in Dec. has joyous reunion with owner

A San Francisco woman who hired a plane to tow a banner in the search for her stolen dog had a tearful reunion with the pup named Jackson after he was found in a Southern California shelter (April..




USATODAY.com - Published





California regulator wants PG&E reorganization plan changes, proposes $2 billion fine

A California regulator has asked PG&E Corp for governance and oversight changes to its reorganization plan, while proposing about $2 billion in penalties for the San-Francisco based utility's role in..




Reuters - Published




Today in History for April 18th

Highlights of this day in history: The San Francisco earthquake; What becomes known as 'Paul Revere's ride'; A suicide bomb hits the U.S. embassy in Lebanon; Physicist Albert Einstein dies; Wayne..




USATODAY.com - Published





In CA: A Who's Who of Golden State leaders will help reopen California

Anyone who's anyone has been asked to help reopen California and rebuild an economy some experts say totters toward a depression. And I talk a Philadelphia transplant who began using his art to make..




USATODAY.com - Published





'Chinatown is not part of China': Trump's tweet at Pelosi is met with criticism online

President Donald Trump tweeted that House Speaker Nancy Pelosi's February visit to San Francisco's Chinatown was "responsible for many deaths."




USATODAY.com - Published





Major Outbreak in San Francisco Shelter Underlines Danger for the Homeless

The number of coronavirus infections at a single San Francisco homeless shelter went from five to 70 in three days.




NYTimes.com - Published





In CA: The state's future is looking brighter but only if we #StayHome

Stay in this Easter, state officials plead amid a decline in projected hospitalizations linked to coronavirus. And at one of San Francisco's biggest homeless shelters, 70 people test positive for..




USATODAY.com - Published





Virus-stricken cruise ship back in San Francisco

The Grand Princess cruise ship, once carrying some 3,000 passengers some stricken with coronavirus, returned to port in the San Francisco Bay Area Tuesday with nearly 650 crew members aboard after they..




USATODAY.com - Published





United Airlines drastically cuts California flights to match demand

United Airlines Holdings Inc said on Tuesday it was temporarily, but significantly, reducing daily flying in and out of Los Angeles and San Francisco airports to better match demand that has dropped..




Reuters - Published





Coronavirus forces San Francisco to put homeless into hotels

By Nathan Frandino, Shannon Stapleton, Katie Paul and Stephen Nellis




Reuters - Published





When Humans Are Sheltered in Place, Wild Animals Will Play

Goats in Wales; coyotes in San Francisco; rats, rats, everywhere: With much of the world staying home to prevent the spread of the coronavirus, animals have ventured out where normally the presence of..




NYTimes.com - Published





Virus impact hits Golden Gate Bridge revenue

Due to a severe decline of drivers paying tolls during the coronavirus crisis, San Francisco's iconic Golden Gate Bridge is losing $3 million each week. Funds are needed for seismic retrofits and the..




USATODAY.com - Published





San Francisco streets nearly empty with lockdown

Tourists and most residents are gone from the streets of San Francisco as the city has been locked down due to the coronavirus pandemic. A drive through the city by the bay finds nearly empty streets..




USATODAY.com - Published





San Francisco's Top Art School Plans Closing After Almost 150 Years

Efforts to save the alma mater of Annie Leibovitz and Kehinde Wiley collapsed as the coronavirus sent the Bay Area on lockdown.




NYTimes.com - Published





Few outside in San Francisco due to virus lockdown

Few outside in San Francisco due to virus lockdown  




USATODAY.com - Published





San Francisco pot shops open, called 'essential'

A growing number of U.S. grocery stores are offering seniors-only shopping hours to reduce coronavirus exposure for elderly customers. Safeway, Whole Foods, Target and San Jose-based Zanotto's Family..




USATODAY.com - Published





For U.S. small restaurants, coronavirus impact is swift and brutal

On St. Patrick's Day last year, Amy and Chris Hillyard marked the 30th anniversary of Farley's, their pair of cafes in San Francisco and Oakland, California, with live bagpipes and noisy crowds.




Reuters - Published





Meet the Americans still going out and gathering in large groups

As people in San Francisco shelter in place and New York City was warned to prepare for a similar measure, some 40 people met in New Mexico for an Alcoholics Anonymous meeting on Wednesday amid White..




Reuters - Published





Virus shutdown leaves San Francisco streets empty

Virus shutdown leaves San Francisco streets empty  




USATODAY.com - Published





New Yorkers may be ordered to stay home as medical supplies run short

New York City may soon compel most people to stay in their homes except in emergencies or when shopping for essentials, Mayor Bill de Blasio said on Tuesday, an order already imposed by San Francisco..




Reuters - Published





'Ticking time bombs': U.S. jails raise alarm amid coronavirus outbreak

Comparing crowded U.S. jails to "ticking time bombs," defense lawyers are urging law enforcement officials to release more defendants on bail while they await trial amid the coronavirus pandemic - an..




Reuters - Published