Hudson River
River in New York State, draining into the Atlantic at New York City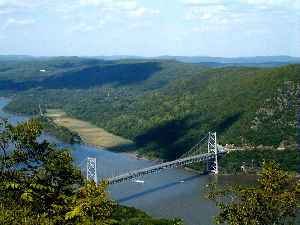 The Hudson River is a 315-mile (507 km) river that flows from north to south primarily through eastern New York in the United States. The river originates in the Adirondack Mountains of Upstate New York, flows southward through the Hudson Valley to the Upper New York Bay between New York City and Jersey City. It eventually drains into the Atlantic Ocean at New York Harbor. The river serves as a political boundary between the states of New Jersey and New York at its southern end. Further north, it marks local boundaries between several New York counties. The lower half of the river is a tidal estuary, deeper than the body of water into which it flows, occupying the Hudson Fjord, an inlet which formed during the most recent period of North American glaciation, estimated at 26,000 to 13,300 years ago. Tidal waters influence the Hudson's flow from as far north as the city of Troy.


New York plans to sue EPA over GE's 'incomplete' Hudson River cleanup
New York state officials said on Thursday they plan to sue the U.S. Environmental Protection Agency for allowing General Electric Co to stop cleaning up the Hudson River of PCB contamination before the..
Reuters - Published
N.Y. state to sue EPA: agency approval on GE Hudson River clean-up premature
New York state officials announced plans to sue the U.S. Environmental Protection Agency for prematurely declaring that General Electric Co had completed its clean-up of PCB contamination in the Hudson..
Reuters - Published
Bush's service dog finds new home at medical center
'Sully H.W. Bush', the service dog assigned to former U.S. President George H.W. Bush, took up his new assignment serving veterans and staff at the Walter Reed National Military Medical Center on..
Credit: Reuters Studio Duration: 01:15Published
Search this site and the web:
You Might Like