Hudson River
River in New York State, draining into the Atlantic at New York City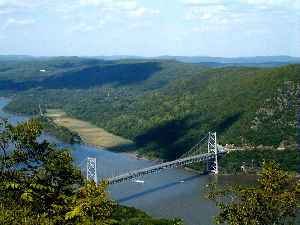 The Hudson River is a 315-mile (507 km) river that flows from north to south primarily through eastern New York in the United States. The river originates in the Adirondack Mountains of Upstate New York, flows southward through the Hudson Valley to the Upper New York Bay between New York City and Jersey City. It eventually drains into the Atlantic Ocean at New York Harbor. The river serves as a political boundary between the states of New Jersey and New York at its southern end. Further north, it marks local boundaries between several New York counties. The lower half of the river is a tidal estuary, deeper than the body of water into which it flows, occupying the Hudson Fjord, an inlet which formed during the most recent period of North American glaciation, estimated at 26,000 to 13,300 years ago. Tidal waters influence the Hudson's flow from as far north as the city of Troy.


Crazy commutes: Employing alternative methods to beat traffic
Tommy Lutz's 12-mile commute from his home in New Jersey to the Manhattan offices of Google is accomplished by a foldable bicycle and then, once he hits the Hudson River, a foldable boat
CBS News - Published
Eye Opener: Alabama effectively outlaws abortion
Alabama's governor signs a new law banning nearly all abortions, while other states move to challenge Roe v. Wade. Also, a helicopter clearly in distress spirals in the air in New York City and crashes..
CBS News - Published
Pilot Rescued After Helicopter Crashes Into New York City's Hudson River
According to a report by Business Insider, on Wednesday afternoon, the New York City Fire Department confirmed that a helicopter has crashed into the Hudson River in New York City. A spokesperson for..
Credit: Wochit News Duration: 00:36Published
Helicopter Crashes Into Hudson River In New York, Injuring Two
According to Reuters, a helicopter that fell short of its landing pad crashed into the Hudson River in New York City on Wednesday, injuring two people. In a Twitter message, the city Fire Department..
Credit: Wochit News Duration: 00:34Published
A Helicopter Crashed Into NY's Hudson River
A helicopter crashed into New York City's Hudson River on Wednesday.
Credit: Wochit News Duration: 00:31Published
Search this site and the web:
You Might Like