Borneo
Island in Southeast Asia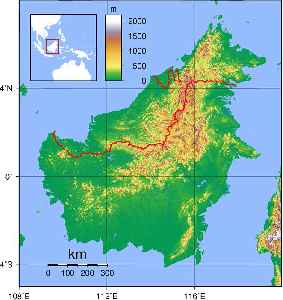 Borneo is the third-largest island in the world and the largest in Asia. At the geographic centre of Maritime Southeast Asia, in relation to major Indonesian islands, it is located north of Java, west of Sulawesi, and east of Sumatra.


You Might Like
Newly discovered species of snail named after teen climate change activist Greta Thunberg
The critter, which was discovered in Brunei on the island of Borneo, now has the scientific name after Greta Thunberg: Craspedotropis gretathunbergae  
USATODAY.com - Published
U.S. environmental reporter arrested in Indonesia for visa violation
An American journalist who has covered stories exposing environmental destruction in Indonesia has been arrested on Borneo island for alleged visa violations, his lawyer and the environmental news..
Reuters - Published
Indonesia president seeks to speed up 'Silicon Valley'-like capital
Indonesian President Joko Widodo said on Wednesday he had ordered his cabinet to speed up a $33 billion project to move the capital city from Jakarta to forested Borneo island so that the new "Silicon..
Reuters - Published
Indonesia's ragtag firefighters on frontline of Borneo's forest blazes
From soon after sunrise, a group of volunteers gathers every day on Indonesia's portion of Borneo island to throw themselves into the desperate fight against the worst forest fires in years.
Reuters - Published
Thousands pray for rain in Indonesia as forests go up in smoke
Thousands of Indonesians prayed for rain in haze-hit towns on the islands of Sumatra and Borneo on Wednesday, as forest fires raged at the height of the dry season, the state Antara news agency..
Reuters - Published
Indonesia unveils site of new capital on Borneo island
Indonesia on Monday revealed the long-awaited site for its new $33-billion capital on the forested island of Borneo to replace the crowded, polluted megacity of Jakarta, which is slowly sinking into..
Reuters - Published
Indonesia picks area on Borneo island as site of new capital: president
Indonesia's president on Monday announced the capital would be moved to an area that forms part of the North Penajam Paser and Kutai Kartanegara regions in its province of East Kalimantan, on the..
Reuters - Published
Indonesia picks East Kalimantan province for new capital: media
Indonesia will build a new capital in the province of East Kalimantan on Borneo island, media cited land planning minister Sofyan Djalil as saying on Thursday.
Reuters - Published
Indonesia president proposes to move capital to Borneo
Indonesia's president on Friday proposed to move the capital from Jakarta, a crowded, polluted city of 10 million people, to the island of Borneo, though he left Indonesians guessing as to the exact..
Reuters - Published
Rescuers hunt for 31 missing after Indonesian fishing boat sinks
Indonesian rescuers were battling high tides and strong winds on Friday in a search for 31 people missing after a fishing boat sank in waters off Borneo island, killing at least four, an official of..
Reuters - Published
Indonesian fishing boat sinks off Borneo, over 30 missing: media
An Indonesian fishing boat has sunk in waters off South Kalimantan province on Borneo island, with 31 people still missing, media reports cited the country's search and rescue agency as saying on..
Reuters - Published