Whoopi Goldberg
American actor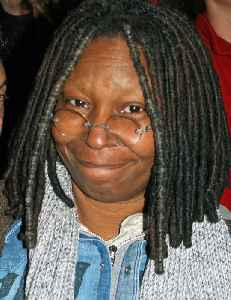 Caryn Elaine Johnson, known professionally as Whoopi Goldberg, is an American actress, comedian, author, and television personality. She has been nominated for 13 Emmy Awards and is one of the few entertainers to have won an Emmy Award, a Grammy Award, an Academy Award, and a Tony Award (EGOT). She is also the second black woman to win an Academy Award for acting.


Whoopi Goldberg says she prefers to live alone because she doesn't want 'commitment'
Whoopi Goldberg revealed on the "Tamron Hall Show" that she has made a conscious decision to live alone with her 20-year-old cat, Oliver.
USATODAY.com - Published
Oprah, Tiffany Haddish, Whoopi Goldberg and Halle Berry turn out for Tyler Perry party
Tyler Perry celebrated the grand opening of Tyler Perry Studios in Atlanta. Stars like Oprah, Tiffany Haddish and Viola Davis came out in support.
USATODAY.com - Published
Whoopi Goldberg is 'very happy' being single
Whoopi Goldberg says she is "very happy" being single and would rather just have one "commitment" in her life - her cat.
Credit: Bang Media World Duration: 00:59Published
Whoopi Goldberg Scolds Audience Booing Donald Trump Jr.
Donald Trump Jr. and his girlfriend Kimberly Guilfoyle appeared on "The View" Thursday to promote his new book, "Triggered." The audience loudly booed and cheered through the show, to the point where..
Credit: Wochit News Duration: 00:35Published
Oprah on Tyler Perry: 'He has become a force for himself'
A-listers including Oprah Winfrey, Samuel L. Jackson, Tiffany Haddish and Whoopi Goldberg attended the opening of Tyler Perry's new studios in Atlanta. (Oct. 6)
USATODAY.com - Published
'The View': Whoopi Goldberg slams Trump for labeling some Bahamian refugees 'gang members'
Whoopi Goldberg slammed President Trump after he suggested that some Bahamians seeking refuge in the U.S. are "gang members" and "drug dealers."
USATODAY.com - Published
When does 'The View' return for Season 23? And where did the co-hosts leave off?
Get ready to enjoy Season 23 of "The View." Co-hosts Whoopi Goldberg, Joy Behar, Meghan McCain, Sunny Hostin and Abby Huntsman are returning soon.
USATODAY.com - Published
Whoopi Goldberg fires back at accusations she body-shamed Mariah Carey: 'We have no issue'
Whoopi Goldberg breaks her silence on accusations she body-shamed her "friend" Mariah Carey on "The View."
USATODAY.com - Published
Meghan McCain agrees with 'The View' hosts on Kourtney Kardashian criticism: 'I'm with Whoopi'
"The View" co-hosts found rare common ground criticizing a clip of Kourtney Kardashian crying over turning 40 on "Keeping Up with the Kardashians."
USATODAY.com - Published
Bella Thorne fires back at Whoopi Goldberg for shaming her
"Shame on you, Whoopi," Thorne said, after Goldberg said she should have known better than to take nude photos
CBS News - Published
How endometriosis disrupts women's lives: "Please just let me make it through today"
Endometriosis is a reproductive disease that affects women and about half of those who suffer from it experience fertility problems. Its cause is uncertain. Celebrities including Lena Dunham, Susan..
CBS News - Published
Bella Thorne slams Whoopi Goldberg's 'awful' views on her nude photo-scandal
Bella Thorne is flatly rejecting Whoopi Goldberg's criticisms as "sick and disgusting" after her nude photo scandal.
USATODAY.com - Published
No Host for 2019 Oscars – but Big-Name Presenters Revealed
by Alice Monroe - Following comedian and actor Kevin Hart's resignation from hosting duties at this year's Academy Awards, speculation has been rife as to who could step in and take his..
One News Page Staff - Published
You Might Like