Jersey Shore
Coastal region of the U.S. state of New Jersey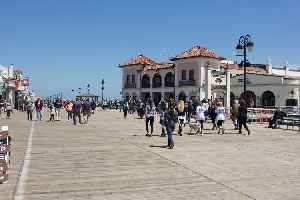 The Jersey Shore is the coastal region of the U.S. state of New Jersey. Geographically, the term encompasses about 141 miles (227 km) of oceanfront bordering the Atlantic Ocean, from Perth Amboy in the north to Cape May Point in the south. The region includes Middlesex, Monmouth, Ocean, Atlantic, and Cape May counties. Many New Jersey residents refer to it simply as The Shore. Most of the shore region is located in Central and South New Jersey.


Sun, sand and vape waste: A new type of litter piles up on American beaches
When Mike Castellano patrols the beaches of the New Jersey Shore, he is no longer surprised to find discarded vape pens and spent "e-juice" cartridges scattered in the white sand.
Reuters - Published
Multilevel Deck Collapse Injures 21 People at the Jersey Shore; 2 Treated for Trauma
The injured included firefighters who were in Wildwood, N.J., for an annual convention, the authorities said.
NYTimes.com - Published
At least 22 people injured after deck collapse at New Jersey event
A home's multilevel deck collapsed Saturday evening at the Jersey Shore during an event weekend, trapping people and injuring at least 22, including some children, officials said.
USATODAY.com - Published
New Jersey shore in 'really great shape' for summer thanks to mild winter and engineers
A mild winter and restoration projects initiated after Hurricane Sandy in 2012 "have left most beaches in relatively good shape," an expert said.
USATODAY.com - Published
Organized crime has a long history at the Jersey Shore
Arrest in death of reputed Gambino family boss in New Jersey is reminder supposed mobsters have lived – and worked – at the Shore since Prohibition.
USATODAY.com - Published
Search this site and the web:
You Might Like