National Oceanic and Atmospheric Administration
US government scientific agency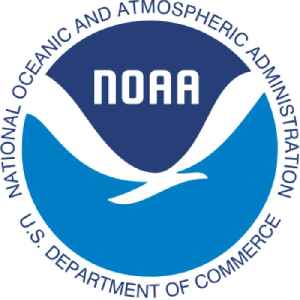 The National Oceanic and Atmospheric Administration is an American scientific agency within the United States Department of Commerce that focuses on the conditions of the oceans, major waterways, and the atmosphere.


Slow-moving Sally drenches southeast states

[NFA] Storm Sally on Thursday dumped more than a foot of rain on parts of Alabama, Florida and Georgia, killed at least one person, washed out bridges and roads and left hundreds of thousands without..
Credit: Reuters - Politics Duration: 01:52
Published
Sally weakens after dumping rain on Gulf coast

[NFA] The storm was downgraded to a tropical depression and is threatening to dump another foot of rain as it moves inland. This report produced by Zachary Goelman.
Credit: Reuters - Politics Duration: 01:26
Published
Hurricane Laura could be 'catastrophic' -NHC

"This could be a catastrophic, life threatening event," said Ken Graham, the National Hurricane Center Director for NOAA's National Weather Service, adding that Laura is "a very healthy storm, and what..
Credit: Reuters Studio Duration: 00:57
Published
NOAA Predicts Up To 25 Atlantic Hurricanes

NOAA Predicts Up To 25 Atlantic Hurricanes
Credit: Wochit News Duration: 00:27
Published
You Might Like



Northern Hemisphere had its warmest summer ever, NOAA says

The National Oceanic and Atmospheric Administration​ also said 2020 is likely to be one of the five warmest years on record.




CBS News - Published





Satellite footage shows wildfire smoke looming over California

Smoke from the wildfires raging in California is visible in National Oceanic and Atmospheric Administration (NOAA) satellite images from Sept. 9-10.  




USATODAY.com - Published





NOAA predicts a far-above-average hurricane season

Already smashing records, this year's hyperactive Atlantic hurricane season is about to get even nastier, forecasters predict. (Aug. 21)  




USATODAY.com - Published





Hurricane Forecast: 'One of the Most Active Seasons on Record'

Scientists at NOAA updated their prediction for the 2020 hurricane season, and now expect as many as 25 named storms.




NYTimes.com - Published





We're in for an 'extremely active' hurricane season: Up to 25 named storms are possible, NOAA says

NOAA forecasters say an "extremely active" hurricane season is likely for the Atlantic Basin, with as many as 25 named storms forming.  




USATODAY.com - Published





This big, giant squid, was found by NOAA living in the deep waters of the Gulf of Mexico

The "kraken," or just a big, giant squid, was found by NOAA living in the deep waters of the Gulf of Mexico.




USATODAY.com - Published





Mysterious 'blue hole' near Florida wows scientists

The hole is about 425 feet deep and is located some 155 feet below the water's surface, according to the National Oceanic and Atmospheric Administration.




USATODAY.com - Published




New Data Show an 'Extraordinary' Rise in U.S. Coastal Flooding

Rising seas are bringing water into communities at record rates, the National Oceanic and Atmospheric Administration said Tuesday.




NYTimes.com - Published





NOAA Officials Feared Firings After Trump's Hurricane Claims, Inspector General Says

The report examined the aftermath of Mr. Trump's insistence that Hurricane Dorian was headed toward Alabama, which government forecasters contradicted.




NYTimes.com - Published





Inquiry Prompted by Trump's Hurricane Dorian Claim Is Being Blocked, Investigator Says

The Commerce Department is impeding findings into whether it coerced the top NOAA official to support President Trump's inaccurate claim that Dorian would hit Alabama, the department's inspector..




NYTimes.com - Published





NOAA Chief Violated Ethics Code in Furor Over Trump Tweet, Agency Says

Neil Jacobs violated the agency's scientific integrity policy with a statement last year backing the president's inaccurate claim that a hurricane was headed for Alabama, a panel found.




NYTimes.com - Published





U.S. forecasters expect above-normal 2020 Atlantic hurricane season: NOAA

U.S. forecasters expect an above-normal 13-19 named storms during the 2020 Atlantic hurricane season, the National Oceanic and Atmospheric Administration's (NOAA) Climate Prediction Center said on..




Reuters - Published





Busy hurricane season expected, NOAA says, with up to 19 named storms possible

NOAA is predicting a busy hurricane season for the Atlantic Basin and is expecting six to 10 hurricanes to form. Last year, 18 named storms formed.




USATODAY.com - Published




Firm Can Cut Into Titanic to Recover Telegraph, Judge Says

The National Oceanic and Atmospheric Administration opposes the operation to salvage the Marconi device and contends that the wreckage should not be disturbed.




NYTimes.com - Published





Urban air quality improves as coronavirus empties U.S. highways: NOAA

U.S. air quality has improved since the coronavirus crisis emptied the roads of traffic, giving the country a futuristic glimpse of the clearer skies that could come with an electric vehicle fleet,..




Reuters - Published





Expect a Soggy U.S. Flood Season, but Less Severe Than Last Year's

The National Oceanic and Atmospheric Administration expects major to moderate flooding for 23 states, but not as bad as last year's ruinous spring.




NYTimes.com - Published





What winter? Earth just had its second-warmest December-February on record

Only the El-Niño-fueled winter of 2015-16 was warmer, the National Oceanic and Atmospheric Administration said.




USATODAY.com - Published




Florida dolphin killings: $20k reward offered after multiple dolphins found shot

The National Oceanic and Atmospheric Administration reward comes after multiple dolphins have been found shot.




USATODAY.com - Published





NASA, NOAA: Most recent decade is hottest recorded

The decade that just ended was by far the hottest ever measured on Earth, capped off by the second-warmest year on record, two U.S. agencies reported Wednesday. (Jan. 15)  




USATODAY.com - Published





NOAA chief scientist slams agency's "political" response to Trump's Dorian map

Craig McLean, NOAA's acting chief scientist, says he's looking into possible violations of scientific integrity after the agency issued a statement backing President Trump's claim that Hurricane Dorian..




CBS News - Published




Temperatures in Antarctica are so warm, the ozone hole shrank to smallest size on record

Unusually warm temperatures above Antarctica this month caused the ozone hole to shrink to its smallest size on record according to NOAA scientists.




USATODAY.com - Published




Winter forecast: Dry or wet winter?

NOAA issued its 2019-2020 winter outlook for temperature, precipitation, and drought across the United States.




USATODAY.com - Published





Endless summer? Warm fall forecast for all 50 states

All 50 states should see a warmer-than-average fall, according to a new forecast from the National Oceanic and Atmospheric Administration (NOAA).




USATODAY.com - Published




Six tropical storms whirling at once have set a record

September is the peak month for hurricane and tropical storm activity in both the Atlantic and Pacific, NOAA reports.




USATODAY.com - Published





U.S. House panel probes Commerce Secretary Ross over Trump Dorian tweet kerfuffle

A U.S. House panel on Wednesday opened an investigation into U.S. Commerce Secretary Wilbur Ross' potential role in the National Oceanic and Atmospheric Administration's decision to rebuke an Alabama..




Reuters - Published




Scientific community weighs in on Trump-NOAA controversy

Scientific organizations and meteorologists are speaking out about President Trump's Twitter spat over the Hurricane Dorian forecast. CBS News climate and weather contributor Jeff Berardelli and CBS..




CBS News - Published





White House Pressed Agency to Repudiate Weather Forecasters Who Contradicted Trump

Mick Mulvaney, the acting White House chief of staff, told Wilbur L. Ross Jr., the commerce secretary to have NOAA publicly disavow the forecasters' position.




NYTimes.com - Published





Acting NOAA director responds to controversy over Trump's Hurricane Dorian claim

Neil Jacobs, the head of the National Oceanic and Atmospheric Administration, spoke at a closed-door meeting for National Weather Association employees in Huntsville, Alabama, on Tuesday, where he..




CBS News - Published




NOAA chief defends Alabama office after Trump Dorian tweet

The head of the National Oceanic and Atmospheric Administration on Tuesday defended a regional National Weather Service (NWS) office in Alabama that told residents the state was not at risk from..




Reuters - Published





NOAA Chief, Defending Trump on Dorian, Also Tries to Buoy Scientists

The remarks by Neil Jacobs, head of the National Oceanic and Atmospheric Administration, were the first since a report that a cabinet secretary had tried to coerce agency leaders.




NYTimes.com - Published





NOAA chief speaks to meteorologists in Alabama amid outcry

NOAA Acting Administrator Neil Jacobs recognized and thanked the Birmingham office, which pushed back against the president's claims




CBS News - Published





Eye Opener at 8: NOAA's lead scientist vows to investigate Dorian controversy

A look back at what we've been covering on "CBS This Morning."




CBS News - Published





NOAA chief to address forecasters amid Dorian controversy

Neil Jacobs' comments come after a top NOAA official said the agency likely violated scientific integrity rules




CBS News - Published





Lead NOAA scientist vows to probe agency's defense of Trump

The Acting Head of NOAA, the government weather agency, goes to Alabama Tuesday to address a recent uproar over Hurricane Dorian. President Trump repeatedly and wrongly claimed the hurricane was a..




CBS News - Published





NOAA's acting chief scientist reportedly to investigate effort to bolster Trump

NOAA's acting chief scientist is reportedly investigating an unsigned statement issued Friday by the agency which raises questions about trust in the agency's information, possible danger to the public..




USATODAY.com - Published





NOAA scientist looking into "potential violations" with Trump's hurricane claims

There are new accusations the Trump administration may have tried to pressure the National Weather Service to change an advisory for Hurricane Dorian, to cover up a mistake by the president. Weijia..




CBS News - Published





Commerce Chief Threatened Firings at NOAA After Trump's Dorian Tweets, Sources Say

Wilbur L. Ross Jr. made the threat after the agency's Alabama office contradicted the president's claim that Hurricane Dorian might hit the state.




NYTimes.com - Published




NOAA scientist rips "political" backing of Trump's Dorian claims

Craig McLean, NOAA's acting chief scientist, wrote in an email to colleagues that called the agency's response "political."




CBS News - Published





Trump's feud with weather officials over Alabama tweet ramps up

The National Oceanic and Atmospheric Administration issued a statement Friday to say the information they gave the president over the weekend did in fact include Alabama in their Hurricane Dorian..




CBS News - Published





Eye Opener: Hurricane Dorian takes a parting shot at the coast

Hurricane Dorian is leaving behind destruction on the coast. Also, NOAA is defending President Trump and his claim that Hurricane Dorian was likely to hit Alabama. All that and all that matters in..




CBS News - Published





NOAA backs up Trump's claim that Dorian could impact Alabama

President Trump has been slamming the media for the coverage of his claim that Alabama was in grave danger from Hurricane Dorian




CBS News - Published





Trump and Joe Walsh both fundraise off of #SharpieGate as NOAA issues statement

The campaigns of President Trump and Joe Walsh, who is challenging Trump for the GOP nomination, had both begun fundraising off of a week-long controversy over an altered Hurricane Dorian forecast map..




USATODAY.com - Published





Trump under scrutiny for showing altered map of Hurricane Dorian's path

President Trump is claiming ignorance after he held up a National Oceanic and Atmospheric Administration map that appeared to have been altered with a black pen to show a projection of Hurricane Dorian..




CBS News - Published





Meet NOAA's first all-female hurricane hunting crew

While Hurricane Dorian makes its way toward the Florida coast, not everyone is fleeing the fierce storm. Commander Rebecca Waddington, Lieutenant Lindsey Norman, and Captain Kristie Twining flew into..




CBS News - Published





See the menacing eye of Hurricane Dorian

A NOAA video shows the menacing eye of Hurricane Dorian.




USATODAY.com - Published





Caribbean islands brace for Tropical Storm Dorian

Islands in the Caribbean are bracing for Tropical Storm Dorian, which could head towards Florida by the weekend. Ken Graham, the director of NOAA's National Hurricane Center, joined CBSN AM with the..




CBS News - Published